"40%, 40%, 20%" is the tenth episode of the third season of Teen Titans Go!, and the one-hundred-fourteenth overall episode of the series.
Summary
Cyborg's real strength comes not from his robot parts, but from his all-time favorite song, The Night Begins to Shine.
Plot
Cyborg starts counting down and then starts singing and dancing to an 80's style song. The other Titans are just sitting around when Cyborg comes in lip-syncing the lyrics. He takes Robin by his cheeks and stares emotionally into his eyes, but then just throws him down and continues on. Raven and Robin try to get him to shut up, but he just keeps busting dance moves. Finally, Robin gets his attention. Cyborg presses his center chest plate and nonchalantly asks what's up. Starfire tells him they need to talk about this, and Raven says he's been singing it constantly for a few days now. He tells them that it gets him pumped up, but Beast Boy asks what's so great about it anyway. Cyborg clicks open his chest and pulls out one of those old fashioned tapes, saying that it's the greatest song ever, The Night Begins to Shine. Written 40% by drummer Carl Burnett, another 40% by Franklin Enea (the guitarist), and the last 20% by William J, a piano player. Reagan, it's just the right collaboration for a perfect song. Cyborg says that listening to it makes anything possible, but Starfire wonders if songs really have that much power. He says music has the ability to transform you, and Raven goes on wanting to be Optimus Prime. But that's Cyborg's character, so she has to settle for Bumblebee. He proceeds to dance out with his song.
Next morning, all the Titans are just sighing in the kitchen. Cyborg walks in with his tune on and asks what's going on. Starfire says nothing but "the blah". Cyborg starts to bring up what can fix that, but Raven already guesses The Night Begins to Shine. Robin says he's listened to it hundreds of times, all with no effect. Cyborg yells out that they need to listen with their heart, not ears. Out of nowhere, Raven involuntarily starts dancing to the music, and Cyborg explains that the blah went on vacation! Beast Boy randomly starts lip-syncing the lyrics, and Cyborg cites that he may not know the lyrics, but the lyrics know him. Suddenly, they are all transformed into cool looking rock stars, and this is the music reality he had been talking about. Robin's freaked out, but Cyborg shouts it's time to ride. They are teleported someway to a far off planet and are speeding along on a high-tech bike with two side cars. Cyborg hits the accelerator, and they flash through the open past a metallic crater crab. A robotic golden eagle starts to soar with them, followed by a mechanical white horse trotting alongside, all against a wolf background screen.
All of a sudden, Robin presses the STOP button, and Cyborg asks what's the problem. Robin and the other Titans order him to stop overplaying that song, so Cyborg tries to compromise by playing little sections, each time hindered by Robin, who points out that the night is done shining. Starfire's worried about him, but Cyborg assures them he's AOK. But for a test, Robin hands him a pickle jar and tells him to open it, but without the song. Cyborg desperately tries to open the jar, but eventually, he drops to the floor, a failure. Raven scolds that he can't even take a lid off the jar, and Robin points out if they needed him, what would happen? The Titans' new toaster alarm interrupts them, and Robin flips over the toasted bread to see that The Brain is on a rampage in Jump City. Everyone charges to the elevator, but Robin halts Cyborg; he is almost suspended until he opens the jar- without song accompaniment. Cyborg waves it off, extends his arm to grab a jar, and assuredly screws it. The cracking sound isn't the lid, it's his hand.
A day goes by, and Cyborg still struggles to open up the jar. The next day doesn't see any progress, made even worse when he checks out the lid of the rim that mockingly states it's pretty easy. By the fourth day, Cyborg is hopelessly curled up on the couch when the table alarm goes off (toaster must be in use). Cyborg sees that The Brain has captured the Titans, but he can't save them... withdraw from the song is just too weakening. From a distance, Cyborg starts to hear a chirping sound. He looks out the window to see a brown hawk cawing The Night Begins to Shine while building a nest out of twigs and barf. Cyborg now realizes that this catchy song was made to be a crutch. He presses his chest player, pops the jar, has a refreshing pickle, and goes back into rock star-mode, this time on a newly electrically enhanced bike.
Still, in the rock star animation, the Titans are being held at The Brain's evil skull lair in suspended metal cages. Robin looks in horror as The Brain emerges from his hydro-lift pit with a new, tech advanced, spider-like suit, and entirely made more dramatic with a flamethrower. Still rumbling through to the lair, and now with a wolf-bandelier, Cyborg encounters a gigantic black samurai monster, who swings at him with a huge sword. Cyborg dodges as his bike turns into a Pegasus. He gallops up the arm, charges up his fist, and cracks the monster to the ground with a crash. The Brain is watching his warrior's defeat on a monitor, so he sends a swarm of rock star zombies to intercept Cyborg. They meet in the air, and the zombies emit green laser blasts, which Cyborg deflects with a force field. The golden eagle from earlier swoops by and delivers to him a katana. Cyborg doesn't even chop though, he just points the sword at them, and they all are conveniently destroyed by a flash of blue energy.
Cyborg smashes through the roof, facing The Brain. Unfortunately, a surprise attack from Monsieur Mallah from behind knocks his Night Begins To Shine tape loose. The Brain catches it and crushes it, too. The cool animation and music stops with that, and The Brain points out how weak and pathetic Cyborg is without his tape to the other Titans. They urge him on, but Cyborg falls flat on his face, worthless. Robin and Starfire know what they must do- they begin to hum the instrumental to Night Begins To Shine. Cyborg slowly regenerates, and Beast Boy and Raven add to his power. Mallah tries to slap him down, but the now fully juiced up Cyborg's body slams and KOs him. The Brain has been overlooking this, and he moves into to put an end to him. Cyborg returns to rock star form in a burst of light, then he transforms into an 18 wheeler. The two charges at each other, but The Brain is no match, he gets smashed aside and explodes off to the side while being defeated. Starfire asks if the truck is him, and Cyborg lets her know that he should be called Cyborgamous Prime. He frees them from the cages with a couple of blasters, and after that, they all roll out in a scene with The Night Begins to Shine album cover in the backdrop, all of them riding horses.
Characters
Song
Trivia
Music from "I'm the Sauce" is reused.
This is the first episode to have a title that doesn't have any letters in it.
The bird that is singing The Night Begins to Shine, looks exactly similar to Super Robin's original, un-mutated self. He is also voiced by Scott Menville, who voices Robin.
The summaries for this episode and "Grube's Fairytales" are switched on channel guides.
During Cyborg's attempts to open the jar, the "next day" title cards show a Joker-style cereal bowl and spoon, along with the returning Bat O's.
This is the second time that The Brain captures The Titans (Minus Cyborg). The first time was in "Brian".
It's been stated by Hynden Walch (voice of Starfire) that this is her favorite episode.
As indicated by this tweet and an Easter Egg seen in "The Fourth Wall," this episode's original title was "The Night Begins To Shine".

Cyborg actually mentions both the original title and the actual title.

Thanks to the popularity of the song Night Begins To Shine, you can purchase it on iTunes.
DIRECTV listed this episode before "The Fourth Wall". However, this episode aired the night after it was listed to air.
TV Guides confuse this episode's title with "The Fourth Wall".
This episode was scheduled to air on September 24, 2015, but was pulled up. This episode was scheduled again for October 20, 2015, but was pulled up 1 day later.
This is the second time that the animation design is altered, the first time since "Let's Get Serious".

The Titans in their 80's music video sequence was designed by Junpie Takayama, who also previously worked on both Disney XD's shows such as MotorCity and Randy Cunningham: 9th Grade Ninja.

Two things can be noted on Cyborg's music tape: the song was released in 1986, and that particular tape is an "Aqualad DJ Remix".
This episode received positive reviews by viewers and critics, including haters. This episode has 8.3/10 stars on IMDb, making it the highest-rated episode on IMDb.
Continuity
The Night Begins to Shine plays throughout, which was previously featured at the beginning of "Slumber Party".
Raven is seen unhooded for the twenty-sixth time.
This is the second time that someone tries to open a pickle jar. The first was in "No Power".
References
Cyborg mentions Optimus Prime and Bumblebee, two robots who can transform into vehicles from the TV series Transformers. The robots are his basis for turning into a truck in the battle.
Cyborg quotes Optimus Prime's line, "One shall stand, one shall fall", from the battle between Optimus Prime and Megatron in the 1986 animated movie "Transformers: The Movie".
Cyborg references professional wrestler Hulk Hogan's popular "Hulking Up" act while fighting Monsieur Mallah
Errors
When the Titans are riding in the car during the "The Night Begins to Shine" song, you can clearly see that Raven is on the farthest right seat, after Beast Boy. However, in the next scene, they have switched places.
There was an apple on the floor, but after, it's gone.
Running Gags
Cyborg continuously turning on his song with his chest plate.
The Titans transforming into their Radical forms when "The Night Begins to Shine" is played.
Cyborg trying to open a pickle jar without his song.
The Titans being sick of the song.
Transcript
The transcript for "40%, 40%, 20%" can be found here.
Gallery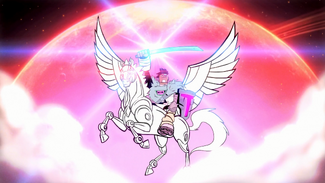 The image gallery for 40%, 40%, 20% may be viewed here.