The 80's Jerks are a bad bunch of bullies from the 1980s. This no-good group goads people for no particular point—they just like being jumbo jerks.
So far, they've starred as the main antagonists in only one Teen Titans Go! episode, "Nostalgia is Not a Substitute for an Actual Story".
History
The Teen Titans went on another time-traveling adventure, this time into the amazing 80s. But while they were at the mall, they unfortunately ran into something disagreeable about the decade, the notoriously not-nice 80's Jerks. These pompous punks tried to steal Cyborg's new record for no reason, so the Titans had to bike out of there briskly.
But the 80's Jerks had too much unmotivated hostility to just let them go... the four fiends started following them on their OWN bikes. After steering and swerving through the suburbs, the chase eventually heads into a very steep, tree-crowded forest. Thanks to nostalgia, the Titans are able to fly off to freedom. The Jerks don't get so lucky—they end up moaning in a massive puddle of mud.
Characteristics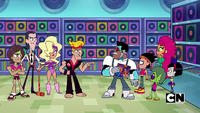 Karate Jerk
As the apparent leader of the clique, Karate Jerk does most of the talking (but will use some 空手 if talking doesn't work). He wears a black and red karategi (空手着), fastened together with an impressive black belt. The sleeves have been ripped off, and his dojo logo is the taijitu (太極圖) symbol. He also has a black wristband on his right arm. To complete his look, the Karate Jerk wears a red headband to keep his luscious golden hair back.
Boyfriend Jerk
This particular jerk seems like he works out a lot, judging by those muscles. Gotta impress the gf... His sportswear consists of a neon yellow headband and wristbands. Boyfriend Jerk slightly-too-small shirt is red and neon, and his shorts are maroon and neon. Nothing is more impressive than his flowing black hair, except maybe his sneakers (same color as shorts). The white socks aren't too special, though.
Girlfriend Jerk
Like her boyfriend, the Girlfriend Jerk likes to stay fit (thighs). She's gone all-out with the workout gear, which includes a purple headband, a matching crop top, pink wristbands, puffy leg sleeves, and some shoes. Girlfriend Jerk's also got a pink bra and thong... moving on, she's got some purple eye shadow to complement her clothing, and her hair is similar to 80s Starfire's, only its light blonde. And, for some reason, she carries a croquet mallet around...
Rich Jerk
Rich Jerk's face looks very punch-able, since he's usually got that annoying rich-kid smirk. His black hair is slicked back, and he's got the money to afford a nice white shirt, a black tie, suspenders, black trousers, and matching dress shoes. Freakin' Soc.
Older Brother Jerk
This guy is briefly seen when Robin warns the Titans about the 80s jerks. He's just a typical older brother, with a jerky red-haired mullet. His clothes aren't that amazing either, just a striped blue and white shirt, matching shoes, and a pair of brown pants. Yay.
Sports Jerk
Like the Older Brother Jerk, Sports Jerk is only seen when Robin mentons him. He's even stronger than the Boyfriend Jerk (actually much stronger), and, looking at his gear, it's safe to say that he boxes. Sports Jerk's got red boxing gloves, complete with matching shorts and shoes. His hair is dark blonde and kinda spiky.
Episode Appearances
Trivia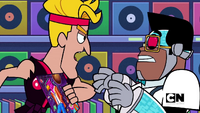 Karate Jerk is clearly based off Johnny Lawrence, a memorable martial arts meanie played by [1] in The Karate Kid series.
The freeze frame of the group that says "80's Jerks" actually makes a grammatical error; there is no apostrophe after the "0" in the plural context. It should read "80s Jerks."[1]
All Jerks except "Girlfriend Jerk" have been given actual names by Robin. That's a good inference though, since she's touchy-feely with officially named "Boyfriend Jerk."
Gallery
References
Community content is available under
CC-BY-SA
unless otherwise noted.