"Animals, It's Just a Word!" is the fourteenth episode of the third season of Teen Titans Go!, and the one-hundred-eighteenth overall episode of the series.
Summary
Beast Boy presses the fire button on Cyborg's laser cannon and the Titans die, but Beast Boy puts his blood in them to save them from dying and now have the ability to transform into animals and act like animals.
Plot
The episode starts with Cyborg showing off his new laser cannon invention with Beast Boy in the control booth. He transforms into a cat and is tempted to press the fire button, but Cyborg orders him to control his "animal urges." Cyborg keeps a close eye on him, but Beast Boy eventually pushes the button, and the Titans end up in the hospital. Beast Boy announces that he replaced all the blood they lost with his own, much to their disgust. Robin yells at him, and while yelling at him suddenly transforms into a dog, howling. This makes them realize that Beast Boy's DNA must have given them the power to turn into animals, and Starfire eagerly turns into a cat, exclaiming that she is adorable. Raven then announces she is thirsty, transforms into a goldfish, and hops into a bowl. Cyborg turns into a parrot, shouting about how cool this was. Robin warns that they can be animals but not become them, to which Cyborg replies "Whatever. I just want to turn into a tiny donkey!" And does so, dancing to music with the Titans cheering him on.
Back in the Tower, Robin (in dog form) takes a pan filled with meat off of the stove, announcing breakfast is ready. He dumps the meat on the floor, and the Titans (all in dog form) eat it. Cyborg walks in and sniffs. He asks what smells so good, and Starfire answers that it is the meat. Cyborg replies that it's not that, but it's Beast Boy's dog behind. The Titans then go about sniffing each other's behinds. They all then transform into birds, flying high over Jump City and pooping on Doctor Light's shiny new car in the process. They then spot the H.I.V.E and attack them as sharks. That night, the Titans are playing cards in the Tower. Starfire then suddenly goes crazy yipping around and runs toward the window. They ask her what is wrong, and she exclaims that she has spotted a cat. The rest of the Titans then join her yipping and screaming at the window. Raven then stops, wondering what just happened, and Beast Boy explains that it was their animal urges. It then changes to a montage of the Titans (excluding Beast Boy) going about their everyday life as animals which shown Robin as a dog, Cyborg as a parrot, Raven as a fish, and Starfire as a cat.
The next day, Beast Boy walks in and asks the Titans if they are ready to sniff some butts. They eagerly agree and try to shape-shift, but it doesn't work. Robin figures that their power must have been temporary. Starfire then says she still urges to claw at the couch, and Cyborg says he wants a cracker. Raven then starts flying around, complaining how dry it was in the Tower. Starfire then begins knocking everything off the counter, and Cyborg perches on the couch like a bird, angrily stating he wants a cracker. Robin then begins crawling around and stops to sniff Beast Boy's behind. He throws a toy, and Robin and Starfire fight over it. Beast Boy then decided that he will train the animal Titans to behave. A montage then shows Beast Boy training the Titans.
Later, Beast Boy is sitting on the couch with Robin, Starfire, and Cyborg when he notices that he forgot about Raven. He finds her at the end of the hallway, flopped down on the floor with her eyes closed. Beast Boy exclaims that she is dead and tearfully flushes her down the toilet. Later, the crime alert rings, and they leave. Beast Boy exclaims "Let's do this!," but the Titans are bunched together, scared. Cyborg is perched on a light pole but flies down at Beast Boy's angry command. Cinderblock towers over the Titans, but then a manhole cover appears on the ground, and Raven jumps out with an alligator and a rat. She yells "ATTACK!" and the three punch him, defeating him. She explains to the Titans that She was sleeping, and then woke up in the sewer. She was now mutated and had cool new "sewer friends." Cinderblock then wakes up, and they quickly defeat him.
The episode ends back in the Tower, with Beast Boy saying that they learned a valuable lesson, and Raven saying that her sewer friends would hang with them.
Characters
Trivia
This is the fifth episode to be released on the Cartoon Network app before its official date. The other four were "The HIVE Five", "The Return of Slade", "More of the Same", and "Scary Figure Dance".
The Titans (excluding Beast Boy) have been acting like an animal they like throughout the episode: Starfire as a cat, Robin as a dog, Cyborg as a parrot, and Raven as a fish.
Music from "Artful Dodgers" is reused.
The information for this episode is often confused with "A Farce".
When the Titans transform into dogs, they turn into the following breeds: Starfire is an Afghan Hound, Raven is a pug, Cyborg is a St. Bernard, Beast Boy is most likely a chihuahua, and Robin is either a German Shepherd or a mixed breed.
As birds: Robin is an actual robin, Raven is an actual raven, Starfire appears as a cardinal (without black markings), Beast Boy is possibly a green-styled Blue Jay, and Cyborg, of course, is a parrot.
Continuity
References
The Titans telling Beast Boy not to push a red button is a reference to the movie "Cats & Dogs".
The Titans playing poker in dog form is a reference to C. M. Coolidge's series of oil paintings titled "Dogs Playing Poker."

The mutant alligator sounds similar to Michelangelo from the Nickelodeon TMNT series. This may be a nod to both Greg Cipes (Beast Boy) voicing both characters, and to Leatherhead, a mutant gator-man appearing in most continuities of the franchise.

The mutant rat seems to be based on another TMNT character, Dirtbag [1], as both are mutant rats with tattoos on their right shoulders, hard hats with flashlights on top, male tank tops, jeans pants and boots.
When Cyborg is doing the "tiny donkey" dance, a sound-alike tune to the pop hit I Need Your Love by Calvin Harris feat. Ellie Goulding can be heard.
The team fighting crime as sharks and high fiving each other is a reference to the 90s cartoon Street Sharks.
Whenever Starfire in her cat form tilts her head upwards to sing a meowing tune after gaining the ability to turn into animals, her face looks like Toby the Tram Engine's worried and shocked faces from the model era of Thomas the Tank Engine.
Errors
Beast Boy replaces Cyborg's blood with his blood. However, in "Tower Power", it's said that Cyborg doesn't have blood.
Most of Titans Tower got destroyed when Beast Boy pressed the FIRE button. But some time afterwards, the Tower appeared unharmed.
When the camera pans on to Dog Robin's butt, the food disappears.
Running Gags
The Titans using their animal urges.
The Titans telling Beast Boy not to push the red button.
The Titans all acting like animals.
Robin trying to pee everywhere.
Transcript
The transcript for "Animals, It's Just a Word!" can be found here.
Gallery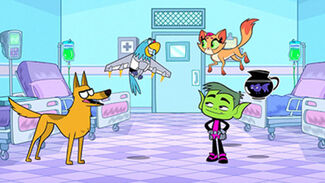 The image gallery for Animals, It's Just a Word! may be viewed here.