Aquaman (Arthur Curry/Orin) is a minor character in Teen Titans Go! and a member of the Justice League who made his debut in "Matched".     
Biography
Aquaman is a modified Atlantean. He has the power of telepathy, and can communicate with the creatures of the sea. He is an extremely fast swimmer, being able to travel at over 10,000m/s underwater. His Atlantean physiology also grants him super strength, invulnerability and many other superhuman powers. He also has limited hydrokinesis. He also wields a trident, for he is the king of Atlantis.
Physical Appearance
Aquaman wears an orange, scaled long-sleeve shirt with green gloves and leggings. He has blue eyes, a cleft chin and gelled blonde hair.
Episode Appearances
Comics
Film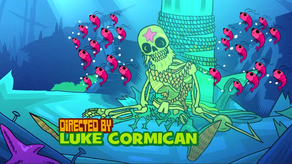 Trivia
Gallery