"Arms Race with Legs" is the thirty-first episode of the third season of Teen Titans Go!, and the one-hundred-thirty-fifth overall episode of the series.
Summary
Lady Legasus tries to help the League of Legs become unbreakable, but when the legs turn strong and corrupt, they turn into super-evils.
Plot
The episode starts with Beast Boy jumping to touch the door frame leading to the kitchen. The other Titans (except for Raven who couldn't care less) think that is is really cool and also try to reach the frame (all succeeding). The next day, Starfire, Robin, Beast Boy, and Cyborg all go around jumping and touching stuff. Robin then tells the rest of the Titans that he will be able to jump and touch the ceiling light. When he succeeds, the rest of the Titans ask how he does it. He replies, "One word: buns."
Raven then replies, "Jumping has nothing to do with the buns. It is all about the legs". Robin then asks Raven to prove it, but Raven says that she is not interested. When pressed further, she replies that "the power of the legs is not something to be used for fun and games". Raven finally caves in and transforms into Lady Legasus, who then jumps much higher than Robin. The Titans then manage to convince Lady Legasus to allow them to all go use their leg strength for fun, and they all transform back into their League of Legs counterparts.
They then proceed to jump and have fun around the city. The next day, Raven finds that the other Titans still are in their League of Legs costumes, so she warns them of the consequences. The Titans then get upset and jump unto the roof, where they begin causing havoc on passing objects. Cyborg slaps a plane, which causes it to begin spinning and falling out of the sky, so Raven transforms back into Lady Legasus to stop it.
Robin then challenges Lady Legasus to a jumping contest to test if she is able to leap into space and touch a spaceman, and if she wins, they will go back to their normal form (and remove their League of Legs costumes). However, if Robin wins, Lady Legasus must then leave the group and the remaining Titans would stay as part of the League of Legs. Robin eventually wins the contest, and their legs turn evil as a result. The Titans, now free from Lady Legasus' authority, begin trashing the city.
Raven then goes back to Titans Tower and later discovers that the Titans put weights in her outfit to rig the contest. She then transforms back into Lady Legasus and goes to confront the Titans. After a small conversation, Lady Legasus begins her assault on the other Titans, but is easily defeated. When threatened by Robin to "join us, or suffer the consequences", Lady Legasus declines and then transforms into Mega Legasus.
Mega Legasus is easily able to defeat the other Titans by breaking their legs (neglecting their screams of agony during the process), and as a result, the other Titans go back into their normal behavior, and the evil power in their legs is now gone. However, after Mega Legasus accepts their apologies, Robin questions her on how are they are supposed to walk while holding up one of his wobbly broken legs, and the episode ends with Mega Legasus with an apologetic face.
Characters
Trivia
This episode is a sequel to "Leg Day".
The League of Legs make their second appearance in Season 3, and their second overall appearance in the series.
In "Leg Day", the League of Legs disbanded because they couldn't risk their leg power corrupting them, which is exactly what happens in this episode.
This is the fourth episode to focuses on a character's legs ("The Left Leg", "Legs", "Leg Day").
When the other Titans do the Jump 'n Touch, music from "Black Friday" is reused.
Continuity
Lady Legasus made her second appearance in Season 3 and her third overall appearance in the series. Her earlier season 3 appearance was in "Leg Day".
Raven blushes at a comment Beast Boy makes for the sixth time. The first times were in "Waffles", "Man Person", "Cool School", "The Cruel Giggling Ghoul", and "Batman v Teen Titans: Dark Injustice".
The sound that Raven makes when she blushes at Beast Boy's comment from "Man Person" and "The Cruel Giggling Ghoul" is reused.
Raven is seen unhooded for the thirty-sixth time in the series.
Beast Boy doesn't make any animal transformations for the seventeenth time.
The League of Legs Sailor Moon transformation sequence is shown again, which was reused from "Leg Day".
Robin's "baby hands" are shown again. The first time was in "Baby Hands".
Starfire's catchphrase, "Shamma lamma moo moo", from "Uncle Jokes" is spoken again.
Starfire's attraction to Robin's behind is shown for the second time. The first time was in "Multiple Trick Pony".
When Lady Leagasus shows her ex-team that they put weights in her suit for rigging the challenge, Captain Cankle said that her mother Arella Roth tells her daughter that it's a bad idea to store weights in her onesie.
References
Sailor Moon is referenced during The League of Legs transformations.
Starfire and Cyborg refer to the Greek legend of Icarus to discourage Robin. Icarus, who was overconfident while flying, had man-made wings made of wax that melted when he flew too close to the sun, and he fell to his death.
The roar that the giant monster makes is the very beginning of Godzilla's trademark roar.
Lady Legasus becoming Mega Legasus could be a reference to Pokémon, as some Pokémon can "Mega Evolve" to become more powerful.
League of Legasus is a reference to League of Legends.
The way Robin kisses his buttocks is the same way Beast Boy did from the original Teen Titans series episode "Wavelength".
Errors
In the scene where Beast Boy jumps onto Raven's legs, another Beast Boy is seen noticeably standing with Cyborg and Starfire.
Robin (Captain Cankle) and Raven (Lady Legasus) shouldn't have survived or return to Earth safely after leaping into space in order to slap the astronaut's butt, because they weren't wearing any space suits which would result in their bodies swelling up due to a lack of oxygen and ebullism.
Running Gags
The continuity of the Titans (except Raven) jumping up and touching places at high levels.
Beast Boy admiring Raven/Lady Legasus' legs and Raven being shy.
The League of Legs (except Lady Legasus) using their legs and feet as their hands.
The Titans touching and slapping Batman in the face.

Robin quickly saying sorry to him when it's his turn.
Transcript
The transcript for "Arms Race with Legs" can be found here.
Gallery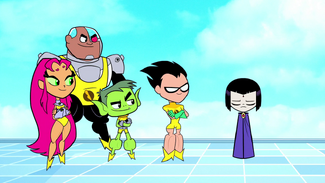 The image gallery for Arms Race with Legs may be viewed here.