"BBBDAY!" is the fifteenth episode of the third season in Teen Titans Go!, and the one-hundred-nineteenth overall episode of the series.
Summary
Jubilant that it's his special day, Beast Boy eagerly awaits his cake, singing, and presents. But when the other Teen Titans don't give a hoot about his birthday, Beast Boy explainable starts morphing between infant and elder- and it's up to the Titans to bring him back, through a not-so-exciting birthday party.
Plot
The segment begins with Beast Boy waking up in his room looking towards his calendar to see that it is his birthday! He's ecstatic to find out what sort of surprises and gifts the Titans have in store for him, (i.e. sing him "Happy Birthday", watch him blow out candles, and unwrap presents). However, when he enters the living room, the Titans are all caught up in nonchalant activities, not really caring that Beast Boy has just entered. They're confused about what the heck Beast Boy is talking about when he says it's his special day. At first, Beast Boy thinks they're just kidding and pretending not to remember his B-Day. He plays along and temporarily exits to the kitchen to allow the Titans to set up the party. After re-emerging over and over again in disappointment that nothing is happening, the others get annoyed and tell him that they're trying to relax and peacefully enjoy their day. Shortly after, there is a crime alert about a herd of elephants rampaging on a murder streak in the city.
Beast Boy, thinking that this is a secret plan of their surprise set-up for his birthday party, decides to stay behind a wait for the others while they fight off the elephant thugs. The showdown is brutal, and it ends up taking the four Titans almost all day. Beast Boy finally gets the impression that his friends did forget his birthday. To make up for his lack of fellowship, he throws a party together in his room with stuffed animals and lame presents like toilet paper. Cyborg, Starfire, and Robin walk by and catch a glimpse of this pathetic scene. They ask him what exactly he's doing, and he replies that he's celebrating his birthday by himself since his real friends forgot. However, the three explain that they didn't forget at all; they simply aren't going to make merry. They give explanations such as the pointlessness to sing the birthday song, eat a cake with saliva and candle wax on it, and pretend to care about someone opening presents.
Raven, having heard this while floating past Beast Boy's room, grows angry at the other Titans for not informing her about Beast Boy's birthday. Beast Boy breaks down in emotion at the thought of Raven being considerate enough to remember to make this day special for him, but in all actuality, she doesn't care at all. Apparently, it's dangerous to don't do the three rituals for one's birthday, so Raven immediately tries to get the others to sing the "Happy Birthday" song to Beast Boy before it hits midnight. Robin backfires that they can't due to not being able to afford it. Midnight strikes, and suddenly, Beast Boy's age starts to swing out of balance- he morphs from a baby to a middle-aged adult, to a senior citizen, and back in a matter of seconds. Raven tells the others that to re-correct his aging process, they need to celebrate his birthday in the literal center of the universe before a magical sparkler dies out. Although the quest seems bizarre and dangerous, the Titans have no other choice (being disgusted by Beast Boy being middle-aged).
Walking through some mystical portal, all five of them travel to the epicenter, which has the appearance of an out-of-whack birthday party. Nearby, the sparkler candle is starting to burn out... in a rushed manner, the Titans gather around a table and begin phase 1 on saving Beast Boy- singing the traditional song. However, Robin once again insists they don't have enough money to pay for it, so they come up with a terrible substitute song to sing the adult Beast Boy instead- but it suffices. Secondly, they watch and take a picture (which takes an annoyingly long time to get) of infant Beast Boy blowing out his candles on a cake. Baby Beast Boy spits and drools on it in the process, but the candles are extinguished, even the stubborn trick candle. The final stage has elder Beast Boy opening a present... although he is conservative of the wrapping paper and therefore extremely slow and boring, the Titans have to pretend to care when Beast Boy about the painfully dull process. Raven tells the others to at least smile awkwardly for him as he unveils and puts on his gift, a fisherman t-shirt. The stages are complete, and this restores Beast Boy's aging process, returning him to a boy again. Just in time, too, as the sparkler is on its last fuel. The Titans rush to the portal, not allowing any wasted time (Cyborg is kicked by Robin for stretching too long). But Beast Boy can't leave his cake, his only consolation of a good birthday, behind, so he lingers back to save it. Raven sees that he can't make it in time, so she uses her dark magic fist to pull him through. The cake falls to the ground, but Beast Boy manages to save it at the last second...
Back at the Titans Tower in Beast Boy's room, Raven and the others apologize for forgetting and/or not properly celebrating his special day. But it's all good with Beast Boy... after all, he has his cake. Even though he's aware of the drool, Beast Boy gobbles at the cake, eating it in handfuls, while the other four look on in disgust. As punishment for their earlier actions of not celebrating, they are forced to eat the drool-covered cake.
Characters
Song
Trivia
Although this episode focuses on Beast Boy's day of birth, it doesn't actually pinpoint that exact day.
The title of this episode is an abbreviation for "Beast Boy's Birthday!".
Seeing that Beast Boy's first appearance in DC Comics, Doom Patrol #99, was in November 1965, it's very likely this episode is meant to commemorate Beast Boy's 50th anniversary.
Raven is the only Titan who actually forgot Beast Boy's birthday.
It's been shown that the Titans usually don't celebrate birthdays.
According to Robin, it's way too expensive to sing the Happy Birthday song. Although it may seem like he just loathes the song, the Happy Birthday song, one of the most well known items not to be in the public domain, had been copyrighted ever since it was created in 1893.

However, on September 22, 2015 the song finally entered the public domain, after a federal judge ruled that the copyright claim was invalid. This episode was written before this court ruling, causing the joke to be slightly outdated.

Beast Boy is the second Titan to have his birthday announced in the series. The first was Cyborg in "Pie Bros".
It's possible that this could be a joint Beast Boy and Raven episode, seeing as how the first half is about Beast Boy and him trying to get the others to celebrate his birthday, and the second half is about Raven trying to get the others to participate in the birthday rituals in order to save Beast Boy's aging.
This is the sixth episode to be released before its official air date. The other episodes were "The HIVE Five", "The Return of Slade", "More of the Same", "Scary Figure Dance", and "Animals, It's Just a Word!"
The scene with the baby Beast Boy babbling then vomiting was censored by Cartoon Network in New Zealand and Australia.
Continuity
References
Beast Boy thinking the other Titans forgot his Birthday may be a reference to the 1984 film, Sixteen Candles
Beast Boy's gift, a fishing t-shirt, has a logo from a well known fishing company (Possibly Bass Pro Shop's).
Beast Boy's birthday aging process mimics what happened to Steven, the main character of Steven Universe. There's an episode called "So Many Birthdays", in which Steven realizes that gems can live forever he celebrate birthdays for them when his gem glows, and he starts to age.
Once again, Cyborg is seen playing a portable game console (that strongly resembles a Nintendo DSi XL) at the beginning of the episode.
At the end, when Beast Boy succeeds in grabbing his B-Day cake before the card closes, is a reference of the Indiana Jones films.
Also, the song playing during the scene is a reference to the traditional song Hava Nagila.
Errors
Running Gags
The Titans doing usual birthday activities.
Robin forbidding the Titans from singing "Happy Birthday," claiming that they lack funds for it.
Transcript
The transcript for "BBBDAY!" can be found here.
Gallery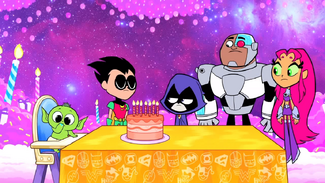 The image gallery for BBBDAY! may be viewed here.