"BBRBDAY" is the seventeenth episode in the fifth season of Teen Titans Go!, and two-hundred-twenty-sixth overall episode of the series.
Summary
When he isn't invited to Beast Boy's birthday party, Robin throws his own birthday party with special guest Bob Uecker.
Plot
Titans Tower is currently in party mode... tomorrow is Beast Boy's birthday! Everybody's excited, especially since this year's party is super exclusive—invitation only. Thinking he's got a guaranteed invite for being a fellow teammate, Robin's a little surprised when Beast Boy leaves him out. It turns out Beast Boy didn't really appreciate when he called the cops on him LAST year for a mere noise complaint. Raven points out that Robin's more of a party pooper than a party animal, and despite his begging, Beast Boy still gives him the cold shoulder. Robin's got a plan,payback.
It's a brand new day, specifically BB B-Day! But before the Beast Boy and his guests can get too excited, Robin has an announcement: it's also HIS birthday (according to him), and they're all invited—except Beast Boy, of course. The three Titans don't really care though, knowing that it's a trick, so Robin has to try and lure them in with some cool stuff... the living room as a venue, TWO cakes, and special guest Bob Uecker. Cyborg's clearly a huge fan of the former MLB player/sportscaster/actor, but that can't compete with Beast Boy's pony rides. Despite Robin showing what fun it is to ride Bob, the team eventually chooses Beast Boy's party. As the four Titans leave, Bob tries to console Robin with some frozen custard, but that's not gonna help.
Night drops, and so does the beat. Batman, Sticky Joe, Dave, and many other guests start arriving to party hardy. But through the loud music, Cyborg can hear some good times happening with Bob at Robin's living room party. Unable to resist, he leaves Beast Boy's party to chat with Bob about his show, Mr. Belvedere. A little while later, Raven takes a break from the party to go to the bathroom, but Robin sees it as a chance to pick up another guest. He'll only let her in so long as she joins his party, and so Raven really has no choice. And all it takes to convince Starfire to come over is to show her two birthday cakes. Once Beast Boy walks in looking for his guests, Robin can't help but gloat about his bash. But just like last time, Beast Boy's able to bring the three Titans back to his party with a pony ride. Not willing to throw in the towel though, Robin drags Bob down to the lab for his next idea.
At the lab, Bob tells Robin about the frozen custard offer still standing, but he refused. Figuring he needs to become a literal party animal, Robin's hooked up a bunch of animals into some type of machine that will combine his body with theirs. Reluctantly, Bob throws down the switch, and the transformation begins... Upstairs, the party is still going strong, but an explosion suddenly stops things cold. Bursting though the floor is a massive beast that looks like Robin had a kid with three animals and it all went HORRIBLY wrong. The huge party animal smashes Bob out the window, gobbles up everything in the fridge, and then heads off to Jump City for a monster bash.
Raven warps the team off to downtown, where the creature is tearing up the city with ferocious party energy. Seconds after they arrive, the building they are on is ripped from its foundation and thrown to the ground below. Realizing the situation is dire, Beast Boy goes against his honorable party conscience and calls the Jump City Police Department. Cop cars instantly head towards the party animal, and soon choppers arrive with their spotlights. The brightness of the lights are somehow able to shrink the beast, and within a few moments, Robin and the three animals are back to normal.
As a punishment for the destruction, Robin is sent to prison. On the bright side, Beast Boy forgives him for ruining his birthday, and he'll be sure to invite him to the next one. Although thankful, Robin can't help but wonder what happened to Bob Uecker... luckily, after being tossed out of the Tower, he rode into the sunset in a hot air balloon. A happy ending.
Characters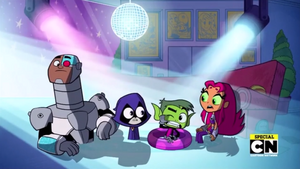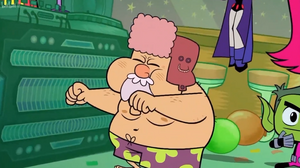 Main Characters
Minor Characters
Trivia
This is the first known episode of the series to premiere on New Year's Eve.
This is the last episode to air in 2018.
Continuity
References
Cyborg makes many references to the show Mr. Belvedre, an 80s-90s sitcom about a butler who gets a job serving George Owens (played by Bob Uecker).
Bob mentioned the show The Wonder Years, which happens Robin's voice actor, Scott Menville, previously worked on.
Errors
Running Gags
Robin trying to get the other Titans to abandon Beast Boy's party and join his instead.
Robin trying to prove he's a party animal.
Transcript
The transcript for "BBRBDAY" can be found here.
Gallery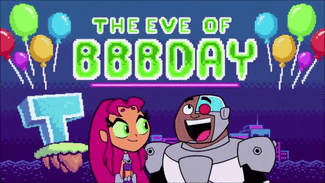 The image gallery for BBRBDAY may be viewed here.
Community content is available under
CC-BY-SA
unless otherwise noted.