"Baby Hands" is the twelfth episode of the second season of Teen Titans Go!, and the sixty-fourth overall episode of the series.
Synopsis
Brother Blood shocks Cyborg, Raven, Starfire and Beast Boy with a huge laser gun that erases their memories of being a Teen Titan, giving Robin his big opportunity: he can now shape them into the respectable, hard-working team he always dreamed of.
Plot
Robin is frantically trying to assemble the Teen Titans for a mandatory meeting is in exactly one minute. He's even got the timer for emphasis. Beast Boy and Cyborg are having lunch, so they ignore Robin's command while commenting about his "baby hands." Robin then crashes through Starfire's window to request her attendance, but she uses the excuse of not knowing what "mandatory" means (and reminds Robin once again of his baby hands). And Raven, refusing to even LOOK at him, slams the door in his face. After all of his pleading, nobody shows up for the meeting. Robin remembers the olden days when they were always so apt on time. Eventually, they turn up and keep aggravating him on his baby hands. Suddenly, the Titans receive an emergency crime alert!
Brother Blood is destroying Jump City from the top of a building with his massive ray cannon. The Titans show up and pledge to stop him in his tracks once again. He admits that no villain could stand up against them, but the Titans are thinking he's making fun of them (because they are often regarded as a lazy, immature team). However, Robin isn't sarcastic about his compliments this time. The villain introduces his weapon, which he says can wipe their memories clean and make them forget about their superhero team. Brother Blood zaps the Titans with his ray, but Robin, thanks to his amazing reflexes, catapults himself over the blast with his staff and takes the cannon out in one swift lunge. All the other Titans are very unfortunate, as their memory is erased. Brother Blood expects Robin to be miserable because of his actions, but he gets that exact opposite... Robin starts thanking him for erasing their memories, exclaiming that he gets a do-over! Robin embraces Brother Blood and shows extreme gratitude because now, thanks to the other Titans not remembering anything, he can fashion them into the perfect, assiduous, and reverent team he always wanted (in addition to them not making fun of his baby hands).
Back at the Titans Tower, Robin is trying to make a good "first" impression on the Titans to obtain a newly found respect he thinks he deserves. Robin introduces himself as their leader, and his first point of business is to show them his hands. He's thrilled when they confirm he has regular hands! Robin then precedes to tell them made-up stories on the origin of the Teen Titans and his superpowers. Robin lies about constructing the Titans Tower in Cyborg's robotic armor and lending his suit to the helpless head of Cyborg; he then goes on about Beast Boy being abandoned on the top of Mt. Everest, and explains how he raised him like taking care of a baby bird. Robin then falsely says that once, Raven was just a normal purple blanket, and he gave it life to form Raven. And finally, when he mentioned Starfire being his girlfriend, he attempts to kiss her so she could understand the English language, but she punches him to the ground. And as for Starfire, Robin claims that she is his girlfriend (obviously) and decides to float a little fun fact that Tamaranians learn languages with contact from the lips (she can only speak her native language now because of her amnesia). He moves to kiss her when Starfire angrily squishes Robin by punching him violently.
As Robin continues to tell fake stories during their mandatory meeting, they receive a second crime alert- once again, Brother Blood is the instigator, this time for stealing weapons from Jump City's Weaponry Depot. The Titans are sad because this means they can't attend Robin's mandatory meetings (they've grown to like them), but Robin says it will have to wait. The weapons cache gets blown up by Brother Blood, and he starts walking away with his shopping cart full of missiles and weapons when the Titans arrive again. However, the Titans want to see Robin going solo against Brother Blood, thinking he can take him down with all of his proposed superpowers. He starts making up excuses on why he can't, but suddenly, they all get blasted by some of Brother Blood's stolen weapons. Robin finally admits his lies about the Titans' past and his nonexistent superpowers and says that lying was the only way to gain respect from them. They are in denial and can't believe that he lied, so he triggers their memories back by taking off his gloves, his small and chubby baby hands. Happy to see them recognizing each other, they all attack Brother Blood, who is loading the weapons in his car. Through a series of well-placed attacks (spearheaded by Robin's baby hands), they easily defeat Brother Blood. In the end, Robin explains how he just wanted the team's respect, and now he knows he probably won't get it because of his recent fibs. However, the Titans start to go easy on him, saying that they may not respect him that much and make fun of him sometimes. Robin waits for them to finish up their complimentary sentence by saying "But!?" and Starfire chimes to the greatly disappointed Robin that there is no "But," that's it!
Characters
Song
Trivia
This episode reveals that Robin's hands are baby-sized.
This episode confirms that Brother Blood likes modern weapons.
This was Brother Blood's second major role. The first was in "Waffles".
It is revealed that Brother Blood owns an orange car.
This episode aired one year after "Matched" and 10 years after the original Teen Titans episode, "Betrothed".
This episode confirms that Brother Blood did indeed survive his encounter with the Titans in "Little Buddies."
This is the first episode with an alteration in the "GO!" sign (the sign saying "just GO!").
All of the hanging pictures behind the Titans during the flashback depict Batman and Robin, indicating Robin was the first of the team to occupy the Tower, which contradicts the original series, where Cyborg was the one who built the Tower.
Brother Blood's explanation about his mind eraser weapon shows the chibi Titans dancing from the Season 2 intro theme.
Robin mentions Starfire's arrival, when she first "came out of the spaceship", indicating her escape from the Gordanians. She has yet learned to speak English, supposedly because she has not kissed Robin at that point.
This episode would later be referenced in Teen Titans Go! to the Movies. In the song My Superhero Movie, Robin includes the lyric "standing tall with adult-size hands" as part of his fantasy.
Continuity
Robin is still having trouble getting his team to obey him, as previously shown in "Puppets, Whaaaaat?".
Robin is seen wearing his "short shorts" for the second time in this series. The first episode was "Sidekick", when the other Titans saw him as a young boy in a picture.
Cyborg and Beast Boy still keep their love for burgers and burritos from "Burger vs. Burrito", as they were each eating one.
This is the first time Cyborg's head is detached in season 2, and the thirteenth time overall.

It is also the first time it happens while he's in chibi form.

This is the ninth time that Raven is seen unhooded.
This is the second time Robin has his old hairstyle in the series. The first was in "Starfire the Terrible."
Beast Boy is wearing his red and white suit for the second time in this series. The first episode was when he infiltrated the H.I.V.E. Tower during "In and Out."
This is the second time Marv Wolfman and George Perez's 1980s "The New Teen Titans" comic series has been referenced. The first time it was referenced was in "Books".
Music from "Nature" plays at the end of this episode.
Each power Robin claimed he had in his stories were all powers Raven granted him in "Super Robin", such as the power of flight, laser eyes, and telekinesis.
Zippy's Pizza is destroyed for the third time. The first two were "Hey Pizza!" and "Staring at the Future."
References
In Robin's flashback, the Titans are wearing their old outfits during the first Mandatory Titan Meeting. Surprisingly, these outfits are exactly those from when they first appeared in the New Teen Titans comic series.
Cyborg and Beast Boy's first meeting and nervous expressions are akin to when they first become friends in the New Teen Titans comic series.
One of the words Starfire uses is "grebnax", which she used in the original series episode "Fear Itself." Considering her use of the word then to now, as well as the tone she used, it is very possible that it implies the buttocks area ("kicking the butt").
The blaster that Brother Blood is holding bares a resemblance to a mark 12 blast from an episode of Ben 10: Ultimate Alien known as "Basic Training."
Robin states that "kissing makes Tamaranians speak English", which is a reference to the episode in the original Teen Titans called "Go!", where when Robin freed Starfire from her shock cuffs, she kissed him and suddenly spoke English (She wasn't speaking English before).
The Titans in the flashback are dressed in their costumes their New Teen Titans comic counterparts worn.
Errors
Robin's hands are revealed to be teeny-tiny "baby hands" once his gloves are removed. However, in "Laundry Day" (and in other episodes), Robin is seen without his gloves, but has normal sized hands.
In "Sidekick", the Titans made fun of Robin wearing short-shorts. But in this episode, it's revealed that they have seen him before wearing that.
Beast Boy and Raven disappear in one scene, and are back in the next.
Running Gags
The Titans calling Robin "Baby Hands".
Robin acting like Starfire is his girlfriend and getting punched whenever he does so.
Robin lying to the other Titans about their origins and powers.
Starfire speaking her old language as she has forgotten English.
Transcript
The transcript for "Baby Hands" can be found here.
Gallery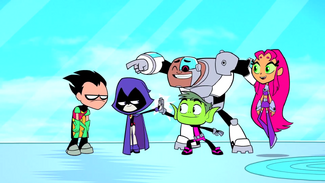 The image gallery for Baby Hands may be viewed here.