"Bat Scouts" is the eleventh episode of the sixth season of Teen Titans Go!, and the two-hundred-seventy-second overall episode of the series.
Summary
To reach the highest rank in the Bat Scouts, Robin wants to do his bat scouting job with the others Titans by teaching them important vigilante skills.
Plot
Robin dramatically suits up his bat scout outfit and announces that while fighting for justice, he will stay physically fit to eradicate evil and live by the Bat Scouts Law. Raven questions if he said 'Butt Scoots', but Robin corrects her, and of course, the Titans don't listen and keep calling it Butt Scoots. Starfire asks what are these Bat Scouts, and Robin says it is the best organization in Gotham that transforms young citizens into vigilantes. They collect badges to ascend on the Bat Scout ranks, leading up to the bravest of them all, the Caped Crusader. Cyborg says Robin is way too old to be a bat scout, and Robin agrees, but he still hasn't achieved the highest rank, and he needs the Titans' help. The last badge he needs is the 'Under my wing' badge, and if he teaches them the Bat Scout way, Robin can finally attain the rank of the Caped Crusader. The Titans refuse, and as usual, Robin begs them to accept. Cyborg asks why does he care, for it's just a dumb badge. Robin says if he could get that final badge, he will feel like he accomplished something important, but the Titans still refuse to help him. Robin expected the answer, so he says that he just thought they want to help catch a Gotham criminal, and upon saying that, the Titans get super excited and agree to help him. Robin says as a bat scout, it is their moral obligation to tame the criminal element.
The Titans all put on their Bat Scout outfits, and Robin says they are looking sharp. They all earned their first badge: the suit-up montage. The Titans are joyful upon hearing this and start doing weird movements. Robin is confused and asks what they are doing, and the Titans say they are sashaying. Robin gets angry and says that the bat scout uniform is a symbol of dignity and that there will be no sashaying. The Titans want to deal with criminals now, but Robin needs to train them first. Cyborg groans that they want to get to the 'good stuff,' but Robin says that the skills they need to learn are good stuff too.
The Titans go to Gotham City to learn their first skill: tying a knot. A rope knot is an essential tool to criminal apprehension and proceeds to demonstrate by tying a knot and hanging Beast Boy by the leg. Robin asks who shall go first, and Robin asks Starfire, with a romantic innuendo, if she wants to 'tie the knot?', and Starfire replies, 'I would rather the not'. Starfire giggles and Robin admits that response was clever. Nevertheless, Starfire already made a 'knot of the friendship', which is just a circular knot. Robin asks how a friendship bracelet is going to take down criminals, and Starfire says she will not give them one, which will make them too sad for the further crimes! Robin says that won't work, and Starfire says he would not need the friendship knot. Starfire gives the friendship knots to all of the Titans except Robin. Robin is jealous and he wants one, so he grabs the friendship knot from Starfire, but Starfire pulls a rope, and Robin is dangling by his hand, successfully capturing Robin as if were a criminal. Robin congratulates Star, thinking that he is on his way to being a Caped Crusader.
The next skill is to have a voice that sounds like Batman, and Robin proceeds to do his raspy Batman voice, but the Titans don't understand what he's saying because Robin is just mumbling. Robin says it doesn't matter because he sounds intimidating.
Robin proceeds to the next lesson. He says that a Bat Scout doesn't just move in shadow, but they become the shadow. Raven asks if this is the thing where Batman disappears behind people's backs when they're not looking. Robin says no, and sneaks away, laughing, but Raven stops him to tell him that it is rude to disappear before a conversation is over. Robin says it's not rude, but shadow skill, and proceeds to run away. The Titans still think he is rude, but Robin says it's about cultivating an air of mystery.
Now, Robin says it is the moment they have all been waiting for. The Titans get excited and say that they finally get to take down Batman's greatest villains, like the Joker, Penguin, and Catwoman. Robin says that is not quite them, and the Titans get angry immediately, reminding him that busting down Gotham criminals is the only reason why they're here. Robin says Batman already locked the criminals away in Arkham Asylum, and besides, they're much too dangerous for Bat Scouts. Robin wants to take down the normal citizens of Gotham, waiting for them to litter, jaywalk, etc. Raven suggests that they should just go to Arkham to release the criminals, and they agree, but Robin doesn't pay attention. Raven teleports all the Titans except Robin, who is still sitting there like a psycho, thinking about which citizen to take down. Robin turns around to not see anyone there, and he mistakes that they have mastered the skill of disappearing behind his back and that they are learning a lot.
At Arkham, the Titans break the power supply of the jail, and the gates are opened. Starfire yells at the criminals that this is a jailbreak, and the Titans push the criminals out of the jail. The criminals start running to Gotham to do a crime.
Robin is still overlooking the citizens, pondering who to strike first. Suddenly, his communicator starts beeping, and he checks it out to see a crime alert. He looks up to see Batman's villains crawling all over the place, Gotham in ruins. The Titans teleport back to Robin and inform him that they let the criminals out, and Robin starts freaking out. The Titans are super excited to finally beat up the criminals. They fly down to attempt to beat them up, only for each of the Titans to receive a sucker punch from the criminals and crash into a dumpster. Robin goes to the dumpster to see if they're alright. The Titans complain that the criminals are super tough and admit they can't defeat them. Raven apologizes to Robin, and it looks like he will never be a caped crusader. However, Robin reassures that it is not over yet, they just have to beat them as bat scouts. Remembering everything Robin has taught them, the Titans uses their skills to defeat the criminals. Robin congratulates the Titans and says that they truly earn the title Batscouts. Starfire informs that it looks like they're not the only ones doing the earning and points to Batman and Commissioner Gordon behind them. Batman gives Robin the final badge, finally making Robin a Caped Crusader! Tearing up, Robin thanks the Titans and admits that he could not have done all of this without them. The episode ends with all of the Titans doing the Batusi.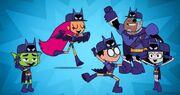 Characters
Major Characters
Minor Characters
Trivia 
This episode along with "Walk Away" and  "Record Book" was uploaded by Warner Television weekly for purchase on the official YouTube channel of the series as pre-television release.
This is the first time Raven is seen in her tentacle demon form without her cloak.
Poison Ivy has undergone a redesign in this episode.

She is also the only Gotham villain to be beaten offscreen.
Continuity 
Raven is seen unhooded for the 104th time in the series.
Robin's one-sided crush on Starfire is once again displayed when he flirtatiously asked Starfire if she wanted to go first at learning to tie a knot and begged for one of her friendship bracelets.
This is one of the few episodes where Robin shouts a variation of "Titans, GO!". This time, he says "Bat Scouts, GO!".
References 
The "falling for the enemy" badge is a reference to Batman having a relationship with Catwoman in the DC comics.
The Joker's "101 Killing Jokes" book is a reference to the 1988 DC comics Batman: The Killing Joke.
Robin and the Titans doing the Batusi is a reference to Batman's signature dance move from the 1966 Live-Action Batman TV Series.
Errors
TBA
Running Gags
The Titans getting hurt, except for Robin who safely lands.
Montages of Robin training the Titans to be Bat Scouts.
Gotham villains being timid and intimidated by the Titans.
Titans dancing the Batusi.
Transcript
The transcript for "Bat Scouts" can be viewed here.
Gallery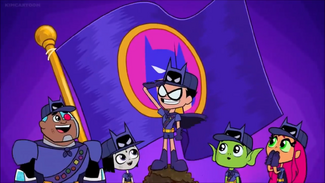 The image gallery for Bat Scouts may be viewed here.