"Be Mine" is the fortieth episode of the first season of Teen Titans Go!, and the fortieth overall episode of the series.
Synopsis
It's Valentine's Day and the Titans are going to have a dance. Beast Boy helps Terra escape the dimension she was banished to and once again continues his romantic pursuit. 
Plot
The episode starts with a flashback of the duel between Raven and Terra, and how Raven trapped Terra in a dark portal leading to another dimension, from the Terra-ized episode.
Six months later...
In the bottom of a dark hole, Terra vows revenge against the Titans, especially Beast Boy. Suddenly, trash falls on her head, much to her annoyance..
In the Titans' kitchen, Cyborg is throwing things down Raven's trash-hole portal. Cyborg asks Raven why the portal is always screaming, and she tells him that it is because she trapped Terra at the bottom of it. She also tells him not to tell Beast Boy about it.
Later, in the living room, Starfire happily announces that it is Valentine's Day, and she wants to host a dance, where everyone will reveal their true feelings. Robin takes the opportunity to ask Starfire to be his Valentine, and she happily accepts. Cyborg announces that he already has a secret Valentine, and admires a picture of Jinx. Beast Boy flirtatiously nudges Raven (placing his arm around her neck), playfully joking that they should be each others' Valentine. Raven gawks in disgust, pretending to be disinterested, and teleports away. Cyborg tells him that it is too bad Raven trapped Terra in the trash hole, only to remember what Raven told him. Cyborg quickly transforms into a rocket and flies away, telling Beast Boy he didn't hear it from him.
In the hallway, Beast Boy tells Raven that he wants to throw away some old rope, and asks her to open the trash hole. Raven opens the trash hole and walks away. Beast Boy throws his rope down it, and waits as Terra climbs up it. Terra excitedly declares that she is free. Beast Boy jumps into her arms, asking her to be his Valentine. Terra angrily throws him down, then accepts as a plan pops into her head. Terra starts to stroke his chin (Beast Boy starts to melt and smiles), and tells him that she wants to give him a special gift at the dance that night. Beast Boy says that if he knows what he thinks it is, he doesn't mind waiting, and with that, he puckers up for a kiss only for Terra to throw a boulder at him and sending him through a window. Beast Boy is infatuated once more.
Back in the living room, Starfire brings in a baby, announcing that he is "Cupid". Cupid immediately starts shooting arrows at Robin, and he runs away screaming, with Starfire and Cupid chasing after him. Beast Boy enters and begins dancing, announcing that Terra is going to the dance with him that night. After he finishes dancing, Raven begins to spy on Terra again.
Outside a warehouse near the edge of Jump City, Terra is trying to smash the door open. Beast Boy arrives, asking her what she is doing. She tells him that she needs something for his gift out of the warehouse, so turns into a snake and opens the door for her.
In the living room, Starfire tells Robin that she wants to give him some hearts. Robin decides that there is nothing dangerous about hearts, so he accepts her offer. Starfire suddenly hands Robin a human heart that is still beating. Robin panics in disgust.
In the kitchen, Raven tries to warn Beast Boy that Terra wants to kill him. Beast Boy doesn't believe her, until she shows him proof of her saying her plan aloud. Beast Boy becomes incredibly upset, he begins to cry after he heard Terra hates him, asking what's wrong with him. Raven, feeling sympathetic, tells him there's nothing wrong with him, and Terra is just a terrible person. Beast Boy is still sad, and thinks he is not good enough for her. Raven says "You know, there is another girl out there I bet that likes you." When Beast Boy states that "if she's out there why hasn't she told me?", Raven has a very troubled look on her face, not being able to say.  
That night, the Titans host the dance in the back yard and Starfire kisses Robin on the cheek as she does this, Robin's face lights up. Starfire decides it is time for everyone to reveal their true feelings. When Starfire tells Robin that he is "like the brother" to her, his face drops and he wears a small frown.
Jinx arrives at the party, escorted by two prison guards. Cyborg asks Jinx to dance, only to be electrocuted by the guard, telling him not to touch the prisoner.
Raven decides to tell Beast Boy her true feelings for him, but is interrupted by Terra before she can. Terra reveals her "gift" for Beast Boy, which are gloves that amplify her powers to maximum. She decides to bury the Titans in the ground, because they buried her in a trash hole. With that, she punches the ground causing an earthquake that swallows up Robin, Starfire, Raven, and Cyborg. Terra does a psychopathic laugh, while Beast Boy comments on how much she must hate him and then runs away crying.
The Titans suddenly rise back out of the ground, and Robin shouts "TITANS, GO!". The Titans all charge at Terra, who defeats all of them, but Raven. Before she can summon her powers, Raven is shot in the butt by Cupid Baby's arrow, who then laughs at her after Terra piles rocks on her. With Raven occupied, Terra plans to finish of a saddened Beast Boy, but he begins to serenade Terra with a song he wrote. At first, Terra is angry, but starts to change her mood, until she finally seemed to become charmed by his song. She asks him if he really wrote it for her, and he tells her he did. Before she can say anything else, then camera pans to Raven, who looks discouraged and saddened upon hearing this. Raven becomes both jealous and furious of this, so she destroys Terra's power amplifiers and gives her a daring death glare. Angry that her gauntlets were destroyed, Terra charges at Raven, who merely punches Terra when she foolishly rams into her soul-fist. Raven then opens the portal and traps Terra in the trash hole once again, smiling a little as she watched Terra fall.
Beast Boy, who is determined to not lose her again, screams and dives after her into the hole. Terra becomes annoyed by returning to the trash hole, until Beast Boy lands on an annoyed Terra's lap, and after vegetarian chili falls on her, he turns into a dog and licks her face.
Raven sadly glances into the trash hole, and sadly comments that she never got to tell Beast Boy how she really feels.
Characters
​Song
Trivia
This was the first episode to receive two million views for it premiere since the series' first two episodes, "Legendary Sandwich" and "Pie Bros."
This is the first Valentine's Day episode of the series.
This episode possibly should've taken place after the next episode because of Cyborg and Jinx's relationship.

However, Cartoon Network aired these two episodes out of order. This episode DOES take place AFTER the next episode.

Even though Beast Boy accuses Raven of having a crush on him twice in this episode, after Raven shows him that Terra wants to kill him, he is completely blind of this fact and thinks nobody loves him.
Starfire somewhat confirms her feelings for Robin when she kisses him during the dance. Unlike that from the original series, she kisses him on the cheek.
During the song Fade Away, silhouettes of three villains from the original series, Killer Moth, Thunder and Lightning, are seen. 
This is the first episode to feature flashbacks to a separate episode.
This is the first episode that aired on Scott Menville and Tara Strong's birthday.
Raven confirms her feelings for Beast Boy in this episode, as she tried to tell him her feelings and looking sad and jealous after Beast Boy sang to Terra.
This is one of Greg Cipes' favorite episodes.
Continuity
References
The song "Fade Away", which Beast Boy uses to serenade Terra, was written by Greg Cipes back in 2007, as part of the band Cipes and the People. The song is modified for the episode, adding Terra's name as well as Cipes singing in Beast Boy's voice. Cipes has preformed the song in its entirety with these modifications as well.
The song sounds very similar to reggae music, specifically that of the legendary Bob Marley.
The dance that Beast Boy does when he put his glasses, is an obvious parody to the '90s hit "U Can't Touch This" by MC Hammer. 
The device that Cyborg is seen playing with when Beast Boy says Terra is back strongly resembles the Nintendo "DSi" and "3DS".
This episode shares its name with a song by the Korean's girl group 2ne1.
Errors
This episode takes place six months after "Terra-ized." However, this is impossible, since at least 363 days went by during the episode, "Second Christmas." However, it could be possible that this took place before "Second Christmas."
When Cyborg turns into a rocket, he doesn't crash through the ceiling.

It's possible he traveled somewhere else in the Titans Tower.

Cyborg doesn't fall in love with Jinx until the next episode, yet he invites her to the party anyway.

This is because, chronologically, "Opposites" is set before "Be Mine". This is an error on Cartoon Network's part.
Running Gags
Terra getting chili (and other trash and food remains) dumped on her face while she's in the trash dimension.
Starfire's misunderstandings of Valentines Day customs which either hurt or freak out Robin.
The Cupid Baby shooting others.
Cyborg getting tazed by the prison guards.
This episode starts the running gag of Terra falling into the trash hole at the end, which seems to happen every time.
Transcript
The transcript for "Be Mine" can be found here.
Gallery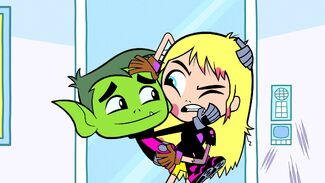 The image gallery for Be Mine may be viewed here.
v - e - d Episode Guide
Season 1: April 23, 2013 - June 5, 2014
Legendary Sandwich • Pie Bros • Driver's Ed • Dog Hand • Double Trouble • The Date • Dude Relax • Laundry Day • Ghostboy • La Larva de Amor • Hey Pizza! • Gorilla • Girl's Night Out • You're Fired! • Super Robin • Tower Power • Parasite • Starliar • Meatball Party • Staff Meeting • Terra-ized • Artful Dodgers • Burger vs. Burrito • Matched • Colors of Raven • The Left Leg • Books • Lazy Sunday • Starfire the Terrible • Power Moves • Staring at the Future • No Power • Sidekick • Caged Tiger • Second Christmas • Nose Mouth • Legs • Breakfast Cheese • Waffles • Be Mine • Opposites • Birds • Brain Food • In and Out • Little Buddies • Missing • Uncle Jokes • Más y Menos • Dreams • Grandma Voice • Real Magic • Puppets, Whaaaaat?

Season 2: June 12, 2014 - July 30, 2015
Mr Butt • Man Person • Pirates • Money Grandma • I See You • Brian • Nature • Salty Codgers • Knowledge • Slumber Party • Love Monsters • Baby Hands • Caramel Apples • Sandwich Thief • Friendship • Vegetables • The Mask • Serious Business • Halloween • Boys vs Girls • Body Adventure • Road Trip • Thanksgiving • The Best Robin • Mouth Hole • Hot Garbage • Robin Backwards • Crazy Day • Smile Bones • Real Boy Adventures • Hose Water • Let's Get Serious • Tamaranian Vacation • Rocks and Water • Multiple Trick Pony • Truth, Justice and What? • Two Bumble Bees and a Wasp • Oil Drums • Video Game References • Cool School • Kicking a Ball and Pretending to Be Hurt • Head Fruit • Yearbook Madness • Beast Man • Operation Tin Man • Nean • Campfire Stories • And the Award for Sound Design Goes to Rob • The HIVE Five • The Return of Slade • More of the Same • Some of Their Parts

Season 3: July 31, 2015 - October 13, 2016
Cat's Fancy • Leg Day • Dignity of Teeth • Croissant • Spice Game • I'm the Sauce • Hey You, Don't Forget about Me in Your Memory • Accept the Next Proposition You Hear • The Fourth Wall • 40%, 40%, 20% • Grube's Fairytales • A Farce • Scary Figure Dance • Animals, It's Just a Word! • BBBDAY! • Black Friday • Two Parter • The True Meaning of Christmas • Squash & Stretch • Garage Sale • Secret Garden • The Cruel Giggling Ghoul • How 'Bout Some Effort • Pyramid Scheme • Beast Boy's St. Patrick's Day Luck, and It's Bad • The Teen Titans Go Easter Holiday Classic • Batman v Teen Titans: Dark Injustice • Bottle Episode • Finally a Lesson • Arms Race with Legs • Obinray • Wally T • Rad Dudes with Bad Tudes • Operation Dude Rescue • History Lesson • The Art of Ninjutsu • Think About Your Future • TTG v PPG • Coconut Cream Pie • Pure Protein • Open Door Policy • Crazy Desire Island • The Titans Show • Booty Scooty • Who's Laughing Now • Oregon Trail • Snuggle Time • Oh Yeah! • Riding the Dragon • The Overbite • The Cape

Season 4: October 20, 2016 - June 25, 2018
Shrimps and Prime Rib • Halloween v Christmas • Booby Trap House • Fish Water • TV Knight • Teen Titans Save Christmas • BBSFBDAY! • The Streak • The Inner Beauty of a Cactus • Movie Night • BBRAE • Permanent Record • Titan Saving Time • The Gold Standard • Master Detective • Easter Creeps • Hand Zombie • Employee of the Month: Redux • The Avogodo • Orangins • Jinxed • Brain Percentages • BL4Z3 • Hot Salad Water • I Saw You Dance • The Story in Your Eyes • Playing Hard to Get • The Night Begins to Shine • Lication • Labor Day • Classic Titans • Ones and Zeroes • Career Day • TV Knight 2 • Justice League's Next Top Talent Idol Star • The Academy • Costume Contest • Throne of Bones • Demon Prom • Thanksgetting • The Self-Indulgent 200th Episode Spectacular! • BBCYFSHIPBDAY • Beast Girl • Flashback • Bro-Pocalypse • Mo' Money Mo' Problems • TV Knight 3
Season 5: June 25, 2018 - April 4, 2020
The Scoop! • Chicken in the Cradle • Kabooms • Tower Renovation • My Name is Jose • The Power of Shrimps • Monster Squad • Real Orangins • Quantum Fun • The Fight • The Groover • Justice League's Next Top Talent Idol Star: Second Greatest Team Edition • How's this for a Special? Spaaaace • BBRBDAY • Slapping Butts and Celebrating for No Reason • Nostalgia is Not a Substitute for an Actual Story • Business Ethics Wink Wink • Genie President • Tall Titan Tales • I Used to Be a Peoples • The Metric System vs Freedom • The Chaff • Them Soviet Boys • Little Elvis • Booty Eggs • TV Knight 4 • Lil' Dimples • Don't Be an Icarus • Stockton, CA! • What's Opera Titans • Forest Pirates • The Bergerac • Snot and Tears • Campfire! • What We Learned at Camp • Communicate Openly • Royal Jelly • Strength of a Grown Man • Had to Be There • Girls Night In • The Great Disaster • The Viewers Decide
Season 6: October 4, 2019 - present
Butt Atoms • TV Knight 5 • Witches Brew • That's What's Up! • Crab Shenanigans • Brobots • Brain Flip • Beast Boy on a Shelf • Christmas Crusaders • We're Off to Get Awards • Bat Scouts • Walk Away • Record Book • Magic Man • Titans Go Casual • Rain on Your Wedding Day • Egg Hunt • Justice League's Next Top Talent Idol Star: Justice League Edition • Mission to Find the Lost Stems • Drums • Guitar • Bass • You're The One
Top of the Titans: April 27, 2018 - July 20, 2018
Raddest Songs • Best Love Songs • Beast Boy & Cyborg Songs • Dance Party • Best Rivals