"Beast Boy on a Shelf" is the eighth episode of the sixth season of Teen Titans Go!, and the two-hundred-sixty-ninth overall episode of the series.
Summary
Santa Claus forces Beast Boy to become a spy and report on the Titans' naughty behavior.
Plot 
TBA
Characters 
Trivia 
This is the fourth time an episode premiered on a Saturday.
This episode was accompanied by an event of Beast Boy (Greg Cipes) reading some of the selected letters from children who sent them to Cartoon Network, every night at 6 pm in the US.
This episode reveals that Robin's butt is actually stuffing instead of naturally buff.
The background that appears when Beast Boy says "That's What's Up" in the beginning is the same as seen in the previous episode, "Beast Boy's That's What's Up".
One of the forbidden things to do in the tower which Starfire has done is to drink milk straight out of the carton.
Cyborg is shown to have a bad habit of using Starfire's toothbrush without Starfire's permission.
The backdrop from "Beast Boy's That's What's Up" is reused when Beast Boy decides to go out and buy some snacks.
This episode reveals that the cactus in the living room actually wears underpants.
At the end of the episode, Beast Boy breaks the fourth wall by looking at the audience and giving them a smile.
Continuity
Beast Boy wears the same brown businessman outfit from "Career Day" during the court scene.
References
The title itself is a reference to Elf on a Shelf.
The ending which has Beast Boy being a state witness and wearing a bathrobe to get a newspaper as he exits his house is a reference-parody to the conclusion of the 1990 movie Goodfellas.
Errors
TBA
Running Gags
Beast Boy dressing as an elf and spying on the other Titans.
Santa and the Reindeer constantly blackmailing Beast Boy.
The Titans and Santa Claiming at Beast Boy.
Transcript
TBA
The transcript for "Beast Boy on a Shelf" can be viewed here.
Gallery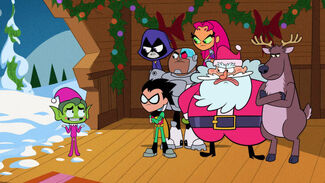 The image gallery for Beast Boy on a Shelf may be viewed here.