"Beast Boy on a Shelf" is the eighth episode of the sixth season of Teen Titans Go!, and the two-hundred-sixty-ninth overall episode of the series.
Summary
Santa Claus forces Beast Boy to become a spy and report on the Titans' naughty behavior.
Plot 
On the night before Christmas, Cyborg and Beast Boy proceed to toot "Deck the Halls", but Robin, Starfire and Raven tell them to watch their every move on Christmas because Santa Claus is watching everyone, even if they're in bed sleeping, and farting/tooting is very rude and disrespectful on Christmas, even "Deck the Halls". However, Beast Boy and Cyborg tell the other Titans that they do not need to worry about this, and procced to cover the entire tower with metal walls so Santa will not watch their every move so the Teen Titans can be naughty as they want.
The Titans proceed to do a myriad of naughty actions. Beast Boy (in dog form) pees on a plant in front of Cyborg and Starfire, Starfire and Raven spray-paint an ugly and stinky drawing of Santa Claus on the wall. Cyborg changes the sock news channel to a movie of a beautiful sock, watching it with Robin and Beast Boy. Finally, Beast Boy and Raven play baseball, breaking the pot of the a cactus. Lastly, Beast Boy eats junk food, not caring care that he will spoil his dinner.
Later, Beast Boy decides to temporarily leave the tower to buy snacks. but his fun (and naughty) Christmas comes to an end when one of Santa's reindeer catches him in the act and kidnaps him. The Reindeer takes Beast Boy to the North Pole to see Santa Claus. Santa tells Beast Boy that he's been watching him and that he's been very very naughty, showing some photos of him (Beast Boy) eating junk food before dinner. Santa Claus then explains that the N.B.I. came to him and told him that he's been putting children on the naughty list even if some of them aren't naughty at all. He states this is so he would not have to waste time making a lot of toys for them, implying that Santa is sick and tired of make toys for children and going everywhere to watch people. He says the N.B.I. will shut down his operation unless he provides proof of naughtiness and worse, the Titans have installed a security system that his magic can't penetrate. Santa needs eyes inside the tower and asks Beast Boy to watch the Titans. Beast Boy refuses to be a creepy rat by spying on the Titans, but Santa threatens him, saying if he doesn't do it he will receive no Christmas presents from Santa and worse, Santa's reindeer will punch him in the face every Christmas. Beast Boy decides has no choice but to be Santa's spy. The reindeer throw cheese at Beast Boy's face.
Just after, the scene cuts to the Tower, where Cyborg attempts to sneak cookies before dinner, but sees Beast Boy as a cute little elf, but he doesn't care and takes cookies anyway. Beast Boy returns to the North Pole and tells Santa that he saw Cyborg sneak cookies before dinner, but that wasn't naughty enough, so Santa shows him a speaker/camera that looks like a piece of peppermint candy. At first, Beast Boy refuses to wear the wire but Santa explains if he doesn't, he will get the jingle bells (the reindeer will punch Beast Boy in the face with jingle bells as brass knuckles), so Beast Boy wears the wire. Beast Boy catches the Titans being naughty: Raven stealing the candy from the Titans' stockings, Cyborg using Starfire's toothbrush since his was lost, Starfire drinking an entire carton of milk without a glass, and Robin using fraudulent buns. Robin is the only Titan who catches Beast Boy spying on him. Beast Boy tries to bluff his way out, but Robin sees the wire on Beast Boy's chest.
Robin then tells the the other Titans about Beast Boy spying on them. Beast Boy tries to explain to his friends that it was all Santa's fault because Santa forced him to spy on the Titans, but Raven says, "A rat is a rat! Doesn't matter the reason!" The Titans then decide to punish Beast Boy for betraying them by feeding him to piranhas, but when Beast Boy promises to do anything to make it up for the Titans, Robin tells him to infiltrate Santa Claus himself. Beast Boy tells the Titans that Santa would beat him up if he caught him, but Raven tells him that he should have told them earlier before they nearly killed him.
Soon, Robin puts the device on beast boy's head so they would expose Santa. At the North Pole, the Titans send Beast Boy on a mission to expose Santa. Santa reads a letter from a girl named Jane and puts her on the naughty list for sending him 'garbage', revealing that Santa does not care about what the N.B.I. says after all. Beast Boy takes pictures of that to send them to the N.B.I., but Santa hears the snapshot sounds from Beast Boy and uses cheese to catch him. But Santa is too late; the Titans now have proof that Santa is a meanie. But Santa has proof that the Titans were very naughty, so Santa and the Titans fight each other and whoever wins exposes the loser.
But before they fight, The Teen Titans and Santa Claus realize the true villain who attempted to expose them isn't each other but Beast Boy, who betrayed them, spied on them and nearly almost exposed them, so they forgive each other, become friends, and call a truce…despite the fact was that both sides made Beast Boy become the rat in the first place. Meanwhile, The Teen Titans and Santa Claus procced to shoot the rat aka Beast Boy in rat form, seeking vengeance for betraying them by spying on them, but miss.
In the future, Beast Boy has vanished without a trace. The Tower was in Robin's name, and the car was registered to Cyborg. Beast Boy has never payed taxes or voted, so you never even know he is alive. At trial, Santa Claus is found guilty of being cruel to children. Beast Boy is protected by the North Pole's Naughty List Protection Program. He is never heard from again, and he never gets another present from Santa.
Characters 
Trivia 
This is the fourth time an episode premiered on a Saturday.
This episode was accompanied by an event of Beast Boy (Greg Cipes) reading some of the selected letters from children who sent them to Cartoon Network, every night at 6 pm in the US.
This episode reveals that Robin's butt is actually stuffing instead of naturally buff.
The background that appears when Beast Boy says "That's What's Up" in the beginning is the same as seen in the previous episode, "Beast Boy's That's What's Up".
One of the forbidden things to do in the tower which Starfire has done is to drink milk straight out of the carton.
Cyborg is shown to have a bad habit of using Starfire's toothbrush without Starfire's permission.
The backdrop from "Beast Boy's That's What's Up" is reused when Beast Boy decides to go out and buy some snacks.
This episode reveals that the cactus in the living room actually wears underpants.
At the end of the episode, Beast Boy breaks the fourth wall by looking at the audience and giving them a smile.
Continuity
Beast Boy wears the same brown businessman outfit from "Career Day" during the court scene.
References
The title itself is a reference to Elf on a Shelf.
The ending which has Beast Boy being a state witness and wearing a bathrobe to get a newspaper as he exits his house is a reference-parody to the conclusion of the 1990 movie Goodfellas.
Errors
TBA
Running Gags
Beast Boy dressing as an elf and spying on the other Titans.
Santa and the Reindeer constantly blackmailing Beast Boy.
The Titans and Santa Claiming at Beast Boy.
Transcript
TBA
The transcript for "Beast Boy on a Shelf" can be viewed here.
Gallery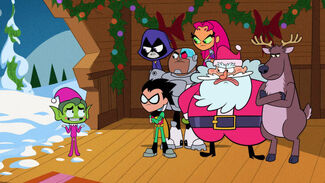 The image gallery for Beast Boy on a Shelf may be viewed here.