"Beast Man" is the forty-fourth episode of the second season of Teen Titans Go!, and the ninety-sixth overall episode of the series.
Synopsis
Beast Boy discovers that he can use his power to turn himself into an adult.
Plot
The episode begins with the Titans standing in line for a movie, "Death Toilet 3". Everyone starts sharing with each other how good the movie will be. Starfire is sad that she has not seen any of the movies in the series, and Raven adds that they all probably won't be allowed in. They then realize they really can't go in because of it's adult rating. This results in all of the boys screaming. Robin sadly commands them to just go home.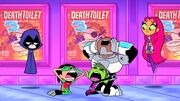 At Titans Tower, the gang rants about how adults think they always have the upper hand. Beast Boy says he doesn't want to be an adult, but Raven warns him that at some point in his life, he will be forced to become old, unfun, and become very worried about rules, and get boring jobs working for "The Man". Starfire asks who The Man is, and Raven tells that one day, they're coming for all of them. Robin replies that telling Raven just bummed all of them out.
Cyborg reminds the others that they're not adults yet, and says that they should play something stupid. Beast Boy exclaims that they should play "Random Animal Rally".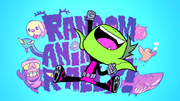 The Titans tell Beast Boy to turn into multiple animals, such as donkeys, mules, cuddle fish, horseshoe crabs, penguins, lemurs, and Baboons, which are referred as "red butt monkeys". When Cyborg is thinking of what Beast Boy should turn into, he yells, "Give me a second MAN!" which then Beast Boy transforms into a man.
The Titans all gasp at Beast Boys's transformation as a man, and Robin supposes that a man is a type of animal. Starfire mentions that Beast Boy has only side hair, and is bald. Raven warns Beast Boy to transform back, before it makes him turn into an adult. Robin realizes that as long as Beast Boy stays as an adult, they can go to the movies.
The Titans go to the theaters to get their tickets, and Beast Boy goes into an accent where he, himself, asks if he can have one ticket for him, and four for four "kids". The Titans giggle, as Beast Boy tries to shush them. The employee hands him the tickets, and they go to see "Death Toilet 3".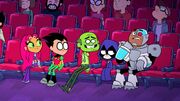 The Titans are in the theater, watching the movie. The movie ends with Death Toilet saving his wife from terrorists, as the Titans all cheer. The Titans minds have suddenly changed, and they all decide to do adult related things.
The Titans arrive back in the tower, as Beast Boy says the experience was amazing. Raven adds that it was fun, but again warns Beast Boy to change back before The Man finds him and forces him to get a job. Cyborg and Robin are still feeling good about the parts of being an adult, and talk about it. Starfire is drowsy, and believes it is time for "the lay of the hay", and wishes a good night to her friends. Beast Boy declines going to sleep, and goes out to do cool adult stuff.
Later in the morning, Starfire asks Beast Boy if he would like to have cereal with her. He raises his head with a tired look, as Starfire screams. Beast Boy, with a dad-related voice, declines as there is too many calories to eat cereal. Robin, Cyborg, and Raven arrive, and Robin asks why he is still an adult. Beast Boy replies and says that somebody has to make a living. He then looks at his watch, and notices he has to go to work. Cyborg tells Beast Boy to transform back so they can... Before he can finish, Beast Boy yells and says that if the the Titans don't do their chores before he comes back, they should consider their butts grounded. He then leaves, with the Titans in shock and worried about him. Raven says the results came out just as expected, and Robin says they should follow him.
Beast Boy comes out of a bus, and goes in a line with all of the other workers. Cyborg notices him in the crowd, and Starfire asks why he would find a job there. Raven says this is where adults are attracted to. When another man is in the back, the Titans grab him by his neck, beat him up, and disguise themselves as another man in a suit, with Raven as the head, while all of the other Titans support her height. The Titans complain about their handling inside of the suit, and within a matter of seconds, a giant group of men come, and shove Raven into the elevator with them. The men all talk, while the Titans stare uncomfortably.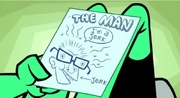 When they finally get out, they notice The Man is taking control of them. In order to get Beast Boy back, the Titans draw a picture of The Man that would offend him, and make Beast Boy look like he did it. When he finds out, he decides to fire Beast Boy, and actually will engulf him. The Titans arrive to stop him, but he is invulnerable to their attacks. To get them, The Man summons the guardians of the status quo, and they attack the Titans, forcing them to retreat. When they finally escape into another office, Starfire wonders how them as teenagers, could beat him. But then the Titans have an idea: they act like average teenagers. Robin is playing his jam with headphones, where The Man tries to get his attention, but is ignored. Cyborg and Starfire babble about things while texting and ignore The Man as well. When Raven is reading an issue about Kid Flash and Jinx, The Man tries to get Raven's attention and she says her catchphrase, "whatever". This results in The Man's head exploding, freeing the adults and Beast Boy, who turned back to normal and regained his hair. He admits that being adult is terrible and promises that he'll never be one again.
Robin announces that all of the men are free from their jobs, and that they can now be free, but when he Starfire asks how they will provide for their families, he says "I don't know, I'm just a kid. Not my problem." He walks away and the episode ends.
Characters
Trivia
This is the second time that, due to mishaps, a preview for a future episode was shown in advance, compared to the original episode slated to air, which then had no previews put out for it. This first happened between "Slumber Party" and "Love Monsters".
Oddly, both "Man Person" and this episode have similar names, with both focusing on Beast Boy becoming a man.
Music from "Girl's Night Out" and "Nose Mouth" is reused.
Beast Boy's adult form looks different from how he appeared in "Staring at the Future".

This is probably because it's merely a transformation into an adult rather than how Beast Boy would actually look when he's older.

Based on the film rating being "M-45+", this suggests that Beast Boy's adult form is at least 45 years old. The date of birth on his driver's license states that he was born on February 22, 1966, which makes him 49 years old if the episode took place in 2015.
Despite being set to air on June 29, 2015, there was an available full download released by iTunes and Google Play for this episode, but was removed and no longer available. However, this episode is still on Amazon Instant Video.

More than likely, Warner Bros. realized the mistake, and issued it to be taken off until its official debut.
If you were able to purchase the episode before it was taken down, it will list it as episode "47" for the second season, which ends up being correct, as this episode is the 96th episode to air.

This episode premiered as a new episode on the first day of the 100th episode celebration.
This episode aired on Cyborg's birthday.
The episode was aired in 2015, even though this was the last episode to be produced in 2014.
Within Cyborg's tattoo, there is a ribbon featuring a short string of binary code. When translated, this code reads " ]~® ¯ " (right square bracket - tilde - registered symbol - macron).
Continuity
This is the fourth time a character's real name has been shown. ("Hot Garbage", "Robin Backwards", "Oil Drums"). It is also the second time Beast Boy's real name is shown, as it was previously given in "Hot Garbage". Although this is the first time his full name, "Garfield Mark Logan", is shown. In this case, it can be found on his driver's license.
Beast Boy gives credit cards to a pizza truck to pay for some pizza. Some images on the cards include the Titans on Mount Rushmore from "Halloween" and the over-exaggerated masculine drawing of Beast Boy and Cyborg from "Caramel Apples".
Robin's recurring instrumental from "Driver's Ed" and "Road Trip" returns. It's called "Rob's Jamz" in this episode.
Raven gets a tattoo of every Pretty Pretty Pegasus character seen in "Friendship".
Raven's romantic feelings are again shown when she mentions to Beast Boy 'a loveless marriage' and then giggles briefly, implying that she may like the thought of them married.
References
Beast Boy's adult form being bald may be a reference to the original Teen Titans episode "How Long is Forever?", where future Beast Boy was shown to be bald.

Also, the photo on Beast Boy's driver's license appears to be Uncle Fester of The Addams Family franchise. This might indicate that he was using a fake ID.

The title of this episode might be a reference to the original Teen Titans episode, "The Beast Within", where Beast Boy considers changing his name to this.
Robin gets a tattoo of Starfire with her design from the old comics.
The "Howie Scream" is heard during the movie when Death Toilet shoots a toilet off a building.
The Death Toilet in the movie looks similar to Hoss Delgado from The Grim Adventures of Billy & Mandy.
The Man, the villain in this episode, is the title of an episode from The Amazing World of Gumball, and also the title of a song by Aloe Blacc.
This episode title was named after a character with the same name from The Master of the Universe franchise.
Errors
Cyborg is, strictly speaking, an adult, being 18 years old.
Starfire gets a tattoo on her stomach, but in the scene after it's gone. The same applies for Cyborg with his shoulder tattoo.
Beast Boy's "red-butt monkey" is actually called a gelada baboon.
If "Death Toilet 3" is rated "M-45", wouldn't the other ones have the same rating? Then the Titans wouldn't have been able to see them.

It's possible that "Death Toilet 3" has more mature things in it.

They probably could also have seen the previous two on home video.

At 6:58, you can see that Raven has no hat in the elevator, though she had one previously.
Running Gags
Cyborg wanting Beast Boy to be a donkey with changing sizes.
The Titans doing things adults do, but not remotely thinking of the consequences.
Raven warning Beast Boy about being a permanent man.
Transcript
The transcript for "Beast Man" can be found here.
Gallery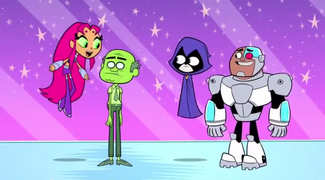 The image gallery for Beast Man may be viewed here.