Billie Hayes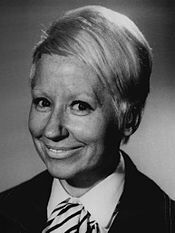 Role   -   Voice actor
Character   -   Mother Mae-Eye
Date of birth   -   August 5, 1924 (age 96)
Died   -   April 29, 2021
Billie Hayes (August 5, 1924 - April 29 2021) was an American actress who voiced Mother Mae-Eye in Teen Titans Go! as well in the previous 2003 series.
She was best known for her comic portrayal of Witchiepoo on NBC's Sid and Marty Krofft television series H.R. Pufnstuf. Her characteristic cackle and animated physicality were notable during the show's 17-episode run in 1969–70. She reprised this role in The Paul Lynde Halloween Special. Hayes portrayed a similar character in other roles, including Episode 8.10 of Bewitched ("Hansel and Gretel in Samantha-Land"), Weenie the Genie in the Sid and Marty Krofft program Lidsville, and Maw Weskitt in Episode 39 of the second season of The Monkees ("Hillbilly Honeymoon"). 
Hayes played Mammy Yokum in both the Broadway and film versions of Li'l Abner, appeared on the soap opera General Hospital as Robert Scorpio's mentor, "O'Reilly" in 1981 and 1985, and did the voiceover for the character Mother Mae-Eye on the animated series Teen Titans and the character Granny Applecheeks in The Grim Adventures of Billy & Mandy. Hayes also had a short role in The Wacky Adventures of Ronald McDonald as One-Eyed Sally.
Also, she was the voice of the old lady from the original Powerpuff Girls episode "Bang For Your Buck". Her first voice role was as a character named Orgoch on the Disney feature film The Black Cauldron in 1985. Other voice work has included roles on cartoons such as The Further Adventures of SuperTed, Johnny Bravo, W.I.T.C.H., The Batman, Tale Spin, and Darkwing Duck. Hayes is the president of the animal rescue organization Pet Hope, which she founded in 1984 to care for and find homes for abandoned animals. On her personal website, Hayes offers autographed photos for donations to Pet Hope as charity.
Trivia
She is the third voice actor in the series' cast to pass away during the show's production.

If you count Stan Lee, then she is the fourth.