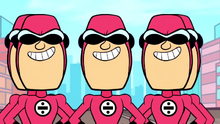 Billy Numerous is a member of the H.I.V.E. Five and a major antagonist of Teen Titans Go!. He is voiced by Scott Menville.
Bio
Billy Numerous makes his debut in "Super Robin", robbing a bank with the H.I.V.E. Five. He fights Starfire, and is easily defeated when she eye-blasts him and his clones.
In "Artful Dodgers", he is robbing the bank with his team, but is later captured with the others. Later in the episode, he is in a dodgeball tournament with his members, but is sidelined with See-More.
In "Power Moves", Billy is used as a dummy to demonstrate one of Beast Boy and Cyborg's power moves.
In "Sidekick", Billy Numerous is caught in a fight with Cyborg in Gotham City, and gets stuck on Bat-a-rangs. Much to Robin's reaction, he frees Billy Numerous. It is also shown he takes a liking to fireworks, as he cheers them on when the "Ultimate Bat-a-Rang" activates.
In "Mouth Hole", he appears in the H.I.V.E. Tower, angry at the Titans with the rest of the H.I.V.E. for sneaking into their tower, and knocks them into the water. Later in the episode, he tries to fight Robin, but Robin uses a minigun made from whistle powers he got earlier, and shoots all the clones.
In "Multiple Trick Pony", he tries to overwhelm Kid Flash with clones, but gets knocked out by See-More's lasers when Kid Flash avoids them.
In "Yearbook Madness", he enters the H.I.V.E. Tower, only to be interrupted by Robin, asking him to sign his yearbook. Billy duplicates himself, and gives three signatures.
Billy Numerous, like Mammoth and See-More, has his first speaking role in the episode "The HIVE Five". During a team meeting of the HIVE, he suggests unleashing a pack of murder dogs on the Titans, but his idea is rejected by Gizmo in favor of a day off. Gizmo reiterates to the HIVE not to engage the Titans. He repeats that when Billy asks what happens if they and the Titans see each other at the same time. Billy is seen later having a baseball game with his clones, but they disturb Raven's afternoon reading, and they get beaten up by her.
In "Scary Figure Dance", Billy Numerous is seen dressing up as a cowboy for Halloween. It is also only the second episode in this series where he has any dialog, along with Mammoth and See-More.
Physical Appearance
Billy Numerous is of medium height and a thin build, and wears a red body suit with a division symbol on the upper body, along with black bands wrapped around his wrists, ankles and waist. He also wears a black visor over his eyes, as well as black coverings over his ears. His body suit does not conceal the lower proportion of his face (nose, mouth and chin).
Personality
Billy Numerous is shown as the comedic member of the H.I.V.E. It is revealed in "In and Out" that he plays video games with his clones, similar to his love of video games in the original series. It is also shown that he loves fireworks in "Sidekick", where he stares happily at them. In the H.I.V.E. Five, his talkative and humorous nature is shown, as he clones himself and fights with them, while chattering.
Powers and Abilities
Duplication: He can create sentient clones of himself and has even been shown to even create clones with objects he's not currently holding (ex. he can create a clone of himself with a baseball bat even though he doesn't have one himself)
Relationships
Main Article: Billy Numerous/Relationships
Episode Appearances
Comics
Trivia
Billy Numerous & See-More are the only two members of the H.I.V.E. Five to debut in "Super Robin".
He was voiced by Jason Marsden in the original series, and is now voiced by Scott Menville.
He is the seventh/eighth villain from the original series to return, along with See-More.
Due to the Division sign on his shirt, the creators were originally going to change his name to 'Di Vision' as a sight joke but then just stuck with 'Billy Numerous' making him the only character to have an opinion from the creators to have his name be changed.
Despite being a recurring villain in the series, he, along with Mammoth and See-More, never had speaking roles until "The HIVE Five".
He likes to play baseball, as shown in "The HIVE Five".
Quotes
The quotes for Billy Numerous can be found here.
Voices in other languages
Illés Horváth (Hungarian)
Sebastian Machalski (Polish)
Taric Mehani (French)
 ? (Italian, Romanian)
Gallery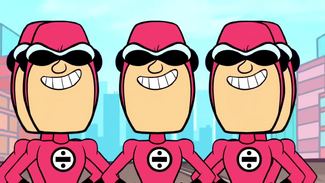 The image gallery for Billy Numerous may be viewed here.