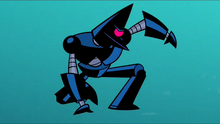 Birdarang is a minor recurring character in Teen Titans Go!. He was created by Robin and Cyborg in the episode "Power Moves," and has since then become Robin's little buddy, and Beat Box's partner and best friend. He is voiced by Scott Menville.
Bio
After accidentally using an amazing power move to defeat Mammoth, Robin and Cyborg retreated to the garage to see what else their combined powers could do. Their first experiment, which combined Robin's staff and Cyborg's boombox, resulted in the creation of Beat Box.
Their second experiment, however, consisted of one of Robin's bird-a-rangs and one of Cyborg's microchips. Robin held it up, and Cyborg jammed in his microchip just straight into it. The result: Birdarang! He uttered the words "What's up, fellas?". Being created in the same environment as Beat Box, Birdarang instantly proceeds to party, with music supplied by the nearby Beat Box. Later that day, Birdarang joined Robin, Cyborg, and the Beat Box as they traveled around Jump City, merging everything they could find.
Birdarang continues to live in Titans Tower with the other Titans, but doesn't appear very often, and he is usually hidden in unexpected places (for example, Silkie's stomach).
It also appears to be one of Robin's "little buddies", as it will apparently fight for him against Pain Bot in "Little Buddies". Pain Bot simply just flicks Birdarang out of the ring.
In the episode "Puppets, Whaaaaat?", he makes a brief appearance on television with Beat Box.
In "Brian", upon realizing the Titans are imprisoned by The Brain, he leads the other Little Buddies to rescue them.
In other seasons, he usually appears as cameos, sometimes accompanied with Beat Box or occasionally Pain Bot.
Personality
Birdarang is usually peppy, and quick to start up conversations, narrations and announcements, explaining his role as contest announcers. He is also a fun-loving guy who enjoys chilling around and hanging out with his best friend Beat Box.
During the episode "Brian", Birdarang displays a quite relaxed personality, having no problem with partying for eight months while the Titans were imprisoned. At the start of the rescue operation Birdarang shows a happy-go-lucky attitude and can be seen partying as a distraction for the guard and then partying once in the cell. Birdarang does however show composure, leading the team of Pain Bot, Dave, Beat Box, Super Robin in breaking out of their cage. Birdarang also shows resilience and loyalty when taking on The Brain.
In "Justice League's Next Top Talent Idol Star" and its sequel, Birdarang is a good judge of character, not allowing cheating in contests. However, his way of stating contestants' mistakes can be quite blatant. At times, he can also be quite nasty to his friends the Titans, namely disregarding their hard work in "We're Off To Get Awards".
Episode Appearances
Film
Specials
Powers and Abilities
Levitation: Birdarang has the ability to hover in the air as seen in many episodes.
Transformation Into Armored Mode: Birdarang has the ability to transform himself into an armored mode at will.
Heat Vision: When he is in his power armor mode he has heat vision.
Enhanced Acrobatics: When dodging The Brain's attacks he used some pretty cool acrobatics this is only when he is in his armor mode though.
Enhanced Physical Abilities: When in armor mode birdarang has advanced jumping, speed, endurance, durability and all the stuff.
Super Strength: When in armor mode, he has super strength.
Quotes
"What's up, fellas?"
"Now, that's a mouthful."
"Thats a fashion no-no."
"Smooth move, bro."
"Hi ya, fellas."
"Roger that. Bye, ya fellas."
"This is going to be off the chain, yo."
"Let's do this, Beat Box."
"Let's break it down."
"That's ri-donk-ulous."
"A suicide mission to save the other Titans?"
"Let's dance, Brian!"
"Word to your whole family!"
"Word!"
"This is my jam, yo!"
"Oh, dang!"
"Prepare yourselves, this is gonna be one titanic takedown!"
"Oh, snap!"
Trivia
Birdarang first appeared in the episode "Books". However, its origin takes place in the episode "Power Moves".
His running stance shown in "Brian" is very similar to Sonic the Hedgehog's running stance.
In the episode Brian and The Overbite, he fights The Brain while in a "super mode", with arms and legs. These are the only episodes where he does this.
He is not to be confused with Robin's birdarang weapons, which was half of what he was made of.
As shown in "Justice League's Next Top Talent Idol Star", "The Academy", and "Costume Contest", he hosted special events throughout the fourth season.
As also shown throughout the series, Birdarang is best friends with Beat Box.
In "Jinxed", Robin swallows Birdarang to speak while he lost his voice.
His voice was a bit lower in tone in his first few appearances in the first season.
Gallery