"Boys vs Girls" is the twentieth episode of the second season of Teen Titans Go!, and the seventy-second overall episode of the series.
Synopsis
The male and female Titans compete against each other to prove once and for all which gender is better-boys or girls?
Plot
The story starts at the Titans Tower where Beast Boy, Cyborg and Robin are eating pizza while discussing about boy stuff such as football, race cars and begins to burp in front of Raven and Starfire in a rude manner. While they're enjoying themselves after singing about their famous gender, Raven calls off the annoyance by smashing Beast Boy under a meteor. The boys starts to mock the girls for they believe that boys are better than girls. While Starfire does not have the knowledge for why they're judging genders, Robin explains that girls can never compete with boys because they are lying around thinking about having look and being emotional. However his theory turns to be vice - versa when the girls claim that they are the ones who are lazy and spending much time on tidying their hair than them.
Raven begins to shout angry at Cyborg and Beast Boy making them crying for they might attempted to show up their emotional feelings. Still believing that boys are better than girls, Robin can go on and on about all the reasons to prove it, but he can summon up in just one word: cooties. The Titans get shocked, as Robin claims that Raven and Starfire have cooties making Cyborg and Beast Boy to get on his side. However, Raven believes that cooties aren't real and if she thinks that boys are better, she and Starfire challenges the boys to a contest of speed, smartness and strength between genders, which they accepted eventually. The girls easily won the contest in all three rounds and zero for boys.
Meanwhile, the boys arrive back to the Tower, all wet after they were thrown in the air by Raven and Starfire in the last round. Cyborg and Beast Boy are now confident that girls are better than boys and how Robin lied to them about cooties. Just in case, Cyborg checks on them with his eye-scanner for cooties and they are all cootie free. Confused, the boys except Robin, were wondering what do they do most of the time. Raven tells them that she's reading spell books while fighting evil demons while Starfire makes glorbnog pudding with saliva of a giant klatar. The boys are amazed of their actions and they decide to join the girls leaving the living room, while Robin plans to bring up real cooties for girls.
During the night time, Robin infiltrates the Top Secret Government Laboratory mainly in the hazard labs by stealth without being detected by security. He finds the cooties container and snatches a sample out of it in his tube. After he returns back to the Tower, Robin spills the sample right below each Titan girl's room doors for the night and starts his evil laugh loud enough to wake up Cyborg shouting at him that he's trying to sleep. Robin stops from laughing.
The next morning, the Titans are having breakfast and starts again by mocking Robin for he's a boy, as Cyborg and Beast Boy are still enjoying with Raven and Starfire while singing the female gender song. Suddenly, their song has been interrupted when Starfire and Raven started to scratch themselves repeatedly as they don't feel alone in their clothes. When Robin states it, Beast Boy and Cyborg believe him now that the girls have cooties when they appeared on their faces, scaring off the Titan boys. Raven blames Robin for his major mistake, while he admits it. And only he can get rid of cooties with his cootie catcher if they also admit that boys are better than girls. Raven and Starfire refuses, leading Robin to letting them contaminated. However, Raven states that if they are touching the boys they will be contaminated with cooties as well, making the Titan boys to shriek in terror and escapes the Tower. The Titan girls are chasing them downtown, but no matter where the boys tried to find a place to hide, the girls were always a step ahead of them. The boys get cornered in a bank vault and they get touched by the girls contaminating them as well with the cooties as they started to scratch repeatedly. Finally Robin admits his defeat and uses the cootie catcher, decontaminating themselves back.
After they got out of the vault, Robin truly admits that girls are superior to boys in every possible way, as he apologizes to them. Anyhow, Beast Boy claims that only a boy can make such an amazing speech in the end just like how Robin did as they attempted to sing again their gender song until Raven shut their mouths up with her demonic tentacles. It ends up with a "Show'z Ovah!" backdrop scene.
Characters
Songs
Trivia
This episode aired one year after "No Power" and 10 years after the original Teen Titans episode, "Can I Keep Him?".
This is the first appearance of the Top Secret Government Laboratory.
After the girls win the competition a picture of Wonder Woman is seen shredding a Batman shirt.
This episode was critically panned because of alleged sexism.
Irony: Since Cyborg and Beast Boy joins Raven and Starfire to become girls, they should've just dressed and act as girls; Cyborg and Beast Boy became boys again since Raven and Starfire got cooties (thanks to Robin).
Continuity
References
When the boys and Starfire are down in the sewers, something that looks like Beast Boy's werebeast transformation from the original Teen Titans series, seems to be lurking in the background.
The music playing during the Titans' contest start references the intro song of Thunderstruck by AC/DC.
The music that plays while Robin infiltrates the Government Laboratory is from the Mission: Impossible franchise.
During the chase between the Titan boys and girls in downtown Jump City, it shows a reference to the Pacman game series.
The knowledge train that goes downtown to the corner of science and all facts is a parody of Soul Train, the longest-running, first-run nationally syndicated program in its 35-year history and the hippest trip in America from 1971 to 2006.
The "sugar, spice, and anything nice" quote being mentioned by Robin is a reference to The Powerpuff Girls.
Rat Fink is referenced when Beast Boy is seen driving a car in a surreal fashion.
Cyborg, Starfire, Raven, and Beast Boy make a reference to a "selfie", a popular internet term used when you take a photo of yourself or a group of people.
Errors
During the song Boys Boys, the symbol used to describe the male gender (a circle with an arrow pointing upright) is shown as a circle with an arrow pointing downright, however in the song "Girls Girls", the female symbol (a circle with a cross underneath) is shown the right way.
Some channel guides mistakenly call this episode "Girls vs Boys".
Running Gags
Robin trying to prove and explain that boys are more superior to girls.
The Titans (except Robin) rapping a song about Boys or Girls.
Transcript
The transcript for "Boys vs Girls" can be found here.
Gallery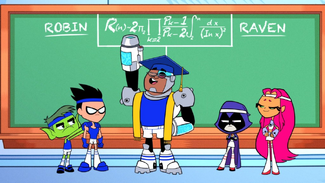 The image gallery for Boys vs Girls may be viewed here.
Community content is available under
CC-BY-SA
unless otherwise noted.