"Brain Flip" is the fourth and final part of the special miniseries dedicated to Beast Boy and the Doom Patrol, the seventh episode of the sixth season of Teen Titans Go!, and the two-hundred-sixty-eighth overall episode of the series.
Summary
It's time for Beast Boy to leave, but the Doom Patrol try everything they can to get him to stay.
Plot 
TBA
Characters 
Major Characters
Minor Characters
Songs
Trivia 
It is implied that the Doom Patrol have used various unethical and possessive methods to force Beast Boy to stay with them during his previous visits in this episode.
Robot Man breaks the Fourth Wall by sticking himself onto the screen to ask the audience to give him a high-five.
This is the third episode to not feature a full Titans cast. The rest are "That's What's Up!", "Crab Shenanigans" and "Brobots".
This is the third episode to have the word "brain" in the title. The others are "Brain Food" and "Brain Percentages".
Continuity 
References 
TBA
Errors 
Despite Robot Man flying off to temporarily join the Titans in Cyborg's place in the last episode, Robot Man is still with the patrol throughout this episode.
Running Gags 
The Doom Patrol trying to get Beast Boy to stay with them.
Transcript
The transcript for "Brain Flip" can be viewed here.
Gallery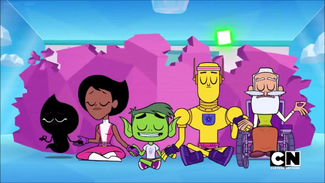 The image gallery for Brain Flip may be viewed here.