"Brobots" is the third part of the special miniseries dedicated to Beast Boy and the Doom Patrol, the sixth episode of the sixth season of Teen Titans Go!, and the two-hundred-sixty-seventh overall episode of the series.
Summary
Cyborg comes to visit Beast Boy, but once Cyborg realizes how much he and Robot Man have in common, they become inseparable.
Plot 
Robot Man and Beast Boy are enjoying in their small pool in the yard, regardless of how dirty and congested it is. Beast Boy then declares Robot Man as his bestie, until Cyborg abruptly jumps into their pool and splashes all of the water away. It turns out that Cyborg has accompanied Robin and the girls to defeat a monster in Codsville, but he is more interested in neglecting his duties, and quickly bonds with Robot Man over their own autonomy and mutual love for the 80's in spite of Beast Boy's initial worry of them getting jealous. The two cyborg boys even joke about their budding becoming toxic and unnatural. Robot Man then suggests going to the beach to purchase ice creams, but Cyborg lies to Robot Man about his credit card usage before the trio head off.
After Robot Man sings a song about his friendship with Cyborg and Beast Boy, the three enjoy their ice cream when Robot Man's scoop drops onto the floor. Cyborg then offers to purchase him another one with his credit card, but Robot Man is still unaware that Cyborg isn't being truthful enough. The three other Titans then urge Cyborg to return to their side, but Cyborg instead gets distracted by Robot Man's suggestion on playing charades.
After Elasti-Girl pretends to be a cat unsuccessfully that Negative Girl and Chief fail to recognize, it is Cyborg's turn. He successfully imitates both Zachary Taylor that Robot Man instantly recognizes, and they are able to copy the Alf's antics when trying to find themselves an 80's TV show to watch, much to Negative Girl's annoyance since she sees them as cheaters. Elasti-Girl sees that they have a lot in common though, and then Chief comes up with the unethical idea of combining them upon observing their closeness...like any mad scientist would do. Although Beast Boy finds such an idea quite messed up, he soon goes along with Chief's plan as both robots anticipate for the combination.
At the basement, after some computing for his combination machine, Chief puts some devices onto both robots and pushes the leveler, forcing them to merge together with intense agony. With the fusion complete, Beast Boy is originally pleased to have two best friends at once...until they both malfunction and go nuts. Turns out that fusion has only caused their friendship to become literally TOXIC AND UNNATURAL! Having no choice, the remaining Doom Patrol members decide to separate them before the merged robots destroy Codsville, but their attacks are all in vain. Just as all hope is lost, Beast Boy chooses to spill the beans regarding Cyborg's credit card debt, as he knows how much Robot Man dislikes credit card abusers. With the can of worms spilled, Cyborg and Robot Man get into a brutal fight that ends up having them separated through an explosion.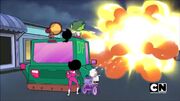 Following the end of their battle, Robot Man and Cyborg believe they have fallen apart owing to their relationship having soured, and Chief forbids them to reconnect as he fears them from ruining the world again. In the end, though, Robot Man volunteers to substitute Cyborg's place in the Titans team so that Cyborg can spend more quality time with Beast Boy, and believes that the other ignorant Titans won't find out easily. After they share a hug, Cyborg gifts Robot Man a unicorn sticker, and along with Beast Boy watches Robot Man flying away to Jump City.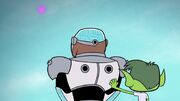 Song
Characters 
Major Characters
Minor Characters
Cameos
Trivia 
In the 2019 DC television series Doom Patrol, Cyborg is actually one of the members of the Doom Patrol and the only one not to reside in the manor. He also shares a longtime friendship with the Chief in the aforementioned series.
Cyborg is revealed to have a bad habit of depending on his credit card to do payments in this episode, and in fact he NEVER pays his debts full every month.

In this episode, he is also shown to have a collection of 80's puppy stickers.

Although Robin and the female Titans are present, they are only presented in the background battling the sea monster at the Codsville beach.
Continuity 
References 
Robot Man and Cyborg fusing is a reference to the fusion concept from another Cartoon Network show Steven Universe.
Robot Man explaining how he gained his robot body is a reference to his comic counterpart being a daredevil race car driver who has his intact brain implemented into a robot suit after suffering an Indianapolis 500 accident.
When Beast Boy, Cyborg and Robot Man hold hands together and blast into the sky, there is a rainbow left behind them, which may be a reference to Sonic Rainboom from My Little Pony: Friendship is Magic, which is Rainbow Dash's signature move.
Former United States President Zachary Taylor is mentioned by Robot Man.
Situational comedies from the 80s like Growing Pains, Small Wonder and Alf are included in Robot Man's VHS system.
Errors 
Cyborg claims that he, like Robot Man, suffered from the same type of accident that has made him get a robotic body. Nonetheless, in this show's canon, he was beaten to a crippled state in "Flashback" instead of being involved in a car accident.
Running Gags 
Robot Man and Cyborg being inseparable.
Animals (seagull and dolphin, to be exact) giving high-five to either Robot Man or Beast Boy during the song.
Transcript
The transcript for "Brobots" can be viewed here.
Gallery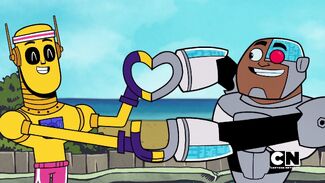 The image gallery for Brobots may be viewed here.