"Business Ethics Wink Wink" is the twentieth episode of the fifth season of Teen Titans Go!, and the two-hundredth-twenty-ninth overall episode of the series.
Summary
Starfire dreams of becoming a successful business alien princess and joins a cookie-selling organization to learn the proper skills.
Plot
This episode starts out by showing Raven, Beast Boy, and Cyborg sitting on the living room couch watching Sparkleface attempting to defuse a bomb on the TV. The bomb timer starts counting down from 11 seconds. As soon as it hits 1 second, Robin turns off the TV! Raven, Beast Boy, and Cyborg get all mad as they have wanted to see would've happened after the last second remaining on the bomb. Robin introduces something that seems to be covered - cookies! Raven, Beast Boy, and Cyborg's expressions change from mad to happy. Robin then uses his staff to hit the cookie boxes towards their mouths. Raven, Beast Boy, and Cyborg are all happy to have the cookies, until they realize that there are no green cookie boxes. Their expressions turn back to being mad and now they start complaining!
Raven, Beast Boy, and Cyborg start claiming that the green cookie boxes are the only good ones. Robin starts getting mad on how they don't appreciate "free cookies." Beast Boy, on the other hand, starts to interrogate Robin. Shortly after, Raven, Beast Boy, and Cyborg soon find out that Robin has been secretly keeping the green cookie boxes to himself! Raven gives a stare at Robin, then tells Beast Boy and Cyborg, "Get him!" The three Titans start to attack Robin in hopes of him giving up that green cookie box! As the fight continues, Cyborg eventually grabs the green cookie box out of Robin's hands. The box rips in half and the box and cookies go flying in the air.
When the cookies reach the floor, Raven, Beast Boy, and Cyborg rush to the cookies on the floor and start eating like pigs, and pushing one another. Raven punches Robin and he goes flying into the elevator, which Starfire seems to appear there. She is worried about how the other Titans are behaving to each other. She ends up breaking up the fight and says that it is unacceptable to eat cookies made by the rangers. Beast Boy corrects her by saying that the cookies aren't made by the rangers; only sold by them. Raven also includes that selling cookies is a good way for rangers to be successful in the business world when they grow up. Starfire says that she's always dreamed of being a successful business alien princess. Starfire then asks Raven if she could be a ranger and start selling cookies herself. Raven agrees and says that she doesn't care. Starfire gets happy and tells the Titans that the next time they see her she will be a ranger. She then dashes out of the Tower glass and begins her new journey as a successful business alien princess. After Starfire leaves the Tower, Robin seems to have gotten himself another green cookie box and is trying to attempt to hide it from the other Titans. It doesn't work out and they start beating him up again. Silly Robin!
Later, Raven, Beast Boy, and Cyborg are seen eating cookies out of the green cookie boxes. Robin nervously asks if he can even have ONE cookie, and Beast Boy responds with, "Sure, you can have one...of them other colored boxes!" This aggravates Robin and he attempts to get a cookie from one of the green boxes on the table, but Cyborg eats the entire BOX before Robin can even get one. This causes Robin to yell. At this moment, Starfire steps in the kitchen entrance with a girl scout's uniform.
Robin, Raven, Beast Boy, and Cyborg stare at Starfire and start complimenting her on how she looks like. After the sweet compliments from each of the Titans, Robin says that Starfire will have fun with camping and the arts and crafts. She reminds him that there will be none of that; only selling cookies. After saying this, Beast Boy excitedly asks Starfire if she has any of "those good, green boxes." She responds with, "I have all of the colors!" All the Titans besides Starfire look at the wagon full of cookie boxes, and of course, they only go after the green boxes. Robin scoffs and mockingly bids Starfire good luck on selling the garbage boxes. This saddens Starfire, but she doesn't give up her hope in selling the other boxes.
Starfire then sets up a cookie box stand outside in the city. She tries to sell cookies to a teenager, a mom with a baby in a stroller, and an old man on a mobility scooter. After failing to sell cookie boxes, Starfire starts feeling hopeless and starts to shed tears.
Back at the Tower, everyone except Starfire is seen to be eating cookies from the green cookie box. Robin asks Starfire if the cookie selling business went well. Starfire states that she can't even sell a single box. Beast Boy mentions that there are "business alien skills" that Starfire needs to work on, and she asks Beast Boy what they are. Raven says that they displayed on the cookie boxes and she lists them all. Starfire asks if this will truly help her with her cookie selling business. Cyborg says, "Of course! And we can all teach you!" Starfire cheers, "Joy!"
For the first step, Raven will teach Starfire decision making. Raven says that you need to be quick and firm with decision making. She then makes Starfire choose between puppies and kittens; but Starfire fails to choose quickly enough.
The next step that Starfire has to learn is eye contact. Cyborg and Beast Boy explain how eye contact is needed when selling cookies, and they demonstrate it some more by doing a role play, as Cyborg acting as the customer and Starfire and Beast Boy acting as the people who sell cookies. Cyborg and Beast Boy end up fighting and they punch Starfire out the kitchen to the living room, where Robin is waiting to teach business ethics.
Throughout Robin's presentation, he winks after almost everything he says. Starfire thinks something is wrong with Robin, so she tackles him and starts grabbing his eye. Robin is horrified at this and yells, "What are you doing?" Starfire responds with, "You are having the eye problems!" Robin says that he is not having any eye problems, and that he was trying to guide Starfire through the shady practices of the business world. Starfire then gains doubt that she will never become a successful business alien princess, but Robin encourages her and says that she needs a little more practice.
Taking Robin's word, Starfire improves her decision making skills, her eye contact, and her business ethics winks. To put her skills to the test, she goes back outside in the city to sell some cookies. She pulls a penny magic trick on a citizen, and he is entertained and he buys a box from Starfire (hooray!) She is happy and tells the other Titans. They are all happy for her, and now she wants to take it a step further.
Three weeks later, Starfire is already the CEO of her own industry, Starfire Industries. Inside of her building, there is a huge pile of green cookie boxes, and she is in a big room in a fancy suit. She is seen scolding someone over the phone, using all the steps the Titans taught her. While scolding over the phone, the Titans appear in the elevator that goes to Starfire's office. Robin asks if Starfire has a minute, and she says, "Of course. You have exactly one minute!" The Titans being aware that they only have one minute to talk, they rush to Starfire in an instant. Beast Boy, and Cyborg tell her that they miss the old Starfire and that they want her back. Raven on the other hand, also mentions that Starfire jacked up the prices for the green boxes. After hearing what Raven had to say about the prices, Starfire gets an idea to jack up the prices by three times. Robin then decides to step in - Starfire has to choose either her fellow Titans or her cookie empire. Due to good practice in decision making, Starfire chooses her cookie empire instead of her friends.
The fight begins by Starfire hitting Raven with her energy blasts, which knocks Raven back to the elevator. Raven admits that Starfire is very decisive. Next, Beast Boy and Cyborg try to charge at Starfire, but she makes incredible eye contact and she distracts and entertains them with a magic trick. After she got rid of Beast Boy and Cyborg, Robin comes up from behind and holds Starfire from behind. They start to "wink wink" at each other, and it ends up with Robin being blasted by Starfire's eye beams. She then says no one can stop her or her empire. Robin, unfortunately, had to end her empire by throwing a Birdarang at her green cookie boxes, making them explode with the rest of Starfire's industry building.
After Starfire's cookie empire got destroyed, she thanks the rest of the Titans for saving her from the greedy and corrupted business world. Raven says that she is glad that Starfire escaped the clutches of the business world. Robin also says that it was a shame that they had to destroy all those delicious cookies. But wait! What's that in his pants? Cyborg and Beast Boy get suspicious about it and Robin, lying that it was the extra weight from the cookies, starts backing away into the living room. The Titans realize that he is hiding green cookie boxes in his pants, and Raven says, "Get him!" and then all the Titans start attacking Robin with their superpowers, and this leads up to the Tower getting destroyed. Who knows what happened after the Tower got destroyed. Maybe they all got their own green cookie boxes equally?
Characters
Trivia
This episode reveals that the Titans have a strong infatuation towards cookies packed in green boxes.
Continuity
When the Titans beat up Robin after finding out that he's been hiding the cookies in his pants, Titans Tower gets destroyed at the end of this episode, the same thing happened in "Tower Renovation".
References
The title is a possible reference to the movie Billy Madison with Adam Sandler.
Starfire's "ranger" uniform is similar to a Girl Scout's. Also, her trying to sell cookies to passing strangers is what a Girl Scout usually does.
Robin's line "That's the way the cookie crumbles" is a reference to the movie Bruce Almighty.
Errors
Running Gags
The Titans teaching Starfire business skills.
The Titans (except Starfire) beating up Robin whenever he has a green box of cookies.
Robin and Starfire winking and saying "eh?" Every time he talks about business ethics.
The Titans teaching Starfire how to be a successful business alien princess.
Transcript
The transcript for "Business Ethics Wink Wink" can be found here.
Gallery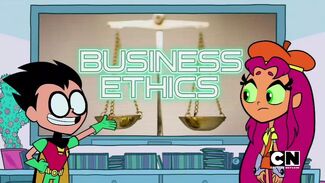 The image gallery for Business Ethics Wink Wink may be viewed here.