"Caged Tiger" is the thirty-fourth episode of the first season of Teen Titans Go!, and the thirty-fourth overall episode of the series.
Synopsis
Cyborg, Beast Boy, and Robin return from their Bro-cation and are closer than ever, but their bro-mentum is interrupted when they get trapped in the elevator.
Plot
A quiet afternoon filled with reading in the Tower's living room is suddenly interrupted by Cyborg, Beast Boy, and Robin, who burst into the room, announcing their return from their "Bro-cation." When the girls don't seem to care, the "bros" decide that it is "Bro Broscious Bath Time." Before they even leave the room, the "Crime Alert" alarm sounds, startling everybody. The computer tells them that Doctor Light is loose in Jump City. Cyborg suggests that they take "The Bro Train," and instantly transforms himself into a train. Beast Boy and Robin jump on board, and they all ride to the elevator. Raven and Starfire both decide that they do not want to go along with their stupidity and that they will meet them there.
Inside the elevator, the three bros are pumping themselves up for the mission. Suddenly, the elevator stops. Cyborg tells them that it is no big deal and that he can fix the wiring within a few minutes. Robin comments that they have no signal on their communicator, but he is not worried because he is confident that Cyborg will get them out of there. Beast Boy sighs and shivers, saying he wishes he hadn't "drunk" so much before they left.
Meanwhile, on a rooftop in Jump City, Starfire and Raven arrive to find Doctor Light's gigantic weapon already in place. The villain prepares to blast them, but he stops and asks where the others are. The girls assure him that the others will be there soon, and Doctor Light asks the girls if they will be willing to wait. He assures them that it will be much better with all five titans present. The girls decide that they will wait as he asked, and all three sit down.
Back in the elevator, Robin begins to freak out and states that he is like a tiger, and you should not cage a tiger. Beast Boy tries to get his mind off his situation by asking Robin how he and Starfire are doing. Robin tells him that she touched his arm six times that week, which means they are practically dating. Cyborg finally finishes the elevator and puts the two wires together. Instead of going down, however, several weapons come out of the ceiling and wall, blast away at the "bros." Cyborg becomes furious that Robin took the time to install a security system in the elevators, and tells him that it will take longer than he thought.
Back on the rooftop, Doctor Light asks Raven if she has heard from the others. She assures him that they will be there soon, and continues reading. Starfire asks him how he got his name, and he says he will only tell if they promise not to laugh. After the promise, he screws two light bulbs into the side of his helmet, and they light up when Starfire pulls his finger. The girls compliment his astounding trick, and he asks them if they wanted to get something to eat.
In the elevator, Robin asks Cyborg if he had finished fixing. Cyborg tells him he would have finished a while ago if it hadn't been for the junk Robin installed. The two break out into an argument right as Beast Boy decides that he cannot hold it any longer and is going to urinate on the spot even though he's still wearing pants. Robin and Cyborg both try to convince him to hold it, but he has made up his mind. Before they know it, he had finished, as they try to avoid the floor, much to their disgust.
We flash back to the city, where a lot is going on. Ed is robbing the diamond store again, and Doctor Light is at the Justice Java cafe across the street, on a "date" with the girls. Before Raven has a chance to pay the bill, Doctor Light insists that she let him pay for it. Raven tells him that he is not as bad of a guy as they thought he was. Doctor Light tells them that he can show them his dark side if they want, then he asks them if they want dessert.
In the tower's elevator, Robin is finally starting to snap; he becomes convinced that he actually is a tiger in a cage. Cyborg is also starting to freak out and starts to yell at Robin for being annoying. Beast Boy insists that they both completely relax, and Cyborg begins to lecture him for "relaxing all over the floor." Cyborg tells him not to call him "bro" anymore and angrily continues to work on the elevator's wiring. Beast Boy transforms into a hummingbird, flies up to Cyborg's ear, and whispers: "Bro-ho-ho-ho-ho-ho!".
Cyborg finally snaps, and aims his arm cannon at Beast Boy, encouraging him to call him "bro" one more time. Beast Boy tells him that he "still has stuff left in the tank," and he is not afraid to use it. Robin tackles both of them and pins them on the floor. He tells them that his tiger claws are out and immediately begins to claw them in the face. This angers the other and starts a war between all three "bros." Cyborg aims several missiles at the two as Beast Boy transforms into a rampaging gorilla. Beast Boy and Cyborg tackle each other while Robin starts to bite Cyborg's foot. Cyborg kicks Robin off, and he smacks into the open wiring. After he electrocuted painfully, the elevator turns back on. Cyborg congratulates Robin on fixing the elevator, but Robin insists that the credit goes to him. All three "bros" crowd together in one big group hug, with Beast Boy telling Robin and Cyborg not to "mind the wetness."
The girls and Doctor Light return to the rooftop, licking an ice cream cone. Raven asks Dr. Light what he was going to do with his invention and he tells them that he was going to use it to disintegrate all of them. He decides to show them another feature, which lights up the sky in an incredible light show. The girls tell him it is very pretty. Doctor Light finally realizes that it feels "good" to be good. He decides that he will give up his life of crime, and asks the girls if he could become a Teen Titan. Starfire tells him that would be wonderful, and they would love to have him. Doctor Light makes a solemn vow to, from that day forward, only use his light for good and entertainment purposes. Before he can finish expressing his excitement, Robin jumps up and punches him in the face.
Robin wittingly tells him that the rest of his life will be spent behind bars, and starts violently beating him with his staff. Starfire and Raven both beg Robin to stop hitting him, but before they can explain why Robin hits him with a body slam. Robin moves out of the way so Beast Boy can have his turn fighting the villain and transforms into a llama. He begins to bounce up and down repeatedly, critically injuring Doctor Light. He continues jumping as he changes into a gorilla, then an elephant, then a whale. Cyborg approaches the villain for his turn and transforms his arms into battering rams. He begins to pummel Dr. Light at an intense speed. Then suddenly, his shoulders transform into rocket launchers and fire several rockets simultaneously. Then a gigantic cannon pops out of his back and blasts away the almost-crippled doctor. Almost dead, Doctor Light tells them that they will pay for this, and swears vengeance against them. Starfire and Raven immediately rush to help him, hoping to save their friendship. Cyborg, Robin, and Beast Boy once again jump into "the bro train", and the episode ends with them riding around in circles.
Characters 
Trivia
It's revealed that Titans Tower has at least 83 floors.
The music that plays in the elevator is an instrumental version of the original show's theme song.
Rodger Bumpass reprises his role as Doctor Light from the original series.

This was his first major role.
Also, this episode aired during his 62nd birthday.

Doctor Light is the first villain to have their real name revealed, his name being "Dr. Arthur Light".
At one point, Beast Boy says: "I just wish I hadn't drunk so much water before we left." This is another indication of his poor grammar, as he should have said "drank" instead of "drunk".
It is unknown why Beast Boy didn't do the "Pee-Pee Dance" when he needed to go ("Serious Business").
When the bros hug there's a wet sound as Beast says don't mind the wetness.
It is revealed that Starfire has star shapes at the bottom of her boots. This change is parallel to how Raven was revealed to have skulls at the bottom of her shoes in "Terra-ized".
This episode was originally going to be named "Elevator Bros".
Continuity
When Doctor Light is at the cafe with the girls, Ed is seen robbing the diamond store, with the same Police Officer shooting at him again. This is near identical to the montage from "Driver's Ed".
There is a sticky note in the elevator with a cheeseburger on it and another sticky note with a burrito on it, which could be a reference to "Burger vs. Burrito."
There are also other sticky notes with a picture of Beast Boy doing an embarrassing dance and him chewing with his mouth open, referencing "Matched."
The grunt Beast Boy makes while peeing is the same one he makes in "Dude Relax" when showing Robin how to relax.
1st time Beast Boy or any character pees in pants or on something and is mentioned.
Robin's one-sided crush on Starfire is displayed once again when Beast Boy asked him what is going on with them.
References
Robin makes a reference to the popular television series Duck Dynasty when he tells Cyborg "That's a fact, Jack!". This line is widely known as a line used by Si Robertson.
While attacking Doctor Light, Cyborg uses "pile-drivers" the same ability used by Rumble and Frenzy from Transformers.
If you look closely in the elevator, James Howlett's (or Wolverine's) unmasked face can be seen.
Cyborg pointing a gun at Beast Boy and saying, "Call me bro again, I dare you!" is probably a reference to the movie Pulp Fiction. Jules reacts similarly to a man who says, "what" too often.

Coincidentally, Khary Payton and Samuel L. Jackson sound very similar to each other.
Errors
Running Gags
Robin referring to himself as a caged tiger.
Cyborg, Beast Boy, and Robin riding the bro train.
The boys calling each other "bros".
Transcript
The transcript for "Caged Tiger" can be found here.
Gallery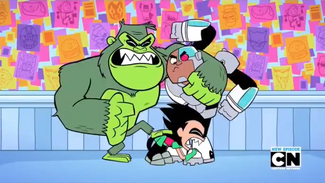 The image gallery for Caged Tiger may be viewed here.
v - e - d Episode Guide
Season 1: April 23, 2013 - June 5, 2014
Legendary Sandwich • Pie Bros • Driver's Ed • Dog Hand • Double Trouble • The Date • Dude Relax • Laundry Day • Ghostboy • La Larva de Amor • Hey Pizza! • Gorilla • Girl's Night Out • You're Fired! • Super Robin • Tower Power • Parasite • Starliar • Meatball Party • Staff Meeting • Terra-ized • Artful Dodgers • Burger vs. Burrito • Matched • Colors of Raven • The Left Leg • Books • Lazy Sunday • Starfire the Terrible • Power Moves • Staring at the Future • No Power • Sidekick • Caged Tiger • Second Christmas • Nose Mouth • Legs • Breakfast Cheese • Waffles • Be Mine • Opposites • Birds • Brain Food • In and Out • Little Buddies • Missing • Uncle Jokes • Más y Menos • Dreams • Grandma Voice • Real Magic • Puppets, Whaaaaat?

Season 2: June 12, 2014 - July 30, 2015
Mr Butt • Man Person • Pirates • Money Grandma • I See You • Brian • Nature • Salty Codgers • Knowledge • Slumber Party • Love Monsters • Baby Hands • Caramel Apples • Sandwich Thief • Friendship • Vegetables • The Mask • Serious Business • Halloween • Boys vs Girls • Body Adventure • Road Trip • Thanksgiving • The Best Robin • Mouth Hole • Hot Garbage • Robin Backwards • Crazy Day • Smile Bones • Real Boy Adventures • Hose Water • Let's Get Serious • Tamaranian Vacation • Rocks and Water • Multiple Trick Pony • Truth, Justice and What? • Two Bumble Bees and a Wasp • Oil Drums • Video Game References • Cool School • Kicking a Ball and Pretending to Be Hurt • Head Fruit • Yearbook Madness • Beast Man • Operation Tin Man • Nean • Campfire Stories • And the Award for Sound Design Goes to Rob • The HIVE Five • The Return of Slade • More of the Same • Some of Their Parts

Season 3: July 31, 2015 - October 13, 2016
Cat's Fancy • Leg Day • Dignity of Teeth • Croissant • Spice Game • I'm the Sauce • Hey You, Don't Forget about Me in Your Memory • Accept the Next Proposition You Hear • The Fourth Wall • 40%, 40%, 20% • Grube's Fairytales • A Farce • Scary Figure Dance • Animals, It's Just a Word! • BBBDAY! • Black Friday • Two Parter • The True Meaning of Christmas • Squash & Stretch • Garage Sale • Secret Garden • The Cruel Giggling Ghoul • How 'Bout Some Effort • Pyramid Scheme • Beast Boy's St. Patrick's Day Luck, and It's Bad • The Teen Titans Go Easter Holiday Classic • Batman v Teen Titans: Dark Injustice • Bottle Episode • Finally a Lesson • Arms Race with Legs • Obinray • Wally T • Rad Dudes with Bad Tudes • Operation Dude Rescue • History Lesson • The Art of Ninjutsu • Think About Your Future • TTG v PPG • Coconut Cream Pie • Pure Protein • Open Door Policy • Crazy Desire Island • The Titans Show • Booty Scooty • Who's Laughing Now • Oregon Trail • Snuggle Time • Oh Yeah! • Riding the Dragon • The Overbite • The Cape

Season 4: October 20, 2016 - June 25, 2018
Shrimps and Prime Rib • Halloween v Christmas • Booby Trap House • Fish Water • TV Knight • Teen Titans Save Christmas • BBSFBDAY! • The Streak • The Inner Beauty of a Cactus • Movie Night • BBRAE • Permanent Record • Titan Saving Time • The Gold Standard • Master Detective • Easter Creeps • Hand Zombie • Employee of the Month: Redux • The Avogodo • Orangins • Jinxed • Brain Percentages • BL4Z3 • Hot Salad Water • I Saw You Dance • The Story in Your Eyes • Playing Hard to Get • The Night Begins to Shine • Lication • Labor Day • Classic Titans • Ones and Zeroes • Career Day • TV Knight 2 • Justice League's Next Top Talent Idol Star • The Academy • Costume Contest • Throne of Bones • Demon Prom • Thanksgetting • The Self-Indulgent 200th Episode Spectacular! • BBCYFSHIPBDAY • Beast Girl • Flashback • Bro-Pocalypse • Mo' Money Mo' Problems • TV Knight 3
Season 5: June 25, 2018 - April 4, 2020
The Scoop! • Chicken in the Cradle • Kabooms • Tower Renovation • My Name is Jose • The Power of Shrimps • Monster Squad • Real Orangins • Quantum Fun • The Fight • The Groover • Justice League's Next Top Talent Idol Star: Second Greatest Team Edition • How's this for a Special? Spaaaace • BBRBDAY • Slapping Butts and Celebrating for No Reason • Nostalgia is Not a Substitute for an Actual Story • Business Ethics Wink Wink • Genie President • Tall Titan Tales • I Used to Be a Peoples • The Metric System vs Freedom • The Chaff • Them Soviet Boys • Little Elvis • Booty Eggs • TV Knight 4 • Lil' Dimples • Don't Be an Icarus • Stockton, CA! • What's Opera Titans • Forest Pirates • The Bergerac • Snot and Tears • Campfire! • What We Learned at Camp • Communicate Openly • Royal Jelly • Strength of a Grown Man • Had to Be There • Girls Night In • The Great Disaster • The Viewers Decide
Season 6: October 4, 2019 - present
Butt Atoms • TV Knight 5 • Witches Brew • That's What's Up! • Crab Shenanigans • Brobots • Brain Flip • Beast Boy on a Shelf • Christmas Crusaders • We're Off to Get Awards • Bat Scouts • Walk Away • Record Book • Magic Man • Titans Go Casual • Rain on Your Wedding Day • Egg Hunt • Justice League's Next Top Talent Idol Star: Justice League Edition • Mission to Find the Lost Stems • Drums • Guitar • Bass • You're The One
Top of the Titans: April 27, 2018 - July 20, 2018
Raddest Songs • Best Love Songs • Beast Boy & Cyborg Songs • Dance Party • Best Rivals