"Campfire Stories" is the forty-seventh episode of the second season of Teen Titans Go!, and the ninety-ninth overall episode of the series.
Synopsis
The Titans get bored on a camping trip, so Robin suggests that each of them would tell a scary campfire story.
Plot
The Titans are all sitting outside in the forest on rocks, bored, as Robin is setting up the camp. Everyone except Robin is unhappy that they are outside. Starfire still doesn't know why they were going camping. Robin explains that they are outdoors because he thinks camping is fun and reveals fun activities that every Titan could do. But the others tell him the negatives of being outdoors, except Raven, who just moans, "Can we go home?" Robin screams in her face, "NO! YOU ARE HAVING TOO MUCH FUN!" and stamps a sticker on her forehead saying "fun." Cyborg then, in boredom, suggests some TV. Robin asks about how are they going to watch TV when there's nowhere to plug the cable. The fact that the Titans can't watch TV terrifies Cyborg and Beast Boy, but Robin tells them that they don't need TV to entertain them. Robin suggests that they should tell a scary campfire story, and Beast Boy, Cyborg, and Starfire think that would be fun. Robin is excited that almost everyone agreed to one of his suggestions for once.
Beast Boy goes first and tells a story about "a lumberjack dude" who was lost in the woods and entered what another lumberjack said was a haunted cabin. The lumberjack was chilling in his bed when he kept hearing a strange voice saying "I got you where I want you, and now I'm going to eat you!" and he heard it again, so he went to find out where it was coming from. He accidentally pulled on a secret hidden door. The lumberjack goes in and sees a spooky tiny stage and a chair and pulls the curtain from the stage and finds a monkey with a booger on his finger and saying "I got you where I want you, now I'm going to eat you!" and eats the booger. All the titans get grossed out while Beast Boy laughs, and Raven punches him for telling a story about a booger.
Then Starfire wants to tell a story, and it starts on a "scary day" with the Titans playing catch together with a red ball, and a ghost man came out from his grave and said "I am the spooky ghost man, and I am haunting you!" and the Titans ran away into a "bushy bush." They were relieved until they noticed the ghost had their ball, without it how would they play catch? So the spooky ghost man returned and said "I'm so sorry I scared you, I am the socially awkward." So he was sorry for scaring them and brought the ball for the Titans, and they could all enjoy playing catch together. She also added there were two "wolf mans."
Suddenly, Robin screams, causing Starfire to think she has succeeded in telling a scary story. But Beast Boy says that it was just Robin getting attacked by a grizzly bear, while none of the Titans care. Then Raven asks if they can go home, and Cyborg says no because he wants to tell his scary story.
His story starts with him driving his car at night and eating some peanuts, and there was a news report saying there was a dangerous man on the loose with a hook for a hand. So Cyborg flips his car around and heads back home because he doesn't want to be driving around with this hook man around. So later at night in the Titans Tower, he was chilling and eating peanuts on the sofa until the telephone rings. He answers it, and he hears heavy breathing so Cyborg calls the police to investigate the tower and found the man inside the tower. So he goes to court, and the guy got jailed. That was it, and Robin says that wasn't scary at all, it gave Starfire "the sleepies" and Beast Boy says, "So disappointed brah."
Raven asks again if they can go home again, but Robin asks if she wants to hear his scary story, and she said absolutely not, but he still tells it anyways. Robin says his story is real, which makes it scarier. It starts on a dark and stormy night, he got soaked, and his hair he spent hours on was ruined. He had a date though, with a real girl. After saying "In your faces everyone!" So he said he has purposely shown up late since he doesn't want to be the first one to arrive at the restaurant. But when he got there, there was no one in the seat, and he was getting worried. He didn't want to be sitting all alone, and everyone was thinking he was eating by himself. He didn't care if he was with himself, but he's "Robin party of fun." Little beady eyes were staring at him so he ran into the washroom, and he was getting worried. He wanted to cool off, but he splashed water on his pants, making it look like he peed on himself, but he didn't because it was just water. Also, he said that he hasn't peed himself in a very long time. He tried to stay calm until he heard the scariest sound, his stomach growl. So he ordered a meal and even ate the box of chocolates for his date (who never showed up), but in horror, he remembered he didn't have his wallet because he thought his date was going to pay. Not knowing what to do, he ran out of the restaurant. Robin then concludes the story by saying that it's all true. Cyborg then calls him a "sad little man." Robin agrees, and the bear strokes his head affectionately.
Raven said it was terrifying and now if they can go home. But Starfire saying not until she tells her story. Raven accepts and tells it. Raven's story starts with a creature of darkness crawls out into the light and shut her two dark red eyes. To hide from the light, she wrapped herself in a cloak of darkness. The lady in the cloak made friends, a man made out of tin, a warrior princess, a hyena, and a tiny little elf. They made noble deeds, and she has lived as one of them. Over time they grew weary. The tin man said "Booyah!," the tiny little elf said "Train! Pay attention! Mandatory Meeting!" The hyena laughed and laughed, and the princess was just cool. But every day, they became louder and louder and louder. One day the creature snapped and revealed itself and ate all of them. Then all the Titans and the grizzly bear became creeped out by Raven's story. Robin then asks, What happened to the monster?Raven replies nothing happened and transforms into the monster, revealing that she WAS the monster all along. The Titans and the grizzly bear get terrified and Robin yells, Retreat to the tower!! Retreat!! and they run away in fear. Raven turns back and says Are we going home now? Cool! I love campfire stories., ending the episode.
Characters
Trivia
This episode aired two years after "Super Robin".
This episode premiered as a new episode on the fourth day of the 100th episode celebration.
The part of Robin's story saying that he "peed" himself is censored in Portugal.
Each of the Titans' stories is presented in a different art style.

Beast Boy: Limited animation, and a comic book style.
Cyborg: Monochrome, and colorless.
Starfire: Crude scribbling in stop-motion.
Robin: The use of silhouettes and deep contrast.
Raven: Similar to the show's art style, but with higher details.

Unlike in the other's stories, the main character in Beast Boy's story is not himself. Instead, the character is a "lumberjack dude" with Beast Boy's signature green skin and large pointy ears.

In a way, Raven's story doesn't star herself as the main character, either. But unlike with Beast Boy's story, Raven implies that the demon is her.

The characters in Raven's story are meant to represent the Titans. The Tin Man is Cyborg, the Green Hyena is Beast Boy, the Tiny Little Elf is Robin, the Princess is Starfire and the monster, of course, is Raven.
Continuity
References
The Titans telling scary campfire stories may basically be a homage to The Simpsons' Treehouse of Horror and Regular Show's Halloween Specials "Terror Tales of the Park". However, The Regular Show stories are longer, and they don't have the teller's voice in it unless they're in the story.
The Titans sitting around the campfire and telling their ghost stories is a reference to the 90's Nickelodeon show, Are You Afraid of the Dark? where a group of kids called the Midnight Society told scary stories every week.
Cyborg telling Robin that he is "a sad, strange little man" is a reference to Buzz Lightyear stating a similar line to Woody the Cowboy in the Disney-Pixar movie Toy Story.
Starfire's story design is similar to the Nickelodeon cartoon ChalkZone.
Robin's story design pays homage to artist Saul Bass.
Cyborg's story design is similar to Frank Miller's Sin City.
Beast Boy's story design was inspired by EC Comics titles such as Tales from the Crypt and The Vault of Horror.
Errors
Before Robin tells his scary story, his clothes and hair are all tattered from the Grizzly Bear attack moments before, but after he finishes his story, he's back to normal.
Before Robin told his scary story, his clothes and hair are all tattered from the Grizzly Bear attack moments before, including his gloves. But his hands are normal-sized, while in other episodes without the glove on his hand, he has "baby hands"
Running Gags
Raven continuously asking, "Can we go home now?".
The Titans telling their scary stories.
Cyborg eating nuts.
Transcript
The transcript for "Campfire Stories" can be found here.
Gallery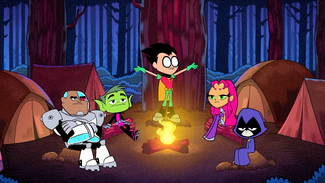 The image gallery for Campfire Stories may be viewed here.