"Caramel Apples" is the thirteenth episode of the second season of Teen Titans Go!, and the sixty-fifth overall episode of the series.
Synopsis
When Raven does not get Trigon a gift for Father's Day, he arrives to wreck Earth, but instead ends up spending time with Starfire.
Plot
The episode begins with Robin about to tell a story to the Titans until a giant red demon arm breaks through the Tower's glass windows and grabs him. The hand grabs the other Titans and the hand's owner is revealed to be Trigon, who claims to be there to unleash his destruction upon Jump City and the world. Robin announces that their friendship will stop any enemy, creating inspiration for Beast Boy and Cyborg. A few horrifying moments later, the five Titans are on the ground groaning in pain. Robin starts another inspirational speech, but Trigon sends Robin, Beast Boy, and Cyborg to the center of the Earth. Raven and Starfire are on the surface, watching Trigon sitting on the Tower as his throne while shooting fireballs around the city. Raven claims that he's upset for not receiving anything for Father's Day from her, making Starfire protest that she damaged his feelings. For that, Starfire made a drawing of Trigon to show her appreciation, which touched him, as he eventually stops destroying the Earth and disappears.
Meanwhile, the male Titans land near the Earth's core. They attempt to escape but to no avail. Robin's speech inspires Cyborg and Beast Boy not to give up. However, just when they are about to go, Cyborg and Beast Boy get burned by a flaming geyser. Back at the Tower, Trigon returns to see Starfire with a gift in return to her for thoughtfulness. She receives a cute little white kitty resurrected to life. Raven pushes Trigon out of the Tower after "thanking" him, as he claims that he has feelings too. Starfire offers him to join her in a silly dance party after seeing how sad he was while sitting on a rock. He joins to dance while Raven is relieved that he isn't her problem anymore.
Back in the cavern, Robin finds an exit, but he warns the Titans to be quiet, for it is extremely unstable. Beast Boy tells Robin to go on for himself and leave them behind, but Robin claims that he needs them more than ever as he starts yet another speech about being a great leader that would never abandon his team. Just as they cheered about being Teen Titans, the giant rocks crush Beast Boy and Cyborg leading them to moan in pain.
At the Tower, Trigon shows Starfire his family photo album of Raven from being a baby to how she used to spend time with him. Raven gets annoyed and destroys the album, reminding him that she grew up and doesn't want to destroy universes anymore. Starfire begins to feel sad that she never had a photo album along with fatherly love as well, leading Trigon to offer his parenthood. Raven sees a photo of her with Trigon being happy, and her eyes grew watery. She gets angry and tells Starfire that he is not her father and that this had to stop, but Starfire thinks she's upset for not getting a kitty. Raven harshly throws the cat through a portal into the caverns right where the other Titans arrive. Just when they see the cat, they felt bad for it since it was doomed, but Robin claims that the cat is the symbol of bravery as he thinks the cat traveled all alone and survived through the caverns. He believes they will do the same if they remain together and keep ongoing. Again, Beast Boy and Cyborg get inspired by Robin. They are expecting something bad to happen to them. There is a pause, then the cat attacks with claws and goes berserk on Cyborg and Beast Boy. They stop next to a flaming geyser, and rocks fall on them at the same time.
Meanwhile at the Tower, Raven is playing with her ponies. The dolls are resembling a similar story of herself with Starfire and Trigon (which includes Raven, who is playing as Sparkle Face, referring to another pony as a "dumb horse." She then gets interrupted by Trigon and Starfire. Starfire asks Raven if she is supposed to represent the "Sparkle Face" doll. As they both are staring at each other in anger, Trigon calls off the fight, saying that there is another way to deal with this. Raven ignores her dad and attacks Starfire. The two have an awesome aerial battle until Starfire gets knocked to the ground. Raven warns Starfire that Trigon is only going to disappoint her like he always disappoints her. Starfire doesn't seem to care while the sky starts to rain, and she confesses that she only wants to be treated like "the father's princess". Rage overcomes her and she blasts Raven through the Tower knocking her out for a few seconds. Starfire finally realizes that she had just hurt her friend and flies over to Raven, who is rubbing her arm gingerly. After the two apologize to each other, Raven realizes that she was never mad at Starfire, but only mad at Trigon the whole time. Meanwhile, Trigon is sitting and eating popcorn while watching the fight, and he complained that the fight was just getting interesting. Raven yells at him, saying that his main purpose was to see them fighting each other all along. Trigon laughs and says that her anger reminds him of her being daddy's little girl. As he enjoyed his newly discovered Father's Day gift, both Starfire and Raven banish him to another dimension. Trigon exclaims that they will see him again at Thanksgiving.
Raven apologizes to Starfire again and admits that she wishes that her father would love her. Starfire agrees with that statement too, and the two decide to become each other's dads. Somewhere in Jump City, Cyborg, Beast Boy, and Robin climb out of the crater. Robin starts to inspire Beast Boy and Cyborg, who scream that they had enough of being inspired. Beast Boy transforms into a goat and head-butts Robin back down the hole. The episode ends with Cyborg and Beast Boy agreeing that they will never allow themselves to be inspired ever again.
Characters
Trivia
This episode is the first Father's Day episode of the series, even though this episode didn't premiere in June, the month where Father's Day is usually celebrated.
This episode aired one year after "Colors of Raven" and 10 years after the original Teen Titans episode, "Crash".
As of this episode, all of the Titans have been seen as babies.
This is Trigon's first appearance in the second season, and his overall second appearance in the series since "Dog Hand".
When Trigon is showing Starfire pictures, you can see from a picture on the bottom right that Raven went to prom with the Pizza Deliverer from "Hey Pizza!".
Raven's Pretty Pretty Pegasus Toys are colored differently in this episode, to match the color scheme of herself, Starfire, and Trigon and her Butterbean toy is similar to Rarity in My Little Pony Friendship Is Magic.

Interestingly, Raven's portrayer, Tara Strong, actually voiced Twilight Sparkle in that series.

When Raven said "If the horseshoe fits", it was a reference to "If the boot fits".
Interestingly, both this episode and The Amazing World of Gumball episode "The Mothers" involves a holiday episode such as Mother's Day and Father's Day on the same date.
The reasoning behind the title of this episode is that Raven has King Jellybean giving caramel apples to Butterbean when she's playing with her dolls.
In one of the pictures in Trigon's photo album, it appears that Raven went to a prom with Zippy, one of the local pizza delivery boys and the Zippy's Pizza store owner.
Continuity
Trigon mentions himself that he will return for Thanksgiving, continuing Raven's statement from "Dog Hand".

Just like the afformentioned episode, it foreshadows the episode "Thanksgiving"

This is the tenth time that Raven is seen unhooded.
This is the fourth holiday episode. The first three being "Second Christmas", "Be Mine", and "Money Grandma".
This is the second time Starfire shows a love for cats. The first was "Dreams".
Robin continues making speeches, like the rest of the episodes.
​ References
This episode is similar to "Caged Tiger", where Robin, Cyborg, and Beast Boy get stuck someplace. Such as the cavern used for this episode.
Clothed skeletons of Mario and Luigi from the Mario franchise are seen in the void that Robin, Cyborg, and Beast Boy are sent to.
Trigon sitting on the Titans' Tower as his throne while destroying the city references the episodes "The End: Part 2" and "The End: Part 3" from the original Teen Titans series.
During one of Robin's inspirational speeches, Beast Boy and Cyborg appear with their original Teen Titans designs in the backdrop.
The speech Robin gives in the beginning is the exact same speech from the original Teen Titans episode "The End: Part 2.
Errors
In several scenes after Trigon had sat on Titans Tower, it shows that multiple rooms were exposed by the hole. However, whenever it zooms in to the living room, it appears that the hole only exposed the living room instead of all the other rooms.
Beast Boy could have easily turned into a winged animal and flew them all out of the chasm.
Running Gags
Whenever Robin gives an inspirational speech to Beast Boy and Cyborg, they end up getting hurt by various environmental occurrences.
Raven being jealous of Starfire spending time with Trigon.
Transcript
The transcript for "Caramel Apples" can be found here.
Gallery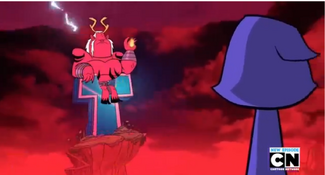 The image gallery for Caramel Apples may be viewed here.