"Career Day" is the thirty-fifth episode of the fourth season of Teen Titans Go!, and the one-hundred-ninety-second overall episode of the series.
Summary
Robin forces the other Titans to forget their dreams and find regular boring jobs.
Plot
TBA
Characters
Song
Trivia
This episode premiered a year after the episodes "Oh Yeah!" and "Riding the Dragon".
This is the fourth episode that has a title that has the word "Day" at the end of it. The first three episodes were "Laundry Day", "Crazy Day" and "Labor Day".
When Raven changes her career to dance dentistry, the design on the sole of her shoes changes from the typical black skull to an image of a white tooth.
Raven is shown to be doing dentistry. Ironically, she stated that she hates going to the dentist in "Meatball Party."
Starfire's real name, Koriand'r, is briefly seen on a sign outside her cubicle.
The software the animator in the graphic is using is called Flush PP, a spoof on the actual software, Flash CC.
When Robin reminds his team that they are Teen Titans, a title graphic from the original Teen Titans series appears.
This is the second episode that a Titan has appeared tiny inside someone else's mouth. The first time was in "Meatball Party".
The initial scene with Raven kicking the man's tooth out by accident was censored by Cartoon Network in New Zealand and Australia.
Timeline: Before "Labor Day", the Titans thought Labor Day is a day-off.
Continuity
Raven's love of dancing is displayed again in the series. She is shown to enjoy this passion in past episodes such as "Legs" and "The Overbite".
Starfire is briefly shown wearing her crazy cat lady outfit from "Cat's Fancy".
The other Titans once again make fun of Robin's height. They point out that he's too short to be a professional basketball player.
Raven is seen unhooded for the 66th time in the series.
References
When Robin talks about "sensible, boring, and soul crushing" jobs, there's an image of an animator hunched over a computer screen that can be briefly seen. He's working on a scene for Teen Titans Go! while shackled by the wrist. There's also a Warner Brothers mug on his work space.
In Starfire's cubicle are architectural plans for Wayne Tower and the Fortress of Solitude.
Next to Raven's practice is an office for Dr. Osterman (AKA Dr. Manhattan). There is also "Who watches the Watchman" graffiti on the wall.
Errors
Running Gags
Scenes of individual Titans' careers are introduced with a tombstone-like plaque.
Transcript
The transcript for "Career Day" can be found here.
Gallery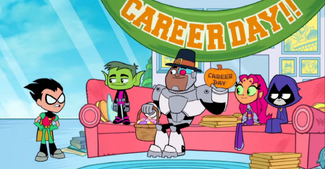 The image gallery for Career Day may be viewed here.
Community content is available under
CC-BY-SA
unless otherwise noted.