"Career Day" is the thirty-fifth episode in the fourth season of Teen Titans Go!, and the one-hundred-ninety-second overall episode of the series.
Summary
Robin forces the other Titans to forget their dreams and find regular boring jobs.
Plot
Another simple day of Cyborg, Beast Boy and the girls munching on pizzas in the living room, until Robin descends in via a hanging rope. After landing, he announces that this day is Career Day and hangs a banner, much to the other Titans' excitement. Not until Robin informs that this particular Career Day isn't a holiday; in opposite, it is being set up for people to dedicate entirely to the consideration of work and stops them from dancing before telling them that they might have to live on the streets after reaching adulthood. Worse, Robin believes that dreams don't pay the bills and rather allowing Raven to be a dancer, Starfire to be a friend to all of the cats and the two other boys being BFFS, he decides to assign them soul-crushing jobs by saying how he doesn't pursue his dream of being a basketball player (due to the competitiveness of the basketball field and not reaching the height requirement). Raven has to become a dentist, Starfire is being forced to become a civil engineer, and Cyborg and Beast Boy being CEOs of separate companies, and all four get pushed into the elevator by Robin who encourages them to do the job they hate.
First, it's Raven's "slow death". As a newbie dentist, she tries to learn how to detect any rotten tooth from her first patient with both of her hands. After detection, she tells the guy about the cavity he has, but quickly notices that he is dreadful of the drill, and she understands his fear. To distract herself, she starts musing that she is dancing with the teeth inside the guy's mouth after gazing at the drill for some time, and we then see a montage of her imagination, until she inadvertently knocks the guy's cavity out. She is apologetic for her mistake, but after the grateful guy generously hands her a handful of cash, she plots for a plan...by changing "general dentistry" into "dancing dentistry"! Dancing her way out with professional dancing skills, she earns a mountain of cash and revels in her success, glad that followed her passion for dancing.
Up next is a "rat race" for Beast Boy and Cyborg. Both are confined in their mundane jobs of being businessmen who display statistics of their respective companies' profits; fan sales for Beast Boy and couch sales for Cyborg. After wrapping up their presentations, they both lament over their segregation through a sentimental song, before they decide to dial each other and after a few words on how business is ruthless enough to break up friendships, Beast Boy abruptly suggests that they should merge their companies by inventing the "fan couches"! After some promotions and mass manufacturing, their fan couches are being sold everywhere like hotcakes, earning them tons of income and letting them to live their dream of becoming best bros, literally presented by how their invention barge out of their building and the two flying towards the dawn.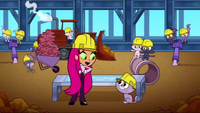 The last challenge is the "early grave" for Starfire. She has to face the computer all day and as she sadly states, she can no longer play with Mrs Kitty for the cost of "engineering the civil". However, an idea is sparked off when she is designing a building; she begins adding more extra features for its design, hoping it'll be appealing...only to have her creativity to be rejected by human construction workers. Thanks to Mrs Kitty who playfully wears one of the construction hats, Starfire decisively hires a bunch of cats to build her skyscraper (due to her always being the crazy cat lover), and she finds their ability to land on feet and nine lives very useful. Within a quick montage, the skyscraper is finished in perfect shape with the dedicated assistance of the hired cats, and Starfire is overjoyed on how she is able on achieving both construction and cat-befriending at the same time, though she is oblivious to how her "whoop-whoop-whoop" is annoying to the exhausted cat workers.
Back at the tower, Robin asks the Titans for their Career Day reflections, and upon hearing that they have managed to combine their passions with their own occupations successfully, he realizes his mistake of denouncing his ambition and renounces his dream of becoming a basketball player, but his friends seem to have been affected by his previous cynicism and after they sharply point out his shortness and calling him unrealistic, he has his hopes diminished in the end.
Characters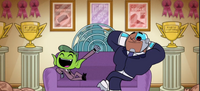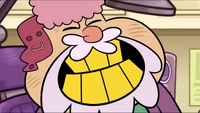 Main
Minor
Trivia
This episode premiered a year after the episodes "Oh Yeah!" and "Riding the Dragon".
The only song here is sung by Cyborg and Beast Boy My Bro.
This is the fourth episode that has a title that has the word "Day" at the end of it. The first three episodes were "Laundry Day", "Crazy Day" and "Labor Day".
When Raven changes her career to dance dentistry, the design on the sole of her shoes changes from the typical black skull to an image of a white tooth.
Raven is shown to be doing dentistry. Ironically, she stated that she hates going to the dentist in "Meatball Party."
Starfire's real name, Koriand'r, is briefly seen on a sign outside her cubicle.
The software the animator in the graphic is using is called Flush PP, a spoof on the actual software, Flash CC.

This spoof can be counted as an intended potty joke.

When Robin reminds his team that they are Teen Titans, a title graphic from the original Teen Titans series appears.
The initial scene with Raven kicking the man's tooth out by accident was censored by Cartoon Network in New Zealand and Australia.
Timeline: Before "Labor Day", the Titans thought Labor Day is a day-off.
Unikitty!, another comedy show produced by Warner Bros, copied the idea of this episode in one of its seasons.
The Telepics music track played during the montage scene when Raven imagined herself as a dancing dentist is named "Broadway Waltz".
Starfire's Tamaranian name is seen in front of her computer office.
Continuity
This is the second episode that a Titan has appeared tiny inside someone else's mouth. The first time was in "Meatball Party".
This the second time we seen Raven go to the Dentist, the first was in "Meatball Party" with her as the patient then.
Raven's love of dancing is displayed again in the series. She is shown to enjoy this passion in past episodes such as "Legs" and the two-part special episode "Justice League Top Idol Talent" and "The Overbite".
Starfire is briefly shown wearing her crazy cat lady outfit from "Cat's Fancy".
The other Titans once again make fun of Robin's height. They point out that he's too short to be a professional basketball player.
Raven is seen unhooded for the 66th time in the series.
References
When Robin talks about "sensible, boring, and soul crushing" jobs, there's an image of an animator hunched over a computer screen that can be briefly seen. He's working on a scene for Teen Titans Go! while shackled by the wrist. There's also a Warner Brothers mug on his work space.
In Starfire's cubicle are architectural plans for Wayne Tower and the Fortress of Solitude.
Starfire designing her building is similar to how you can design your own one in the game Sims.
Next to Raven's dentist practice is an office for Dr. Osterman (AKA Dr. Manhattan) from the DC comics Watchmen. There is also "Who watches the Watchmen?" graffiti on the wall.
Errors
The four Titans (sans Robin, of course, as in this episode) shouldn't be able to instantly get their jobs, since they didn't even undergo their internship.

However, as this series always eschews logic, it seems that internship isn't essential for the Titans to apply for their positions, at least in their universe.

When Starfire states that cats' ability to land on all fours and having nine lives are useful, she's half-inaccurate; cats in truth have a lower survival rate when leaping down from high storied buildings, and indeed they don't have nine lives.

President George Washington who has wooden dentures in this episode, actually had ones properly made out hippopotamus ivory, brass, gold, and human teeth, not wood, which he started wearing after beginning to lose teeth in his early twenties.
Couches implemented with electronic fans don't exist in the reality, wake up.
Starfire is normally a right-handler, but for some weird reasons she was using the mouse with her left hand when designing her skyscraper.
When Raven got the tooth off the patient, the black belt to hold him still was gone.
Running Gags
Scenes of individual Titans' normal careers are introduced with a tombstone-like plaque.
Robin wanting to be a professional basketball player, despite his shortness.
Raven dancing as a dentist to earn cash from her impressed patients.
Starfire's hired cat construction workers doing all the constructions of her skyscraper for her via a montage.
Transcript
The transcript for "Career Day" can be found here.
Gallery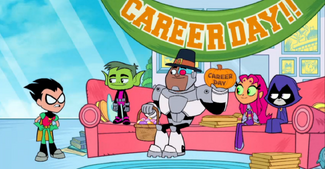 The image gallery for Career Day may be viewed here.