Carrie Kelly is a character in Teen Titans Go!, who makes her debut in "The Best Robin" who is also a member of Team Robin. She is voiced by Scott Menville.
Bio
Carrie Kelly is the successor of Jason Todd. Although she was the third person to carry the mantle, she was the first female Robin, along with being the first Robin to have living parents.
Physical Appearance
Carrie Kelly wears attire similar to the other Robins, including a red shirt with green, short sleeves, a belt, and green short shorts. She has a black and yellow cape and green, elf-like shoes. She also has short, orange hair and wears dark, rectangle-shaped glasses in place of a Robin mask.
Episode Appearance
Appearances in other Media
Comics
Trivia
Despite being female, Carrie is voiced by Scott Menville, who voices the other Robins.
Carrie originated from the 1986 Batman graphic novel, The Dark Knight Returns.
Gallery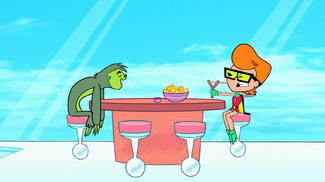 The image gallery for Carrie Kelly may be viewed here.
References