"Cat's Fancy" is the first episode and season premiere of the third season of Teen Titans Go!, and the one-hundred-fifth overall episode of the series.
Summary
When Starfire only expresses her intense and close affection to a cat, Robin realizes that the only way Starfire will ever notice him is if he turns into a cat. Unfortunately, his plan for love and affection didn't work out as he'd planned.
Plot
The Titans try to stop a bomb from Dr. Light and end up making a horrible argument. Desperate to help out, Starfire carries the bomb up into space but does not make out in time. She falls and hits the ground, knocking her into a coma, and Robin, who tries to get her to wake up, starts to cry. After finding out that she is okay, he tries to tell her about how much he loved her. While professing his love for her, however, Starfire asks if he saw the kitten behind him, and she picks it up. Back at the tower, Starfire is playing with the kitty and calling him Nibbles, so Robin concludes that the only way Starfire will love him is if he is a cat, while Beast Boy says a dog would be better. Cyborg tries to tell Robin that how he can become a cat is by wishing a shooting star. Taking Cyborg's advice he sees the star and makes a wish.
The next morning, Robin thinks he has become a cat, but Raven, Beast Boy, and Cyborg start to laugh, revealing that it was just a prank and he was wearing cat gloves. Robin says the star didn't work, but Cyborg reveals that a shooting star doesn't turn people into cats. But Robin tells them that their joke is not going to stop him, and he kicks them out of his room. Beast Boy tells him that he's not going to win Star over by using whiskers or becoming a cat. The next day, Robin dresses as a cat using a costume. Starfire sees Robin dressed as a cat and tosses the kitten she had and names him "Sassypants" When Raven asks Starfire if she knows it is Robin, Starfire says she does, but also admits that she likes him better as a cat now and has "Kitty Fun Times" with him which he thoroughly enjoys. Raven knows that Sassypants does nothing but sleep and eat. As for Cyborg, who makes lasagna, Sassypants kicks Beast Boy who is in the form of a dog, and eats the whole lasagna and reveals that he hates Monday.
Meanwhile, Raven, Beast Boy, and Cyborg tell Starfire that they have to get rid of Sassypants but Starfire responds that she is going to move into an apartment and they can't believe that his plan has worked. Several months later, Starfire brings more kittens into her apartment. Another several more months later, Raven, Beast Boy, and Cyborg urge Starfire that she has to come back. Raven orders Sassypants to come over, but Sassypants doesn't listen until Cyborg lures Sassypants with a yarn ball. Beast Boy warns that Starfire has become a "Cat Lady" because of him, but Robin doesn't care. Raven scolds Robin that if he cares about Starfire at all, he'd take off the catsuit, but he refuses and says that he's hopeless, so the three others leave.
Later, however, Sassypants realizes the others are right about that his becoming a cat has made Starfire love him in the wrong way and tries to get rid of the cats. Robin, therefore, dresses himself up as a puppy and gets rid of the kittens. Starfire comes back with her cat food, and then she gets hit by a can. Starfire slowly reads the can and realizes they have all ran away. She cries for her kittens when Robin (dressed as a puppy) barks. She sees the new puppy, and she is turned back to normal, losing her sweater and changing back to her normal clothing.
Outside in the fields, Starfire and Puppy (aka Robin) are playing fetch the ball, and Raven considers that living with pets can be a long dawn. While Raven says so after tossing the ball away, the audience can hear a car screeching, and a dog barking, implying the puppy (a.k.a Robin) gets run over.
Characters
Trivia
This episode aired one year after "Brian".
This episode is the third season premiere.
Like the second season, the dancing scene in the Title Theme changed for the start of the new season, Season 3.
Despite being advertised as "A Cat's Fancy" before release, the title is actually shown as "Cat's Fancy" within the episode.
After Cyborg asks Starfire to come home, she briefly uses a contraction (couldn't instead of could not).
This is the second time that Starfire openly reciprocates Robin's affections in full knowledge, even if it was as a cat and not himself. The first time was in "Mouth Hole".
It's implied that Robin gets hit by a car at the end to show.
This is the first time that Starfire (officially) leaves the Titans. She's the second character overall.
This is the fourth episode in which Robin wears pajamas. The others were "Dreams", "Slumber Party" and "Staff Meeting".
This episode shows that Starfire cares more about cats than her friends.
The Season 3 premiere marks the first episode to use the 2015 Warner Bros Animation closing logo with the Looney Tunes backgrounds on them.
Continuity
References
The framed scene is a parody of Jim Davis' Garfield comics. Robin eats lasagna and says, "I hate Mondays", just like Garfield. Cyborg mentions that he's unable to find a date and makes lasagna, like Jon Arbuckle. Beast Boy mentions getting tired of getting kicked off the table and even turns into a dog resembling Odie.
The carpet from the sofa chair may be a reference to Gumball Watterson from The Amazing World of Gumball.

The carpet, however, looks more realistic.
The Amazing World of Gumball is also a show on Cartoon Network.

There are multiple pictures of different versions of Catwoman in Starfire's apartment.
In the intro, Robin is doing Gangnam Style. This is the second time an existing dance is referenced in the intro, the first was Cyborg doing the robot in the second season.
The lemon-headed cat is a reference to the term, "sourpuss".
Robin holding Starfire after the bomb going off reflects that of when he did the same in the movie "Teen Titans: Trouble in Tokyo", right after Daizo's defeat.
Sassypants is a reference to "Sassycat" from The Grim Adventures of Billy and Mandy.
Starfire pushing a bomb away is similar to what happened in the original Teen Titans episode Troq.
Errors
Cyborg says that he can't get a date, despite being in a relationship with Jinx. This, however, was most likely done to reference Jon Arbuckle from the Garfield comics.
Beast Boy claims that if Robin became a cat, Starfire would become a cat lady. However, this means that the cat she had found before that would also turn her into a cat lady, even if Robin didn't become a feline.
The cage Starfire puts Cat Robin in has no locking mechanism on the door.
In the bedroom scene, Robin's hands are normal sized instead of baby-sized.
Starfire shouldn't own Sassypants/Robin and other kitties at the same time in the same apartment as cats are solitary animals that aren't used to live in a group.

This pretty much debunks the entire "cat lady" trope.
Running Gags
Starfire calling Robin "Sassypants".
Beast Boy saying that Starfire will become a "Cat Lady".
Robin acting like a cat.
Starfire loving cats.
Starfire tossing cats in favor of others.

First, Starfire throws away Nibbles when she sees Robin dressed up as a cat.
Starfire is at first saddened by all her cats leaving her apartment, but immediately warms up to Robin dressed up as a dog.

Starfire liking Robin better as a cat.
Transcript
The transcript for "Cat's Fancy" can be found here.
Gallery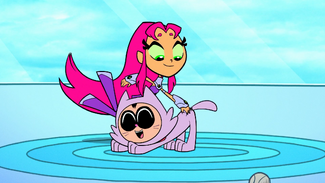 The image gallery for Cat's Fancy may be viewed here.