"Chapter Two: The Story in Your Eyes" is the second part of the special series The Day the Night Stopped Beginning to Shine and Became Dark Even Though it Was the Day, the twenty-eighth episode of the fourth season of Teen Titans Go!, and the one-hundred-eighty-fifth overall episode of the series.  
Summary
Without Cyborg, Beast Boy feels lost and sets out to find himself, but ends up meeting a music legend.
Plot
TBA
Characters
Song
Trivia
This is the second episode of a special that contains a series of four episodes dedicated to Cyborg's favorite song, The Night Begins to Shine.
This episode premiered exactly a year after "Pure Protein" of Island Adventures.
According to cast interviews, the real William J. Reagan (Billy) is an actual mechanic.
Continuity
When the other Titans were trying to cheer Beast Boy up, Raven insists of having a Meatball Party, which is a very obvious callback to the episode, "Meatball Party".
Starfire also attempted to cheer up Beast Boy by attempting to sing the song from "Pie Bros".
References
There are two very easy to miss DC Comics references in this episode:

When the magazine flips open to reveal the BER logo, the E is actually an article on the Demon Etrigan. And the B is from an article for Bane's Back Breaking Workouts while the R is for Red Hood. The Etrigan article also mentions the "case of Batman v Superman".
When Silkie coughs vomit in the shape of the BER logo, he also coughs up a Red Lantern Ring as well. There is also a key for Arkham Asylum and Two Face's quarter.

When Beast Boy says, "Chillin' out maxin' relaxin' all cool", it's a reference to the line in the theme song for The Fresh Prince Of Bel-Air.
The episode title is a reference to the 1971 song "The Story In Your Eyes" by British rock band The Moody Blues.
Errors
Running Gags
The pigeon knocking over important items from Billy's past.
The letters B.E.R popping up in obvious places but the Titans not noticing.
Transcript
The transcript for "Chapter Two: The Story in Your Eyes" can be found here.
Gallery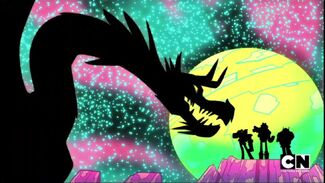 The image gallery for Chapter Two: The Story in Your Eyes may be viewed here.