"Chicken in the Cradle" is the second episode of the fifth season of Teen Titans Go! and the two-hundred-eleventh overall episode of the series.
Summary
Beast Boy neglects all his responsibilities, leaving the other Titans to raise his baby chick.
Plot
It all starts with Beast Boy in his cat form playing the guitar, with a bunch of cats meowing. The Titans open their doors, wondering why the cats are making such noise. Robin, along with the rest of the Titans, go down the elevator, and Robin takes off his shoe, saying that he wants to scare away the cats. But then Raven asks him about foot protection, and he doesn't seem to care. Later, they ask Beast Boy what is going on, But Robin gets fish bones in his foot. They later tell him he must be responsible, but he neglects it. After that, Robin throws boots at Beast Boy, and then he transforms into a llama and chews all those boots up!
Later, Beast Boy transforms into a chicken and accidentally pops an egg, which the chick is about to hatch. Beast Boy declares that he'll be the best father, not before leaving to do his activities, leaving the Titans to watch the egg.
One by one, they sit at the egg to keep it warm, one last is Cyborg. However, due to Cyborg's being a half-robot, his weight causes the egg to crack, much to the titans' horror. Cyborg tries to put some duct tape on it, but it cracks more. Robin tries to glue it, but it cracks even more. Raven frantically uses a stepper to cover the cracks, but it starts cracking more as the three screams in horror. Starfire stops them, saying that the baby chick is about to hatch. The baby hatches as titans gush over the newborn baby.
Beast Boy returns and sees Baby chick has already hatched from his egg. He is about to take responsibility as a father, but he is gone too busy to do his selfish deeds, leaving titans to take care of the baby by themselves.
Throughout the episode, the Titans start to take care of a chick, as he takes all baby photos, learns how to catch, and becomes a full grown-up chicken. Later that afternoon, in the Titan Tower, Robin holds a graduation day for a chicken, who tries his first seeds. Beast Boy arrives and realizes that he misses his son's first seed-eating, so he decides to cheer up his son by giving him milk, but Baby Chick turns around with a saddened and disappointed expression on his face (it is quite possible that he becomes upset because his father spent all his day by himself, rather than spending time with him).
Characters
Trivia
The fact that Beast Boy is able to lay an egg with a chick in it may be an example of parthenogenesis, the process by which an unfertilized egg develops an embryo.

Also, the fact that Beast Boy appears to be a rooster when he lays the egg may not be so strange. At times, chickens take on rooster-like qualities, usually because of a hormone imbalance.

If you observe the cupboard in the living room carefully during the scene of Beast Boy taking out a baseball glove, you'll notice that Pain Bot was inside with its bulb broken.
This episode is likely discussing the sensitive topic of teenage fathers which is becoming more and more prevalent in our present-day society.
Continuity
This isn't Beast Boy's first chicken son. In "Pyramid Scheme", Beast Boy goes into labor as a chicken and lays an egg.
Also, this isn't the first baby chick at Titan's Tower. In "Hose Water", Cyborg found a baby chick that he and Starfire bonded over.
Two of the carnies (which are villains) from "Fish Water" were seen running the party games at the carnival Beast Boy took his chicken son to attend.
One of the shoes that get thrown at Beast Boy appears to be one of Terra's boots.
Starfire loving babies is being brought up in this episode.
References
The title of the episode may refer to the Harry Chapin folk song, "Cat's in the Cradle", which is about a father who isn't always around for his son.
Beast Boy's animal-related tomfoolery parallels gags and jokes seen in cartoons, such as alley cats keeping people awake at night, kangaroos boxing, octopuses drumming in an underwater band, and cows making milkshakes. Other gags that are referenced include Saint Bernard dogs wearing a barrel around their neck and alligators brushing their teeth with a toothbrush.
Superman's son, Jon Kent (Superboy), made an uncredited cameo in the episode on a title card screen that says "Father Son Bonding Time" right before the scene where Beast Boy goes to the carnival with his chicken son. It shows Jon playing football with his father Superman. This also marks the first known appearance of Jon Kent in animated media.
There is imagery of various DC characters at the carnival. Joker and Harley's faces are on the entrance sign, Trigon's face is on the Dunk a Dad booth, Red Tornado's head is on the Ferris wheel and Deadshot can be seen on the sign for the darts game.
The alley has graffiti of Batman, Catwoman, Joker, and Rorschach.
Errors
Beast Boy drinks a milkshake, made with fresh cow's milk, which he normally wouldn't drink as a vegan. But since the milk presumably came from his own cow body, he might not have technically been breaking any rules.
A title card screen titled "Fun With Parenting" shows Darkseid and baby Orion. Even though they are father and son, Orion was actually raised by Highfather Izaya from a very early age.
Running Gags
Beast Boy being too distracted by his animal shenanigans to bond with his chicken son.
Beast boy turning into different animals and going off to do gigs.
Characters getting hurt by the fish bones.
The Titans launching boots against Beast Boy.
Transcript
The transcript for "Chicken in the Cradle" can be found here.
Gallery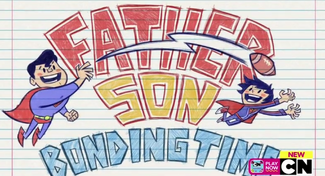 The image gallery for Chicken in the Cradle may be viewed here.