"Collect Them All!" is the forty-ninth episode of the fifth season of Teen Titans Go!, and the two-hundred-fifty-eighth overall episode of the series.
Summary 
After the other Titans are turned into collectibles and disappear, Robin must search yard sales and stores to find them.  
Plot
One day, the Titans (except Robin) are playing with minifigures to revel in a false sense of accomplishment when Robin walks into the living room and calls the figurines "junk". He disregards the four's investment and claims that collectibles are only valuable when others want them, and will all reduce to doodads once the fad is over. But the four others ignore his truth and would rather be amazed by Beast Boy's super rare Muscle figure, even though he admits that it comes from a shady spooky store's Toy Master. Robin tries to warn them about the dangers of obsessive collecting, but the four are too busy bickering when the Muscle figure suddenly glows and then turn the four into collectibles. After the four get teleported away, Robin is being challenged by the Toy Master, which he gladly accepts.
Deciding that he should dive into the collectible culture even though he despises it, he rides the jet and lands at a yard sale, where he spots Cyborg who has been boxed. But instead of being joyous on being able to reunite with Cyborg, he is more infuriated at the ten dollars price that Cyborg has been labelled with. Upon being told by Cyborg that packaging means a lot to collectibles, Robin goes for the most violent ways to reduce Cyborg's price, and manages to buy the latter with only seventy-five cents (although the sales' owner Peggy Regan doesn't seem to care).
Robin then arrives at Gleek's Comics and considers his chances of buying the others, but Cyborg tells him that he has to go for the beaten path. Just as Robin assumes those buyers are filthy weirdos, he really spots one (who is Christopher J Sacco) with a briefcase and is walking suspiciously. Christopher honestly displays the collection in his briefcase, where Starfire is placed and she is overjoyed to be reunited with Cyborg. But Christopher refuses Robin's seventy-five cents offer, so Robin beats him up before realizing that the battle is meant for their collectibles. Initially, Starfire's "cat scratch" is quite effective, but Cyborg overpowers her with his meatballs. Robin then pushes Christopher away and understands why everyone is crazy about collectibles.
That night, Robin, Cyborg and Starfire all sneak into the neighborhood, where they find Beast Boy who is snuggling with a sleeping boy. To Robin's exasperation, Cyborg and Starfire both quickly succumb to the warmth of the boy's hug rather than retrieving Beast Boy as they are supposed to. But just as Robin trespasses into the house, the alarm goes off and as a result the boy's overprotective father barges into the bedroom and then proceeds to beat up Robin brutally. Robin only manages to have a bare escape with his grapple gun, and Cyborg, Beast Boy and Starfire follow his lead and leave the crying boy.
Later, Robin decides to go for the most convenient way to retrieve Raven: online shopping! In fact, he can care less about the shipping fees and service charges, only because he initially doesn't know he is going to get a bootleg that is miscolored, has a detachable body and chants wrong spells. It is also when Robin finally comes face to face with...The Toy Master, who has gotten hold of Raven in his hands! Robin and the Toy Master then have a duel with each other, but since the Toy Master has the powerful Justice League as his squad, Robin is soon taken to a disadvantage and loses. However, rather than wallowing in his loss, Robin chooses to take it casually as he remembers how he is usually not a collectible collector after all. As a result, the Toy Master suffers from an existential crisis as he finds out that his collectibles are no longer valuable when nobody wants any of them, and ends up exploding. Subsequently, Starfire, Beast Boy, Cyborg and the entire Justice League are reverted back to normal onscreen.
In the end, Starfire, Beast Boy and Cyborg are thankful for Robin saving them, while Robin is simply glad that the team is back together. However, they then realize that Raven appears to have been blasted off somewhere, and Bootleg Raven has become an actual person...
Characters
Major characters
Minor characters
Trivia
This episode is basically a jab at the collectibles-collecting culture.
This episode might be considered as an indirect promotion for the two games Teeny Titans and Teen Titans Go Figure!
Terra, Sticky Joe, Santa Claus, Monsieur Mallah, B'wana Beast, Jinx, Rose Wilson, George Washington, Raven, Beast Boy, Starfire, Cyborg, Muscle, Trigon, Mammoth, See-More, Bumblebee, Beat Box, Knockoff Raven, Superman, Batman, Wonder Woman, Green Lantern, and The Flash all make appearances as action figures in this episode.
This is the second episode to use the crying sound of Baby Kate from Arthur. The first one being "Teen Titans Save Christmas".
Bumblebee's action figure depicts her with her old appearance (with saturated lips and no earrings), as opposed to her new appearance she had, while she was on the team.
Raven is the only Titan who wasn't shown in her normal form after the Toy Master exploded.

Though, fortunately, she could have reverted back to normal off-screen.

The shameful service charges of online shopping have been jabbed at in this episode.
Continuity
References
The whole episode is a reference to the two games Teeny Titans and Teen Titans Go Figure!.

The episode also references the figure feature on the Cartoon Network ARCADE app.

The title itself seems to reference Pokémon's now outdated catchphrase "Gotta Catch 'em All", plus the battling.

It also references the Cartoon Network ARCADE app feature.

This episode might be a reference to Team Umizoomi's "Milli Saves The Day".
The Titans in boxes could also be a reference to the boxed collectable My Little Pony figures, which you can see a golden pony in the toy store.
Errors
Running Gags
Robin being obsessed with collecting all the figures.
Transcript
The transcript for "Collect Them All" can be viewed here.
Gallery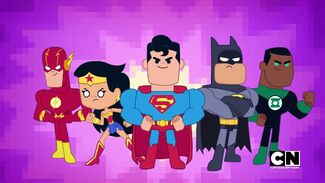 The image gallery for Collect Them All may be viewed here.
Community content is available under
CC-BY-SA
unless otherwise noted.