"Colors of Raven" is the twenty-fifth episode of the first season of Teen Titans Go!, and the twenty-fifth overall episode of the series.
Synopsis
A mysterious prism creates five Ravens, each of a different color and with a different aspect of her personality. The Ravens disrupt life in the Tower so much that the others decide to use the crystals of the prism to put Raven back together again.
Plot
The episode starts out with a battle with Doctor Light, who is stealing the Mysterious Prism from a museum. The Titans don't really take the fight
seriously, as their main goal is to take him down after making a one-liner. Beast Boy, morphing into a cat, gets tossed away in shame; Cyborg transforms into a missile, only to be hit with a stick bomb and blow up; Starfire fires Starbolts at Doctor Light, but crashes into a car. Raven, on the other hand, simply teleports him to jail through a black hole, and she didn't care about
making a one-liner.
Back at the Tower, Robin asks what to do with the prism, and the Titans start passing it around like a ball while everyone asks Raven how can she have feelings. Then, suddenly, the prism begins to glow. All the Titans pass the prism to one another, before it reaches Raven and she gets sucked in. Inside the prism, Raven scolds the Titans messing around with it, before the prism drops and shatters to pieces.
The pieces then glow different colors and five Ravens (although Beast Boy can't count them because he starts with "zero" instead of one), each representing a core part of her personality. Red, her
rage (slaps Cyborg), Pink, her happiness (flies around the room while cheering and hugs Silkie), Gray, her timidity (hides from under the couch), Purple, her passion (kisses Beast Boy's face and ears, Beast Boy is surprised and smiles with satisfaction), and Orange, her laziness (falls flat on her face). Starfire says that now they know what the Ravens are thinking, and Cyborg is excited for the number of Ravens for battle. Robin says it would be a great idea to take them all to battle with them (as Beast Boy is dizzy and smiling dreamily as he is covered with Passion's kisses).
Then we can see everyone at the couch, Passion Raven snuggled up to Beast Boy kissing his cheek as he smiles at her. Cyborg asks who wants to see everyone's favorite action movie. Rage Raven quickly punches him in the wall and tells him he is a jerk and that it's only his favorite movie. Then Robin asks to see a horror movie, but Timid Raven says horror movies make her have a nervous stomach, and she throws up on the couch. Then Starfire suggests a comedy, and Happy Raven says comedies make her laugh, while Rage Raven hits Cyborg again because she loves comedies. Robin is enjoying how quickly they came to a consensus with how expressive
the different Ravens are. Then Rage hits him, Timidity throws up on him and Rage hits him again.
In the next scene Cyborg is seen making pancakes, but Happy Raven interrupts to convert them into animal pancakes (a giraffe and llama). But Rage Raven quickly destroys them and punches Robin in the wall, while Passion Raven is still kissing Beast Boy's cheek. Suddenly the emergency alarm sounds and Robin tells everyone to go.
Then back at Jump City, there is a monster fighting the Titans. Then Robin says "Ravens, go!" But the Ravens start each doing their own thing. Laziness falls asleep, Rage
punches Cyborg, Happiness plays with Starfire, Passion kisses Beast Boy's cheek (he is melting with her kisses and is now in love as hearts float above his head) , and Timidity throws up. Robin is disappointed at the outcome of his plan.
Robin then tells the Titans that the Ravens are being a problem and says that they should use the crystals to make the five Ravens back into one. Laziness doesn't care, but Rage does complains that she doesn't want to be put back together with "these losers". Passion Raven snuggles up to Beast Boy and says seductively, she'll go if he comes with them, then the five Ravens escape through a portal to the city after Rage throws Robin's bed out the window. Beast Boy asks to go after Magenta Raven (with flowers in hand), but Robin denies his request, knowing why he wanted to. Then Cyborg tells them that they will go after the most dangerous one: Pink. Robin points out that she was the happy one, but he and Beast Boy both leave and go look for Pink Raven anyway, while Robin and Starfire go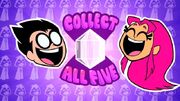 look for the rest.
Robin and Starfire start closing in on Timidity then sneak up behind her and put her back in her crystal, meanwhile Beast Boy and Cyborg find Happiness and starts goofing off with her and having fun. Robin and Starfire then find Passion Raven at a free kissing booth. Robin tells Starfire that there's only one way to trap her. Starfire tells him to be careful before he is about to kiss Passion, only for Starfire to trap her in her crystal just as Robin planned it. Rage is then seen chasing Robin and Starfire, she crushes Robin with her tentacle and grips Starfire, screeching at her, allowing Starfire to trap Rage in her Crystal. Beast Boy and Cyborg are still goofing off with Happiness who then accidentally traps herself in her crystal, mistaking it for a random shiny object, leaving Beast Boy throwing up (because the delicious food she created ended up being a bunch of garbage...) and Cyborg crying.
The Titans return to the Tower where Robin notices that they had got every Raven, but Laziness. They
then find her snacking on the couch, where she had been the entire time. Beast Boy is upset that she ate everything in the fridge, so he traps Laziness back in her crystal, then Robin puts the 5 together again bringing back the one and only purplish-blue cloaked Raven. Being whole again, Raven thanks her friends, but they cannot decide whether to take her thanks seriously or as sarcasm. The episode ends with Starfire giving a reflection about how, despite Raven's stockiness, there is emotion underneath.
Characters
Trivia
There is an original 2003 Teen Titans comic (titled Teen Titans Go! ) issue titled "Pieces of Me!," wherein Raven is split into eight alter egos of her personality.
Raven seemed even more dry and depressed than usual.

This could possibly be due to the events in the previous episode, in which Beast Boy left her right before they got married.

This episode is similar to the original Teen Titans episode, "Nevermore," where Beast Boy and Cyborg entered Raven's mind and met her Emoticlones locked inside, via a magical mirror. They were all wearing hooded cloaks of different colors. Both episodes also start with Doctor Light as the villain.

This would also make the plot of this episode similar to a story in the Teen Titans Go! comic. More specifically, the issue "Pieces of Me," in which Beast Boy accidentally split Raven into several fragments of her personality, with the Titans seeking the help of Jericho to make her whole again. 

Five of Raven's emoticlones return from the original series. Pink represents happiness, Graphite represents timidity, Violet represents passion, Orange represents laziness or rudeness, and Red represents rage.

However, Green (bravery), Yellow (intellectual) and Brown (slothful) do not appear in this episode.
Also, Orange Raven seems to have adopted the lazy part of her personality, whereas in "Pieces of Me" and "Nevermore," it was rudeness. In the issue, laziness had a brown robe. A brown robed Raven appears in "Nevermore," but the episode doesn't specify what it stands for. Just keep in mind that Teen Titans Go! does not connect to the original series.

Each of Raven's emoticlones has a different badge on each of their cloaks:

Pink Raven (Happiness and Joy) has a pink flower
Violet Raven (Passion) has a heart
Red Raven (Rage) has a skull with red eyes
Orange Raven (Laziness) has a hamburger
Graphite Raven (Timidity) has a teardrop

Beast Boy and Starfire are the only Titans that Red Raven never physically harms or attempts to attack. She only grabs Starfire and roars in her face.
It seems Raven's romantic feelings for Beast Boy are still very strong, as her Violet Emoticlone took immediate attraction towards him, covering him in kisses constantly.
Five of Raven's emotions have matching irises to their cloak colors, but Graphite doesn't have pupils.
Ironically, Raven's emotions reveal that she can be just as goofy, lazy, happy, silly, messy, fun, passionate, etc. as Beast Boy. In the previous episode, Raven criticized him for those same reasons and then some.
This episode reveals that the color of Raven's vomit is the same color as her powers.
When Robin is about to kiss Raven's Violet Emoticlone, Starfire stops him at the first opportunity, which could indicate that she does indeed like Robin back, unlike her Emoticlones.
This is one of Tara Strong's favorite episodes.
All of the emoticlones primarily interact with at least one of the Titans, except Orange.

Red interacts with Robin or Cyborg, constantly beating them up.
Violet interacts with Beast Boy, making out with him.
Pink interacts with Starfire, and they engage in girly activities together.
Graphite interacts with Robin, often seen hiding behind him or puking on him.

On October 24, 2015, this episode was partnered up with "The Left Leg" and were aired nonstop at 11 pm (ET), with no commercial break in between.
Scott Menville voices Doctor Light in this episode instead of Roger Bumpass.
When Robin says the Titans have captured all of Raven's emoticlones except for Orange, this was because Orange was the only one of the five core parts who wasn't on the map.
Continuity
References
Doctor Light reflects a light blast off of a Superman statue (similar to the one in Metropolis) to defeat Starfire.
When Cyborg is talking about going after the "most dangerous" Raven, he is dressed like Rambo.
When the Titans are tracking the elements of Raven on the map of Jump City, the icons, map and sounds are highly reminiscent of Pac-Man.
The 'collect all five' is a reference to the famous Pokémon catchphrase, "Gotta catch 'em all."
The crystal also might be a parody of a Poké Ball.
The movie that Cyborg suggested was "The Dark Night Snoozes," a clear parody of the film The Dark Knight Rises.
The music heard while Robin and Starfire chase Graphite Raven sounds alike to the classic tune, "Yakety Sax," composed by James Q. "Spider" Rich and Homer "Boots" Randolph III.
When Gray Raven is sitting in the park, the "Lonely Man" theme from The Incredible Hulk plays.
Happy Raven, Sad Raven and Passion Raven are similar to Pinkie Pie, Fluttershy and Rarity from My Little Pony: Friendship is Magic.
Errors
Beast Boy eats hamburgers made by Pink Raven, despite him being a vegetarian.

Though he may have made an exception since the hamburgers were made magically.

Raven transports Doctor Light to the Juvenile Correction Facility, despite him being an adult. This later happens to Mumbo Jumbo in "Real Magic."
Gray Raven doesn't have pupils. However, in some scenes, she does.
When Pink Raven puts her hands up while riding the rainbow, she has Raven's pendant.
Cyborg says that he and Beast Boy will go after the "most dangerous" Raven, which is Red, but ending up saying Pink instead. He does, however, mention the marshmallow clouds Pink Raven makes, and that the cholesterol alone would kill them.
Running Gags
The Titans being unable to figure out Raven's real feelings.
Red Raven beating up Robin and Cyborg.
Gray Raven vomiting.
Violet Raven kissing Beast Boy.
Pink Raven being happy.
Orange Raven being lazy and burping.
Transcript
The transcript for "Colors of Raven" can be found here.
Gallery
The image gallery for Colors of Raven may be viewed here.
.
v - e - d Episode Guide
Season 1: April 23, 2013 - June 5, 2014
Legendary Sandwich • Pie Bros • Driver's Ed • Dog Hand • Double Trouble • The Date • Dude Relax • Laundry Day • Ghostboy • La Larva de Amor • Hey Pizza! • Gorilla • Girl's Night Out • You're Fired! • Super Robin • Tower Power • Parasite • Starliar • Meatball Party • Staff Meeting • Terra-ized • Artful Dodgers • Burger vs. Burrito • Matched • Colors of Raven • The Left Leg • Books • Lazy Sunday • Starfire the Terrible • Power Moves • Staring at the Future • No Power • Sidekick • Caged Tiger • Second Christmas • Nose Mouth • Legs • Breakfast Cheese • Waffles • Be Mine • Opposites • Birds • Brain Food • In and Out • Little Buddies • Missing • Uncle Jokes • Más y Menos • Dreams • Grandma Voice • Real Magic • Puppets, Whaaaaat?

Season 2: June 12, 2014 - July 30, 2015
Mr Butt • Man Person • Pirates • Money Grandma • I See You • Brian • Nature • Salty Codgers • Knowledge • Slumber Party • Love Monsters • Baby Hands • Caramel Apples • Sandwich Thief • Friendship • Vegetables • The Mask • Serious Business • Halloween • Boys vs Girls • Body Adventure • Road Trip • Thanksgiving • The Best Robin • Mouth Hole • Hot Garbage • Robin Backwards • Crazy Day • Smile Bones • Real Boy Adventures • Hose Water • Let's Get Serious • Tamaranian Vacation • Rocks and Water • Multiple Trick Pony • Truth, Justice and What? • Two Bumble Bees and a Wasp • Oil Drums • Video Game References • Cool School • Kicking a Ball and Pretending to Be Hurt • Head Fruit • Yearbook Madness • Beast Man • Operation Tin Man • Nean • Campfire Stories • And the Award for Sound Design Goes to Rob • The HIVE Five • The Return of Slade • More of the Same • Some of Their Parts

Season 3: July 31, 2015 - October 13, 2016
Cat's Fancy • Leg Day • Dignity of Teeth • Croissant • Spice Game • I'm the Sauce • Hey You, Don't Forget about Me in Your Memory • Accept the Next Proposition You Hear • The Fourth Wall • 40%, 40%, 20% • Grube's Fairytales • A Farce • Scary Figure Dance • Animals, It's Just a Word! • BBBDAY! • Black Friday • Two Parter • The True Meaning of Christmas • Squash & Stretch • Garage Sale • Secret Garden • The Cruel Giggling Ghoul • How 'Bout Some Effort • Pyramid Scheme • Beast Boy's St. Patrick's Day Luck, and It's Bad • The Teen Titans Go Easter Holiday Classic • Batman v Teen Titans: Dark Injustice • Bottle Episode • Finally a Lesson • Arms Race with Legs • Obinray • Wally T • Rad Dudes with Bad Tudes • Operation Dude Rescue • History Lesson • The Art of Ninjutsu • Think About Your Future • TTG v PPG • Coconut Cream Pie • Pure Protein • Open Door Policy • Crazy Desire Island • The Titans Show • Booty Scooty • Who's Laughing Now • Oregon Trail • Snuggle Time • Oh Yeah! • Riding the Dragon • The Overbite • The Cape

Season 4: October 20, 2016 - June 25, 2018
Shrimps and Prime Rib • Halloween v Christmas • Booby Trap House • Fish Water • TV Knight • Teen Titans Save Christmas • BBSFBDAY! • The Streak • The Inner Beauty of a Cactus • Movie Night • BBRAE • Permanent Record • Titan Saving Time • The Gold Standard • Master Detective • Easter Creeps • Hand Zombie • Employee of the Month: Redux • The Avogodo • Orangins • Jinxed • Brain Percentages • BL4Z3 • Hot Salad Water • I Saw You Dance • The Story in Your Eyes • Playing Hard to Get • The Night Begins to Shine • Lication • Labor Day • Classic Titans • Ones and Zeroes • Career Day • TV Knight 2 • Justice League's Next Top Talent Idol Star • The Academy • Costume Contest • Throne of Bones • Demon Prom • Thanksgetting • The Self-Indulgent 200th Episode Spectacular! • BBCYFSHIPBDAY • Beast Girl • Flashback • Bro-Pocalypse • Mo' Money Mo' Problems • TV Knight 3
Season 5: June 25, 2018 - April 4, 2020
The Scoop! • Chicken in the Cradle • Kabooms • Tower Renovation • My Name is Jose • The Power of Shrimps • Monster Squad • Real Orangins • Quantum Fun • The Fight • The Groover • Justice League's Next Top Talent Idol Star: Second Greatest Team Edition • How's this for a Special? Spaaaace • BBRBDAY • Slapping Butts and Celebrating for No Reason • Nostalgia is Not a Substitute for an Actual Story • Business Ethics Wink Wink • Genie President • Tall Titan Tales • I Used to Be a Peoples • The Metric System vs Freedom • The Chaff • Them Soviet Boys • Little Elvis • Booty Eggs • TV Knight 4 • Lil' Dimples • Don't Be an Icarus • Stockton, CA! • What's Opera Titans • Forest Pirates • The Bergerac • Snot and Tears • Campfire! • What We Learned at Camp • Communicate Openly • Royal Jelly • Strength of a Grown Man • Had to Be There • Girls Night In • The Great Disaster • The Viewers Decide
Season 6: October 4, 2019 - present
Butt Atoms • TV Knight 5 • Witches Brew • That's What's Up! • Crab Shenanigans • Brobots • Brain Flip • Beast Boy on a Shelf • Christmas Crusaders • We're Off to Get Awards • Bat Scouts • Walk Away • Record Book • Magic Man • Titans Go Casual • Rain on Your Wedding Day • Egg Hunt • Justice League's Next Top Talent Idol Star: Justice League Edition • Mission to Find the Lost Stems • Drums • Guitar • Bass • You're The One
Top of the Titans: April 27, 2018 - July 20, 2018
Raddest Songs • Best Love Songs • Beast Boy & Cyborg Songs • Dance Party • Best Rivals