"Cool School" is the fortieth episode of the second season of Teen Titans Go!, and the ninety-second overall episode of the series.
Synopsis
Rose Wilson escapes from prison, defeating the Titans with insulting one-liners. Only Raven is immune to Rose's insults, and the two decide to hang out and do cool stuff together. Meanwhile, Cyborg, Starfire, and Beast Boy feel lame by comparison, so they go to Cool School.
Plot
In the Juvenile Correction Facility, Rose Wilson breaks out of her confinement, takes out many guards, and busts through a wall ready to make her escape. However the Teen Titans show up ready to stop her. Robin calls out his usual "Titans, Go!", but to everyone's surprise Rose says "more like Titans, Go Away". All of the Titans are shocked that Rose used Robin's catchphrase against him, except Raven who finds it funny. Robin declares it is Rose who should go away, which she states was the plan. However Robin stops her as they needed to take her down first. He once again shouts "Titans, Go!" but this time adds a long sentence afterwards to prevent anyone from adding any words after. If someone does though, they're a dummy. As the Titans charge, Rose gives insults to each of the Titans that touch upon their sensitive areas. She remarks about Robin being short, Starfire's outfit resembling a cheerleader's, and Beast Boy and Cyborg were too dumb to count without using their fingers. Raven stands to the side enjoying all of the remarks, before Rose turns her attention on her. However when she insults Raven, she retorts back at her, with the two engaging in an exchange of insults. Eventually the two begin to respect each other, and give compliments. The two of them decide to hangout, but Robin declares Rose needed to be put back in her cell, to which Raven tells him they're 'going the long way'.
Back at Titans Tower, Cyborg, Starfire, and Beast Boy are devastated at how "uncool" they are and are lost at what they should do. After sobbing for a while, Cyborg then suggests that they go to "Cool School". Once there they take a class, where the Cool School Teacher educates them on how to be cool through the Cool School Song, and changes the Titans outfits to be 'cooler'. Meanwhile Rose is now hanging out in Raven's room, where she admires how dark it is. The girls also talk about how they like hating things, and how they both have father issues. Robin enters Raven's room and greets Rose, before realizing she shouldn't be there. However Rose once again remarks that she is in prison with Raven agreeing, no matter how hard Robin tries he cannot win the argument. Once a frustrated Robin leaves, the girls then go out and have fun.
Rose and Raven pass by a music store, where Rose asks if she would like to jam with her. Raven points out the store is closed, but Rose uses her sword to slice the lock and just says the store just reopened. The girls then jam together, with Raven on the drums and Rose playing an electric guitar. Next the girls ride on a motorcycle together, and as they pass by a pedestrian, Rose uses her sword to slice a fire hydrant and drenching him, sending him into a fit of rage. Afterwards they go to the fair where Rose misses the targets at a stall. A little boy then makes fun of Rose, and hits all of the targets and manages to win a giant teddy. However Rose slices the teddy's head off using her sword, and Raven uses her magic to replace it with a demonic head. Rose also carves up a tree to look like a dorky Robin, to which Raven adds a magic speech-bubble saying "Go back to jail". They also post lots of photos onto Rose's DCUbook. After all the excitement Raven and Rose sit together on a park bench, where Robin promptly appears out of the trash can and declares he finally figured out how he would prove Rose wasn't in prison. He states Rose couldn't be in prison since she was outside, however Rose states she's in the prison yard. Robin persists in saying it wasn't the yard since it was the city, but the girls say it is merely a very big yard. An infuriated Robin departs again by launching his grappling hook into thin air and disappearing (how did he do that?). Back at the Tower, the other Titans are enjoying their new-found coolness, and demonstrating how cool they are using some unusual activities.
Raven and Rose then go and get tacos where they reminisce on how much they enjoyed the time. Rose then spots Sticky Joe and throws a knife at hits the tree just above his head. Raven is shocked by this and does not allow it, but Rose doesn't care and declares she will hit Sticky Joe this time, throwing the knife with her eye closed. Raven stops the knife using her telekinesis and the two girls get into a fight. They battle across the city, but eventually Rose overpowers Raven and holds her at sword-point against the wall. Rose states it was a shame that she wasn't cool after all. The other Titans then show up, with Rose wondering why they had an outfit change. The Titans explain they went to Cool School, but Rose replies that Cool School was uncool. The Titans then attack Rose, but she takes out all of them at once, and holds all of them at sword-point. She asks if the Titans had any "uncool last words". Starfire then tells Raven that they may not be cool, but they were friends. Upon hearing these corny words, Rose feels a stab of pain. Robin then figures out Rose's weakness was sincerity, which her coolness couldn't handle. The Titans then proceeds to show affection to Raven, with Cyborg hugging her and saying she was like a sister, and Beast Boy turning into a bee and saying she was the "bees knees" to which she blushes at. After hearing these exchanges Rose begins to puke. The Titans then end it with a group hug, and the aura from their hug punches Rose and defeats her.
Rose finally gets put back in prison, and declares Raven wasn't cool after all, to which Raven is unfazed by and agrees to. Robin is finally satisfied, but Rose continues her wordplay saying from her angle it looked as though Robin was in jail. Robin begins to get flustered again, and asks Raven to back him up. Raven finally does and agrees with Robin that it is Rose who is in jail.
Characters
Song
Trivia
This episode aired one year after "Dreams", and two years after "Legendary Sandwich" and "Pie Bros", the first two episodes of the series.
This episode marks the first appearance of Rose Wilson.
This episode marks the second anniversary of the series' premiere in April 2013.
Continuity
This is the fith appearance of the Juvenile Correction Facility, and its first appearance in Season 2. ("Girl's Night Out", "Colors of Raven", "Real Magic", "Be Mine")

This is also the first time where more than the tiny cells are seen in the Facility.

Once again, Raven is shown liking a joke when no one else does. ("Uncle Jokes", "Hose Water", "Let's Get Serious")
This is the second episode with an alteration of the "GO!" sign. The first was "Baby Hands". This time, the alteration in the "GO!" sign says, "GO! And no other words after GO! And if anyone tries to add another word after GO!, they're a dummy!"
This is the third time someone mentions Robin is short. The first two times were in "Smile Bones" and "Real Boy Adventures".
Beast Boy being unable to count is brought up again ("Colors of Raven", "Books").
Raven is seen unhooded for the 18th time in the series.
This is the third time DCUbook appears. ("Sidekick", "You're Fired!")
This is the third time that Sticky Joe appears, the first times being in "Hot Garbage" and "Oil Drums".
This is the third time Raven blushes in response to what Beast Boy says. ("Waffles" and "Man Person".)
References
The Cool School Song is a parody of the song "Baby Got Back" by Sir Mix-a-Lot.
The Cool School Teacher bears a resemblance to the art style of The Mr. Men Show, being an anthropomorphic polyhedron. This could double as a reference to his voice actor Peter Rida Michail, who voiced Mr. Messy in the US broadcasts of The Mr. Men Show.
Cyborg's visor resembles that of Cyclops from Marvel Comics.
Rose and Raven are shown taking selfies, a popular fad that many people (often teenagers) like to do.
This is the third time DCUbook, a parody of Facebook, has been shown. The previous times were "Sidekick" and "Head Fruit".
At the fair, several Batman villains are shown as cardboard stands to be knocked over. They include: Catwoman, The Penguin, The Joker, Two-Face, and Bane (once again the Dark Knight Rises version).
The Joker's appearance on the truck shows him in the exact same pose in Batman: The Killing Joke, when he first emerges from the chemical waste and discovers his face and hair have been recolored.
Cyborg saying that he thinks of Raven as a sister is a nod to the original Teen Titans, where they did have a brother-sister relationship.
While Rose is insulting Raven in the beginning of the episode, she calls her Gandalf, a character from the Lord of the Rings series.
It has the same plot of the Ben 10 Episode "Kevin 11". Where Kevin and Ben become friends but later on become enemies but become friends again.
Errors
Unlike Beast Boy, Cyborg has previously been shown knowing how to count.
Despite being a master martial artist, Rose was unable to hit the targets at the fair.
When Rose tosses a guard against the wall and the dust clears from it, the guard disappears.
Running Gags
The characters getting hurt by words.
Rose and Raven telling Robin that she's in jail.
The Titans deeming themselves to be "not cool" and later "cool."
Transcript
The transcript for "Cool School" can be found here.
Gallery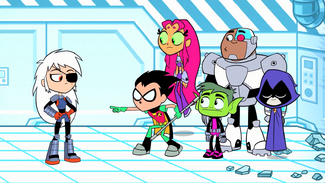 The image gallery for Cool School may be viewed here.