"Crazy Desire Island" is the forty-fourth episode of the third season of Teen Titans Go! and the one-hundred-forty-eighth overall episode of the series.
Summary
The Titans are still shipwrecked and Robin grants the other Titans their crazy desires.
Plot
The episode begins with Cyborg talking to "Football with a Face On It" who are then joined in by Beast Boy, "Hockey Stick with a Face On It", Raven, and "Basketball with a Face On It". However, Starfire rushes in and tells the group that talking to sports balls with faces on them is a sign of madness (as told to her by The Skull of the Pirate Volleyball Player with a Face On It). The Titans agree with her and realize how crazy they've gotten. After throwing their sports ball friends into the ocean, Raven exclaims of how she wishes they were back on the island. As if on cue, Robin appears from a bush in a suit and introduces the audience to Crazy Desire Island. After questioning his behaviors, the group is told by Robin that all wishes they have can be fulfilled by hopping into the bush. Anxious to try it, Cyborg wishes he and Beast Biy were famous musicians and jumps into the magic bush.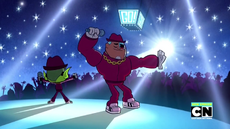 In his wish Cyborg and Beast Boy's song become a huge success, but Beast Boy betrays him and states that he was only using Cyborg. Robin appears in his wish and points out the betrayal. But Cyborg simply continues to encourage and support him. Feeling he learned nothing, Robin ends Cyborg's wish and sends him back to the real world.
Back in the real world, Starfire hops into the bush to fulfill her wish.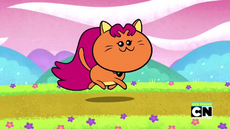 Her wish involves her becoming a magic cat, to Robin's confusion. However, her dream also involves her summoning a cat party inviting every cat in the galaxy. Disgusted and utterly terrified, Robin immediately ends her wish.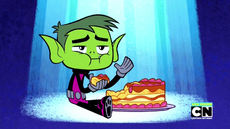 Back on the island, Beast Boy states that he simply wishes for cake. Confused and annoyed, Robin fulfills this wish for a few seconds, but immediately sends him back out of total annoyance.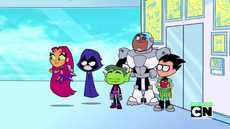 Finally, Raven wishes to be back home in the tower. In her world, her dream is fulfilled, but she is also immediately annoyed by her obnoxious roommates and their antics. Admitting her desire to be back on the island Robin rejoices stating he finally taught them a lesson. But he before he can send her back, the Starfire from Raven's world admits her feelings for Robin and the two begin to kiss and start a relationship, just before Raven ends the dream herself.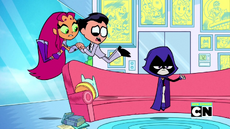 A distraught Robin is brought back to the island and is laughed at by a satisfied Raven, ending the episode.
Characters
Songs
Trivia
This episode is the fourth part of the week long summer event of "Island Adventures".
This episode was aired during Lauren Tom's 55th birthday.
Starfire's cat form is similar to the cat Trigon gave her in "Caramel Apples".
DJ Hymn makes a debut and a cameo during Beast Boy's and Cyborg's musical number in Cyborg's wish.

DJ Hymn is a real music producer who has worked with Greg Cipes on several songs.

Each Titan has their own desires:

Cyborg wants to became a famous musician with Beast Boy.
Starfire wants to be a cat.
Beast Boy wants to eat a cake.
Raven wants to go back in the Tower.
Robin wants Starfire to love him.
Continuity
References
Cyborg, Beast Boy, and Raven begin talking to sports equipment with faces on them, while Starfire says the skull of a volleyball player told her was being crazy, referencing Wilson the Volleyball from the 2000 film Cast Away.
The backdrop "Crazy Desire Island" is a reference of the opening sequence from the late 70's show Fantasy Island.

The way Robin talks and how he dresses in a suit is a play on a character named Mr. Roarke (played by Ricardo Montalbán) also from Fantasy Island.

In Cyborg's wish, the backdrop logos is similar from the 2015 hip-hop movie Straight Outta Compton.
When the other Titans enter the magical bush, we hear a sound effect similar to the Super Mario franchise when Mario enters a pipe.
Starfire's cat dream is a subtle reference to the 2011 video Nyan Cat
Errors
Running Gags
The Titans wishing for stuff.
Cyborg, Starfire, and Beast Boy fully enjoying their wishes despite Robin's efforts to taint them.
Robin saying "Step into the bush and let your dreams become reality."
Transcript
The transcript for "Crazy Desire Island" can be found here.
Gallery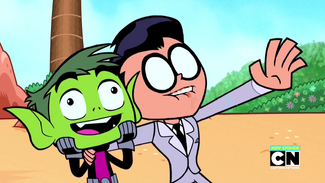 The image gallery for Crazy Desire Island may be viewed here.
Community content is available under
CC-BY-SA
unless otherwise noted.