The Creepy Catcher is a terrifying kidnapper who roams the forests of Super Summer Hero Camp. However, he's actually a friendly guy who just wants to play some baseball.
During the Teen Titans Go! Super Summer Hero Camp event, the Creepy Catcher made it into two episodes, "Snot and Tears" and "What We Learned at Camp."
History
While at summer camp, Robin warns the Titans of a psycho, sports gear-wearing villain who stalks the campgrounds... the Creepy Catcher. The rogue allegedly preys upon misbehaving teens, but the Titans (sans Bumblebee) don't believe Robin. The team continues to act up, and before long, they've all disappeared. Robin mourns his kidnapped team—until he finds out that the Creepy Catcher hasn't actually harmed them. He's really just a reclusive baseball catcher who needed some extra players.
In the finale of the Super Summer Hero Camp event, the Creepy Catcher makes a brief live action appearance (as a still shot). Later, he also abducts the brainwashed Wonder Twins when Cyborg shoots them with baseball gear.
Physical Appearance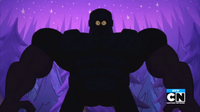 Baseball might not be the most physically demanding sport, but the Creepy Catcher has definitely spent some time in physical training. His bulging muscles offer plenty of protection, but he's got some backup with the catcher gear. Underneath, he wears a tight-fitting black T-shirt, pants, and ordinary shoes. The catcher's mask shrouds the Creepy Catcher's face in darkness; all that can be seen is leering yellow eyes. Hateful, no, playful, yes.
Episode Appearances
Trivia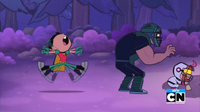 Jason Voorhees, the hockey mask-wearing antagonist of the Friday the 13th series, likely served as an inspiration for the Creepy Catcher.
The name "Creepy Catcher" is a pun on what he's actually about; not really a catcher (as in an abductor), but a baseball catcher.
Gallery
Community content is available under
CC-BY-SA
unless otherwise noted.