"Crossover Nexus" is a special episode of OK K.O.! Let's Be Heroes. This crossover event features many Cartoon Network characters, including Raven from Teen Titans Go!.
Summary
"When KO finds himself trapped inside a mysterious place, he encounters other Cartoon Network heroes and they band together to escape."
Plot
The episode starts showing a destroyed town, with sandwheels rolling over the place. Strike is sitting on a roof. He spotted Ben Tennyson from Ben 10, and he shot him. Ben dodged Strike's red bullets, and disappeared from Strike's eyesight. Strike then said the well-known "Come out, come out, wherever you are!" sentence. Then he tries to destroy Garnet from Steven Universe, but he fails again. Now angry, he summoned KO from "O.K. K.O. Let's Be Heroes!". K.O. is confused, wondering about the place and whereabouts of his friends. Strike then shoots at K.O., but Garnet saves him in the last moment. K.O. is confused again, but Garnet and him run away from Strike. Ben, Garnet and K.O. hide in an alley and introduce each other to each other. While Ben is introducing himself to K.O., one of Strike's machines finds them. Ben transforms into Four-arms and "saves" them, but the machine comes again, destroying Ben's Omnitrix and leaving him stuck as Four-arms. The trio then continue running, and the machine destroys a top of a building, which falls on Ben and K.O.. Ben saves them, by lifting the building. Strike's machine shots them again, but fails because Garnet throws her glasses, the bullet reflects and destroys both the glasses and the machine. The trio finds an abandoned building, and hides in it.
They find other CN characters, but all of them stoned with a large red X on them. K.O. wonders about how to destroy Strike, if he managed to destroy a large number of CN heroes, and Raven answers to him about going to his lair. K.O. is amazed by this idea, but is not sure who said it. Raven then reveals herself, and explains that she isn't stoned thanks to a protection spell. Garnet then frees her, and then Raven introduces herself. She then said that the destroyed city used to be a great town made for superheroes, but  then Strike appeared, stole their powers, and started summoning heroes from other dimensions. The group then wonders about how to surprise Strike. Raven then points to the lair, which emits an red X signal. They then go to the lair, and unsure of how to call themselves, they come up with a mix of the shows names, "OK, Ben Let's Go! Universe!". Raven and Ben aren't satisfied with the name.
They then use Raven's levitation powers to fly over a sea full of crabs, to get to Strike's lair. When they were close to get to the lair, a bunch of crabs attacked them, but Garnet bravely defended the team. They arrived to the Strike's lair. The machine then finds them and corners them, while Strike goes through an extra-long, uninterruptible sequence which he uses to gather dark magic. K.O. manages to get his hands on the machine, and reprogram it to give the team it's powers back, and it worked. Ben gets his Omnitrix back, and transforms into his human form, Raven gets her magic back and Garnet gets her glasses back. When Strike's sequence ended, Garnet fired a lot of arms at him, which hit him, Raven used one of her powers to hurt Strike, and Ben's Omnitrix now don't transform him into aliens, but into other CN heroes, so he and K.O. come up with an idea. K.O. and Ben make a power move, in which K.O. fires his fist and Ben transforms into a lot of heroes, which are listed in the References part of this page. Ben ends the transformation sequence with Finn from Adventure Time, and punches Strike so hard that his limbs got separated from his body, revealing his bodyless arm. K.O. congratulates Ben for his skills, but Ben says that the dudes in his Omnitrix were incredible.
One of the machines come near the team, and Garnet reprograms it to fix the city and un-strike the striked heroes. Raven then opens portals leading to each other's home, but she makes a mistake when she creates a portal for Teen Titans! instead of Teen Titans Go!. Garnet then gives K.O. her ID card, and goes home. Crying, K.O. goes his home, only to realize that he had been sleeping on the floor this whole time and that it was just a dream, but then Garnet's ID card falls out from his pocket, revealing that this wasn't a dream.
End of the episode.
Characters
Trivia
This is the eight Cartoon Network crossover.
This episode was part of a special event hosted by Raven, appropriately called "Raven Domination". Two Teen Titans Go! episodes, "My Name is Jose" and "The Power of Shrimps", premiered before it.
The other three main CN characters all come from their respective series, including:

KO (OK K.O.! Let's Be Heroes)
Garnet (Steven Universe)
Ben Tennyson (Ben 10)

When Raven goes back to her own dimension, the logo on top of the dimensional portal is the original 2003 Teen Titans series.
OK K.O. Let's Be Heroes got cancelled a year after this episode aired.
Raven was the only hero that barely escaped from getting x'd by strike.
Continuity
References
At the ending scene, Ben transforms into a lot of CN characters, some of which include:

Jake the Dog (Adventure Time)
Finn the Human (Adventure Time)
Prohyas (Mighty Magiswords)
Mordecai (Regular Show)
Uncle Grandpa (from the show with the same name)
Edd (Ed,Edd and Eddy)
Gumball (The Amazing World of Gumball)
Grizz (We Bare Bears)
Grim (The Grim Adventures of Billy and Mandy)
Buttercup (The Powerpuff Girls)
Johnny Bravo
Courage the Cowardly Dog
Dexter (Dexter's Laboratory)
Jeff (Clarence)
Chowder

When Ben Tennyson (as Finn from Adventure Time) defeated Strike, the latter's arm was disembodied like how Finn's artificial arm was lost in the Adventure Time finale.

Errors
Running Gags
Transcript
The transcript for "Crossover Nexus" can be found here.
Gallery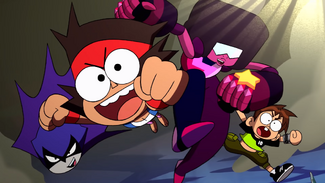 The image gallery for Crossover Nexus may be viewed here.
Community content is available under
CC-BY-SA
unless otherwise noted.