"Curse of the Booty Scooty" is the forty-eighth episode in the fifth season of Teen Titans Go!, and the two-hundred-fifty-seventh episode overall in the series.
Summary
When Robin Booty Scootys his butt off, the Titans must go on an adventure to recover the lost booty.
Plot
TBA
Characters
Main Characters
Trivia
As stated by Beast Boy, the last time Freak stayed at the tower, he literally wrecked Beast Boy's room. Therefore, Beast Boy has to chain him and relocate him back into the cave.
The four other Titans apparently have set an unreasonable rule for Robin, which is he won't be allowed to enter the tower if he doesn't perform the booty scooty for their amusement.
Continuity
This episode is a sequel to Season 3 episode "Booty Scooty".
The Booty Scooty Dance is played in this episode.
Raven is seen unhooded for the 99th time.
Robin once again obsessing over his butt.
The four other Titans humiliating Robin by ordering him to do the Booty Scooty dance.
References
Like its prequel, the entire episode is mostly based on the Groonies.
Two skeletons are seen when the Titans enter the cave which are eerily similar to Dora and Boots from the cartoon Dora the Explorer.
There is another skeleton in the cave which is in the shape of Wally/Waldo from the children's puzzle book Where's Wally/Waldo? which is created by Martin Handford.
Two more skeletons are Indiana Jones and his father, Henry Jones Sr.
A tribute to Stranger Things is paid when the Titans explored the cave where Freak lives.
The Trident of Neptune is hidden in the booty cave in this episode.
Dr Fate seemed to have lost his helmet in the booty cave...
Errors
TBA
Running Gags
Robin can't get his butt back as it keeps bouncing off to unexpected places.
The Titans ruthlessly shaming Robin by forcing him to perform the booty scooty.
Transcript
The transcript for "Curse of the Booty Scooty" can be found here.
Gallery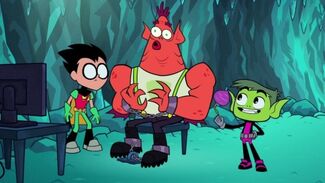 The image gallery for Curse of the Booty Scooty may be viewed here.
Community content is available under
CC-BY-SA
unless otherwise noted.