"Demon Prom" is the forty-second episode in the fourth season of Teen Titans Go! and the one-hundred-ninety-ninth overall episode of the series.
Summary
When Trigon forces Raven to attend her prom, she brings the rest of the Titans along with her just to upset him, but when chaos upsets the prom queen, the Titans try to cheer her up by getting everyone's votes.
Plot
At the Titans Tower, Robin, Beast Boy, Cyborg, and Starfire are relaxing as usual when the doorbell rings. No one volunteers to answer, and the bell keeps ringing. Cyborg thinks he might've ordered pizza, and that stimulates the Titans to violently bust open the elevator, smash down the shaft, blow up in the process, and run to the door. Sadly, only a nicely-dressed Trigon is there. Beast Boy asks where the pizza is, but the demon lord says he's just there to talk to Raven. They walk away angrily, and Starfire even slaps him with her hair.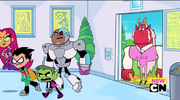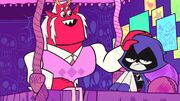 Meanwhile, Raven is reading in her room when her dad teleports in, uninvited. Trigon explains that he wants to go to "demon prom" with her so she can be the prom queen, but she's more than unwilling to go to the event. Furious, Trigon goes full-on devil, pledging to destroy Earth if she doesn't go. Raven finally submits, and Trigon happily disappears. The other Titans show up, and when they hear about the prom, they are ecstatic. Raven tries to explain that it's just for demons, but then she comes with a scheme: the Titans can ruin the prom for her. Beast Boy and Cyborg get excited about the food and hitting on girls, and Robin, who initially wanted to go with Starfire, is coaxed into going with Raven so that he can be prom king. Robin deeply apologizes to Starfire, but she's like "whatever" and wipes her hand onto her skirt.
The Titans then freshen up for prom... Cyborg gets a nice bowtie and white suit on, Robin dons a red suit with fancy black shoes, Beast Boy does his hair and gets a dark green suit, and Starfire wears a green dress and applies makeup. Raven is also getting ready.
Trigon is annoyed at the excited Titans, saying that they shouldn't be going, and when Robin nervously shows up to pick up Raven, Trigon says she needs a bad boy, not a nerd like Robin (finished off with a good slap). Raven comes out, beautifully dressed in an orange and yellow dress with a scrunchie in her hair. Robin plays her up and kisses her hand, and Trigon is just getting angrier. Raven protests that the Titans are her squad, but Trigon compares this to a cringe-worthy Taylor Swift music video. However, he eventually subsides, and they all teleport to the prom.
However, it's not what the Titans thought. The DJ is barely even scratching like a sweet MC should, and the dancers are lifeless. Starfire says it's much drabber than she expected, and Trigon orders the Titans to the corner, not to make a sound (he also slaps Robin aka the dork again for protesting). Raven let's them go wild though... Cyborg and Beast Boy go crazy at the food table, eating vegan-yet-still-screaming (MC) sandwiches and annoying Raven's demon friends to the point of chaotic violence. Starfire, to liven up the prom, releases a bunch of cats into the dance that also reek havoc. Trigon is bristling with anger, but Raven is happy her plan is working.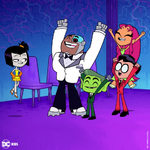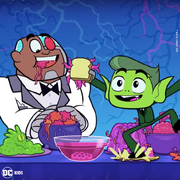 Next, Robin then goes up stage to advertise himself as the prom king (and make his subjects bow), but he's only greeted by boos, a tomato, and an livid Trigon. He berates Raven and Robin, saying they are wasting their chance for prom king and queen, but Raven protests his selfishness. She doesn't WANT to be prom queen. Trigon disappointingly teleports away, but not before calling Robin a dork again. Outside on the steps, Starfire and the other Titans try to comfort the grieving Trigon, but he once again leaves, saying they are the root of the problem and once again calls them dorks. Cyborg and Robin realize they have to gain the crown for Raven to redeem themselves, and Beast Boy has a plan.
The Titans burst back into the prom in a flash of light (but they luckily have shades) with a boom box, and Beast Boy lays down a rap about Raven for being prom queen, if you know what I mean. After this scene, an orange demon introduces Trigon to the stage to announce the winner. Trigon, initially sad, is surprised to see that Raven has won after all!! Robin, her partner, has also won prom king, and though he's insanely happy, Raven is distraught; she explains to the others that whoever wins prom queen has to rule the underworld for the next millennium and calls them dorks, much to their shock. Trigon opens the portal to Hell, but Raven responds by using her green-eyeball prom queen staff to zombify the other patrons into pushing Trigon into the portal, without her.
Raven forgives the Titans for trying to make her queen of the underworld, and Cyborg has no idea why they keep trusting Trigon, to which Starfire thinks it's because they're easily manipulated. But they notice Robin is gone... Meanwhile, Robin is at his throne in Gehenna, enjoying his prom king-rule over his subjects. But Trigon just won't give him a break about being a dork, and slaps Robin again as well as telling him to shut up.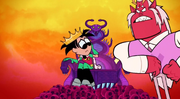 Characters
Major characters
Minor characters
Generic Demons (debut, cameos)
Song
Trivia
There were two promos for this episode that aired on Cartoon Network. The second promo took scenes from the episode and slipped in music from Taylor Swift's hit single, "Bad Blood".
Beast Boy eats a sandwich that actually told him he was vegan, although clearly it wasn't evidenced by the screaming of the monster being chewed up.
It is implied that Trigon has won the title of Prom King and wanted to pass the Prom Queen title because of this so that Raven could ascend to power.
Continuity
This is the second time Raven attends a prom. In "Caramel Apples", it was implied in one of the pictures in Trigon's photo album, she went to a prom with what it appears to be with Zippy, one of the local pizza delivery boys and owner of Zippy's Pizza.

Interestingly, in this episode, Raven seen wearing part of her hair into a ponytail is the same hairstyle she was shown wearing in that same prom picture seen in that very episode, "Caramel Apples".

Raven is unhooded for the 73rd time.
Robin's red tux and Starfire's green dress from "The Academy" are worn in this episode.
Trigon saying to Raven, "See you at Demon Graduation!" before being carried into a portal, is similar to him saying "See you at Thanksgiving!" before getting sucked into a portal in "Caramel Apples".
The T-Desk from "You're Fired!" can be seen briefly as the Titans run through the lobby.
The Demon DJ and Backwards Hat Demon from "The Overbite" were at the prom.
Cyborg wonders aloud why he, Robin, Beast Boy, and Starfire keep trusting Trigon. This likely refers back to previous episodes such as "Dog Hand", "Caramel Apples" and "Thanksgiving", where they were fooled into thinking they could trust him.
Apparently, Starfire still adopts stray kittens, like she has done in "Cat's Fancy".
Beast Boy wears his red framed sunglasses from "TV Knight 2".
References
Trigon mentions singer and songwriter, Taylor Swift.

His line to Raven, "This is not a Taylor Swift video", references the majority of Taylor Swift's music videos, which are mostly about romance and relationships.

When seeing the state of the demon prom, Cyborg remarks, "This does not look like a John Hughes sort of situation", which is a reference to the film maker, John Hughes, who made movies exclusively about teenage romance.  
At the beginning of the Titans' song to Raven, there was a backdrop and song lyric that said, "Straight Outta Azarath", which is a reference to the 1988 hip hop album and song, "Straight Outta Compton", by N***** Wit Attitudes (N.W.A).

The next line, "crazy half-demon named Raven," is also very similar to the proceeding line in "Straight Outta Compton" delivered by the rapper Ice Cube, "crazy motherf***er named Ice Cube."

One of the female demons that appear at the demon prom slightly resembles Hekapoo from Disney's animated series, Star vs the Forces of Evil.
Errors
It is ironic that Trigon said demons don't dance just a few episodes back, but he is forcing Raven to go in this episode.

This episode, however, can be considered happened after those events, since Trigon might have already changed his mind.

When Trigon is trying to persuade Raven to take the opportunity of being chosen as Prom Queen seriously (after she deliberately allows Robin to screw things up), the glove on her right arm briefly disappears.
Running Gags
Trigon slapping Robin and telling him to shut up while calling him a dork.
The Titans (excluding Raven) being called dorks. 
Robin acting like a tyrant.
Transcript
The transcript for "Demon Prom" can be found here.
Gallery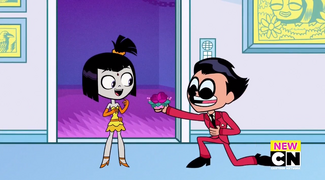 The image gallery for Demon Prom may be viewed here.