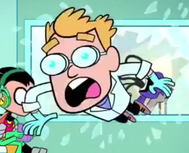 Dentists are minor characters who debuted in Meatball Party.
Bio
After Raven cracks her tooth, releasing a Demon Octopus that pulls Beast Boy into her mouth, the other Titans force her to go to the dentist. While at the dentists, Raven is instructed to open her mouth, which she refuses to do. Eventually she does open her mouth, which releases the octopus tentacles and beats up the dentists. One dentist gets thrown out the window, finally getting the attention of the other Titans.
Trivia
Although, not both of the dentists are actually seen, however, the male dentist is briefly seen when Raven's Tooth Octopus throws him out of the window revealing his face.
Community content is available under
CC-BY-SA
unless otherwise noted.