"Don't Press Play" is the 44th episode of the sixth season of Teen Titans Go!, and the 307th overall episode of the series.
Summary
The Titans must help De La Soul save their music after it is stolen by an alien who is up to no good.
Plot
TBA
Characters
Main Characters
Minor Characters
Jaws (mentioned)
Alien monster (debut, only appearance)
Trivia
This episode introduces the seventh extraterrestrial threat from the cosmos, the others being Parry from "Parasite", Blackfire, Darkseid, Mr. Mind, and Klatak from "The Mask".
This is the first time the Justice League has spoken outside of Teen Titans Go! To the Movies, namely Wonder Woman and Aquaman.
This is the first time that the Titans go to Mars.
This episode's title is based on how Robin is going to press play, but the others tell him not to do so.
Continuity
References
When De La Soul and The Titans fall into a trap in one of Mars' crater, the trap starts filling with water. This may be the real-life Jezero crater in Mars that was supposedly thought to have once flooded with water. In November 2018, it was announced that Jezero had been chosen as the landing site for the rover Perseverance as part of NASA's Mars 2020 mission. Perseverance successfully landed in the crater on 18 February 2021, two days before this episode aired.
When De La Soul inflate their heads to free themselves and the Titans from the trap, it is a reference to the cover of their album Buhloone Mindstate.
When Cyborg thinks Jaws is back, Beast Boy turns into the same shark from the 1975 film.
Errors
De La Soul and all of the Titans with the exception of Starfire shouldn't be able to breathe in the atmosphere of Mars.
Running Gags
Robin thinks he has super powers.
Transcript
The transcript for "Don't Press Play" can be found here.
Gallery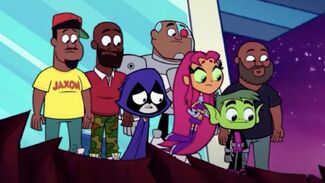 The image gallery for Don't Press Play may be viewed here.