"Driver's Ed" is the third episode of the first season of Teen Titans Go!. and the third overall episode of the series.
Synopsis
Poor Robin gets his driver's license suspended after wrecking the Batmobile, and must take a Driver's Ed course. What he doesn't know is that his driving instructor, Ed, is a robber that has some sinister tricks up his sleeve where he uses him as a getaway driver.
Plot
The episode begins with Robin tricking the other Titans to drive him around town for his selfish needs by telling them it's an urgent emergency, causing Beast Boy to lose his game, Cyborg to lose some of his data, Silkie to get swollen up and Demon getting away. The next time Robin needs someone to drive him around town, no one wants to take him. He tells the others that his license is suspended after he wrecked the Batmobile, telling them it was a "fender-bender. He also tells them he met a guy on the Internet that can get his license back. Cyborg, because of his data loss, doesn't recognize Starfire. Raven warns Robin that she does not believe this is a good idea.
Robin goes where his instructor told him to meet. On the car window was a paper that said to start the engine. A man exits a bank with a bag of robbed money, puts the bag in the trunk and gets in the car. He introduces himself as Ed his instructor. Ed gives many deductions to Robin during his test, causing him to fail. Robin takes the test again multiple times, but ultimately fails because Ed keeps using him to rob banks. One day, the Titans are at a cafe and noticed Robin in front of a jewelry store when he was supposed to meet his Driver's Ed instructor. Ed robs the store and gets in the car. Raven tells the others that he is his getaway driver, and Starfire says that Robin may not know that he is. They decide to chase Robin to warn him about Ed. Robin notices them, but thinks that they are going to make fun of him, so he speeds away from them. Later, after a wild chase (with Cyborg at the wheel of the T-Car), Robin stops the car and Ed gets mad at him for his wild driving and tells him the truth, and tells him the reason he kept failing Robin is to keep him as a getaway driver. He also said he never wanted him as a getaway driver again. Robin tells Ed he knew, and that is why he didn't tell him about the Demon behind him. The Demon drags Ed into its dimension, and all is back to normal as Robin celebrates his success for passing the driving test.
Characters
Trivia
In a four-day period, Robin annoyed his friends by making them drive him to so-called "emergencies":

Beast Boy took him to Burger Splode! for a monstrous appetite for a cheeseburger, fries, a milkshake and a small side salad.
Cyborg took him to Game Bear to get a copy of Dog Simulator 2000 (a parody of the Microsoft Simulator series).
Raven took him to the beach so he could surf.

Raven is also revealed to be able to drive without using her hands.

Oddly, Starfire and Raven drive Robin when they could have instead just flown or teleported him to his destination.
When Robin met Ed at the casino, a sign said that Mumbo Jumbo was going to perform that day.
This is the first appearance of the T-Car in Teen Titans Go!
Robin's grappling gun has a different design.
Continuity
The game Robin bought, "Simulator Zoo", also appeared in "Pie Bros".
Raven's demonic red eyes are shown for the first time.
Once again, the BAT-O's stand is shown and Food Bear is shown for the second time since "Legendary Sandwich."
This episode is the debut of the recurring Seagull.
"Super Robin" is alluded when Robin states that the other Titans laugh at him for not having powers.
References
Beast Boy plays a video game where the main boss is a large brain, giving a nod to the Doom Patrol's nemesis: The Brain.

It can also reference the Metroid series, the character Beast Boy plays is a nod to Samus Aran, while the brain boss is a nod to Mother Brain.
The game over message "You Are Die" is a reference to some older video games having poor translations when they were ported to the US, like "All your base belong to us"
It can also be a reference to the iconic X-Men line, "Welcome to die."

Silkie eating the zorkaberries and becoming puffy is a reference to the original Teen Titans episode "Can I Keep Him?" where Silkie grows to a gigantic size after Starfire feeds him zorkaberries.
The face of DC Western hero, Jonah Hex, is on the casino that Ed robs. Also, the one performing there tonight was Mumbo Jumbo, a villain from the original Teen Titans series.
The music that Robin dances to in the car is a soundalike instrumental version of Stuntin' Like My Daddy by Birdman and Lil Wayne.
Later in the episode, Cyborg, Starfire, Raven, and BB get coffee at a store called "Justice Java" with Superman drinking a cup of coffee on the sign.
During the police car chase scene, the song that's playing is a soundalike to Yakety Sax by Boots Randolph.
When the T-car bounces off the planets, the sounds emulate those of a classic pinball table.
This episode shares the same title from Sabrina: The Animated Series.
Errors
Robin destroyed the Batmobile by crashing it into a lamp post, however in other media (such as LEGO Batman 2: DC Superheroes) the Batmobile has shown to be nearly indestructible.
When the Titans are first outside the cafe, Robin and Ed's car are absent, but after Raven notices, they are suddenly in front of the jewelry store.
It is shown that Robin has bad eyesight; this is seen when he takes the eye test. Yet in future episodes, his eyesight seems fine.
In "Pie Bros," Ed was seen taken to jail, but he somehow escaped.
Running Gags
The demon Raven failed to defeat randomly showing up.
Cyborg being unable to remember who Starfire is.
The same cop keeps blindly shooting at Ed's getaway car.
Ed saying "that's a deduction."
Robin annoyed his friends by making them drive him to so-called "emergencies".
Transcript
The transcript for "Driver's Ed" can be found here.
Gallery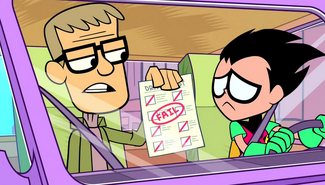 The image gallery for Driver's Ed may be viewed here.
v - e - d Episode Guide
Season 1: April 23, 2013 - June 5, 2014
Legendary Sandwich • Pie Bros • Driver's Ed • Dog Hand • Double Trouble • The Date • Dude Relax • Laundry Day • Ghostboy • La Larva de Amor • Hey Pizza! • Gorilla • Girl's Night Out • You're Fired! • Super Robin • Tower Power • Parasite • Starliar • Meatball Party • Staff Meeting • Terra-ized • Artful Dodgers • Burger vs. Burrito • Matched • Colors of Raven • The Left Leg • Books • Lazy Sunday • Starfire the Terrible • Power Moves • Staring at the Future • No Power • Sidekick • Caged Tiger • Second Christmas • Nose Mouth • Legs • Breakfast Cheese • Waffles • Be Mine • Opposites • Birds • Brain Food • In and Out • Little Buddies • Missing • Uncle Jokes • Más y Menos • Dreams • Grandma Voice • Real Magic • Puppets, Whaaaaat?

Season 2: June 12, 2014 - July 30, 2015
Mr Butt • Man Person • Pirates • Money Grandma • I See You • Brian • Nature • Salty Codgers • Knowledge • Slumber Party • Love Monsters • Baby Hands • Caramel Apples • Sandwich Thief • Friendship • Vegetables • The Mask • Serious Business • Halloween • Boys vs Girls • Body Adventure • Road Trip • Thanksgiving • The Best Robin • Mouth Hole • Hot Garbage • Robin Backwards • Crazy Day • Smile Bones • Real Boy Adventures • Hose Water • Let's Get Serious • Tamaranian Vacation • Rocks and Water • Multiple Trick Pony • Truth, Justice and What? • Two Bumble Bees and a Wasp • Oil Drums • Video Game References • Cool School • Kicking a Ball and Pretending to Be Hurt • Head Fruit • Yearbook Madness • Beast Man • Operation Tin Man • Nean • Campfire Stories • And the Award for Sound Design Goes to Rob • The HIVE Five • The Return of Slade • More of the Same • Some of Their Parts

Season 3: July 31, 2015 - October 13, 2016
Cat's Fancy • Leg Day • Dignity of Teeth • Croissant • Spice Game • I'm the Sauce • Hey You, Don't Forget about Me in Your Memory • Accept the Next Proposition You Hear • The Fourth Wall • 40%, 40%, 20% • Grube's Fairytales • A Farce • Scary Figure Dance • Animals, It's Just a Word! • BBBDAY! • Black Friday • Two Parter • The True Meaning of Christmas • Squash & Stretch • Garage Sale • Secret Garden • The Cruel Giggling Ghoul • How 'Bout Some Effort • Pyramid Scheme • Beast Boy's St. Patrick's Day Luck, and It's Bad • The Teen Titans Go Easter Holiday Classic • Batman v Teen Titans: Dark Injustice • Bottle Episode • Finally a Lesson • Arms Race with Legs • Obinray • Wally T • Rad Dudes with Bad Tudes • Operation Dude Rescue • History Lesson • The Art of Ninjutsu • Think About Your Future • TTG v PPG • Coconut Cream Pie • Pure Protein • Open Door Policy • Crazy Desire Island • The Titans Show • Booty Scooty • Who's Laughing Now • Oregon Trail • Snuggle Time • Oh Yeah! • Riding the Dragon • The Overbite • The Cape

Season 4: October 20, 2016 - June 25, 2018
Shrimps and Prime Rib • Halloween v Christmas • Booby Trap House • Fish Water • TV Knight • Teen Titans Save Christmas • BBSFBDAY! • The Streak • The Inner Beauty of a Cactus • Movie Night • BBRAE • Permanent Record • Titan Saving Time • The Gold Standard • Master Detective • Easter Creeps • Hand Zombie • Employee of the Month: Redux • The Avogodo • Orangins • Jinxed • Brain Percentages • BL4Z3 • Hot Salad Water • I Saw You Dance • The Story in Your Eyes • Playing Hard to Get • The Night Begins to Shine • Lication • Labor Day • Classic Titans • Ones and Zeroes • Career Day • TV Knight 2 • Justice League's Next Top Talent Idol Star • The Academy • Costume Contest • Throne of Bones • Demon Prom • Thanksgetting • The Self-Indulgent 200th Episode Spectacular! • BBCYFSHIPBDAY • Beast Girl • Flashback • Bro-Pocalypse • Mo' Money Mo' Problems • TV Knight 3
Season 5: June 25, 2018 - TBA
The Scoop! • Chicken in the Cradle • Kabooms • Tower Renovation • My Name is Jose • The Power of Shrimps • Monster Squad • Real Orangins • Quantum Fun • The Fight • The Groover • Justice League's Next Top Talent Idol Star: Second Greatest Team Edition • How's this for a Special? Spaaaace • BBRBDAY • Slapping Butts and Celebrating for No Reason • Nostalgia is Not a Substitute for an Actual Story • Business Ethics Wink Wink • Genie President • Tall Titan Tales • I Used to Be a Peoples • The Metric System vs Freedom • The Chaff • Them Soviet Boys • Little Elvis • Booty Eggs • TV Knight 4 • Lil' Dimples • Don't Be an Icarus • Stockton, CA! • What's Opera Titans • Forest Pirates
Top of the Titans: April 27, 2018 - July 20, 2018
Raddest Songs • Best Love Songs • Beast Boy & Cyborg Songs • Dance Party • Best Rivals