Titans go! As soon as we get an alert on my communicator. Hopefully, at any moment now.

--Robin
"Dude Relax" is the seventh episode of the first season of Teen Titans Go!, and the seventh overall episode of the series.
Synopsis
The team places Robin on forced hiatus while Beast Boy teaches him to relax after his high-strung nature begins affecting the team. Robin attempts to learn how to be lazy.
Plot
The Titans haven't gotten a crime alert in a while, and Robin, while being stressed, is sure that they will get one soon. He is reminding the team to stay vigilant. The others decide to relax and they tell
Robin that he should as well. Soon after, Cyborg is tinkering with the T-Car and Robin walks in and starts tinkering, also breaking the car down. Robin decides to leave an angry Cyborg and visits Starfire, who is getting a facial. Robin joins her, and mixes acid with the facial while explaining that it will make them more immune to pain, burning Starfire's face, who makes him leave. He tries to visit Raven in her
room, but she doesn't let him come in. Outdoors, Beast Boy is playing fetch with himself and asks Robin to join him. He throws the ball really fast and hard, and hits Beast Boy in the eye, knocking him out. The Titans finally get an alert call, but they aren't letting Robin go with them until he learns how to relax. Cyborg puts him a shocking collar on his neck that activates and shocks him when he tries to leave the tower.
Robin thinks of how he can help the Titans while being at the Tower,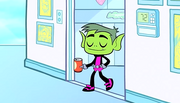 so he decides to call them, but they didn't want to listen to him. Beast Boy arrives at the living room to relax, and says that he forgot that Robin was there. He lets Robin know that sometimes he paints an animal green to replace him and just hangs at the Tower. Beast Boy decides to teach Robin how to relax. He shows Robin how to have oneness with the couch, and disappears into it, and expects Robin to do the same. Robin then gets a call, and Beast Boy comes back and tries to stop him from taking it. Failing to do so, Beast Boy said that he finally found something which he is better at than Robin, Robin wanting to be better than Beast Boy at everything, finally found oneness with the couch. 
Robin becomes one with the couch and even meets The Couch spirit itself. In the couch, he learns the reason of why he can't relax. It was because when he was at the circus as a baby, the circus animals teased him and bullied him when he let his guard down. The Couch Spirit invokes that he is ill-relaxed all because a monkey stole his diaper. Learning this, Robin goes back to the real world, where he got an incoming emergency call. Robin ignores the call, as he has finally achieved relaxation.
Unfortunately, Starfire, Raven, and Cyborg are caught in the clutches of the tentacle monster. Beast Boy is absent, leaving a green-painted bird to fill in his super hero obligations which does not work out.
Characters
Trivia
In the scene where Starfire holds up the ingredients for her spa mask, she has three hands.
It is revealed that Raven owns a bonsai.
Beast Boy reveals that he sometimes replaces himself with an animal painted green.
It's revealed that Robin is unwilling to let Beast Boy be better than him at anything.

Although he could just be very competitive with everyone in general, as Cyborg stated Robin tried to turn sleeping into a competitive sport.

In the comics and the original series, Robin is a vigilant leader because of his training with Batman. In this episode, his vigilant personality began even before his days with Batman, due to the circus animals bullying him when he was a baby (or as the Couch put it, "because a monkey stole your diaper").
This episode confirms that Robin is Dick Grayson.
Continuity
Beast Boy painting animals green is a nod to "Super Robin", where older Robin paints a cat green to make it look like Beast Boy.
The Couch returned in "Lazy Sunday."
References
Braniac, Darkseid, Doomsday, and the Metallo exoskeleton can be seen on posters in Cyborg's room.
The Batman Begins trilogy musical score is heard at one point of the episode.
When Robin says "I can relax circles around you guys", it's a reference to Team Fortress 2, since the scout's catchphrase is "I'm running circles around ya".
Errors
Robin wears green nail polish (except he's not a girl)
International and Philippine airings that has the beginning of "Laundry Day" at end of the episode.
Running Gags
Robin being unable to relax.
Robin trying to leave the tower but ending getting shocked by the shock collar.
Transcript
The transcript for "Dude Relax" can be found here.
Gallery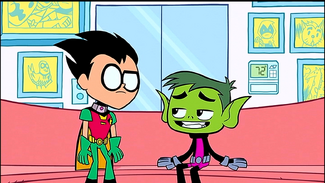 The image gallery for Dude Relax may be viewed here.
Community content is available under
CC-BY-SA
unless otherwise noted.