Chato Santana, better known as El Diablo, is a character in Teen Titans Go! who has the ability to create and control fire. In the fourth season, he was briefly seen in the episode "TV Knight 2".
History
Born with a curse—or blessing—of pyrokinesis (the ability to generate and manipulate fire), Chato originally used his power for evil. He was heavily involved in the thug life, selling guns, dealing drugs, and grand theft auto. The ability to shoot fire from his fists came in handy with rival gangs as seen when he killed 15 men in East Los Angeles.[1]
After burning his wife and kids to death in a fit of rage, El Diablo was sent to Belle Reeve prison, deeply regretting his actions. It was here that he was recruited for Task Force X, a team of ex-criminals who would go on suicidal missions for the U.S. government.[2]
In "TV Knight 2", El Diablo made a cameo walking down the streets of Jump City, fireball in hand (well, not in hand, but slightly above it).
Powers and Abilities
Pyrokinesis: El Diablo can produce and control fire using only his mind. He usually generates it from his hands.
Shaman Fire Skeleton: For a brief period of time, El Diablo can unleash the demonic shaman powers within him, transforming into a powerful, fiery skeleton.
Characteristics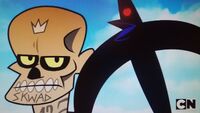 As seen in
"TV Knight 2"
, El Diablo wears a purple, blue, and gold letterman jacket. The coat is decorated with the number 13, as well as a skull patch on one of the sleeves. He has a chain hanging from his blue jeans, and he also sports a pair of white and blue tennis shoes. Embracing who he is within, El Diablo has tattooed his face to make it look like a skull. A crown tattoo adorns his forehead, and he keeps his head shaved. El Diablo also has "13" printed on his neck and the word "SKWAD" on his chin (in reference to the Suicide Squad).
Appearances
Trivia
El Diablo's characteristics in "TV Knight 2" are heavily influenced by his appearance in the 2016Suicide Squad movie.
It's unknown whether the number 13 on El Diablo's Jacket is his high school team number or a tribute to affiliation with Mara Salvatrucha (which originated in his home city, Los Angeles). [3]
Gallery
References
Community content is available under
CC-BY-SA
unless otherwise noted.