"Finally a Lesson" is the thirtieth episode of the third season of Teen Titans Go!, and the one-hundred-thirty-fourth overall episode of the series.
Summary
The gang learns a valuable lesson from Robin, while these Skater Dudes are up to no good, and what's up with that money?
Plot
The Teen Titans (except Robin) are seen doing their business on the couch in the living room. Robin then breaks the other's relaxation time and he tells them that they never have done the so-called "suggestion box", which allows any of the Titans to put down ideas to do for the afternoon. He then shows a suggestion written by an Anonymous (although Raven notices it was written with Robin's handwriting). The suggestion reads that Robin should teach the Titans life lessons. Cyborg agrees, while Starfire suggests a lesson about the value of friendship. However, Beast Boy says he doesn't have time for lessons and leaves to hang out with some Cool Rollerblading Dudes, stating that he must be friend with "cool dudes".
Beast Boy meets the Dudes doing graffiti on the city walls. Beast Boy refuses to join them and tells them they would get in trouble for vandalizing city property. Then the Cool Rollerblading Dudes get angry at him and kicked him out of their group for not being "cool" enough and sprayed him with a can of spray paint and rolled away, leaving Beast Boy sad. Starfire, Raven and Cyborg comfort Beast Boy. Beast Boy says that the real friends are those who are always with you and they embrace. Robin says that was the most boring lesson someone could learn and offers to teach the Titans a real good lesson - how to buy rental property as a long term investment. He adds this is the best way to build "equity" and starts explaining with difficult words, scaring the Titans. They show no interest in Robin's lesson and leave, but return as Robin tells them that "equity" means "money". They look for a rental property to buy.
Robin shows them a luxury building, with potted plants and a doorman. The Titans agree to buy it, but Robin informs this isn't the property they're looking for; it's the building next door - a low-quality building where villains live. Robin tells them it's a way to build equity and the Titans agree to buy it.
Back in the Tower, Robin receives a call and informs the others that their offer on the building was accepted. The Titans celebrate, but Robin tells them they're gonna need a financing of $500,000, much to their shock. Robin says that the rents will cover most of the cost, and they only need 20% down - $100,000, which is still too much for them. Robin says they could get the money with hard work and effort, or ask it for someone who already did that. He then calls Batman and ask for money to build a crime fighting lab.
Starfire asks Robin how they're gonna buy a property with only 20% of the price. Robin answers that they'll get the rest from a bank loan. He then makes a very-hard-to-understand explanation about credit score, much to the Titans' chagrin, The Titans complain that that much of information hurts their heads, but Robin calls three dogs representing "Low Credit Score", "Failure to Plan for the Future" and "Not Enough Money to Live After Retirement", who attack them. The Titans are now willing to learn, so Robin suggests they do something fun, like filling out paperwork, what the other find no fun at all. Robin promises them that'll worth the effort.
Later, the Titans celebrate that they're now the owners of a rental property, and soon they'll make some good equity. Then they get a call from Brother Blood, one of the building's tenant, who demands them to fix his toilet. The Titans refuse, but Robin states it's their obligation as landlords. The Titans perform some chores like unclog Brother Blood's toilet, clean Control Freak's sink, unlock Mumbo Jumbo's bathroom door, switch Dr. Light's lamp and kill the cockroaches in Punk Rocket's apartment.
The Titans are tired from all the work, but are still happy about making money. But Robin informs then that the tenants are paying below market value for their apartments. Raven suggests eviction; Robin says that's illegal, but suggest making them leave on their own. The Titans attack the villains and expel them from the building, leaving their apartments available to rent. Robin says that in 30 years, they'll have equity to pay for their old people medications, They receive the Cool Rollerblading Dudes as their first tenants.
In an epilogue, Robin suggests the viewer visit a library or talk to a local realtor about investing in rental property. The episode ends with a title screen saying that the viewers had just learn a lesson.
Characters
Trivia
Punk Rocket makes his first appearance in Season 3, and his second overall appearance. His first appearance was in the first scene of "The Mask".
The apartment from "Cat's Fancy" is seen again.
Continuity
References
Starfire mentions that the word "equity" also means horse, a reference to the word "equestrian" for "horseback rider", derived from Latin equester and equus, "horse".
Robin references Spider-Man when he enters the living room hanging upside-down.
Starfire mentions the danger of suffocating while hiding in a refrigerator, which references the lesson of an episode of Punky Brewster, "Cherie Lifesaver".
Errors
Running Gags
The Titans telling life lessons.
Robin explaining the importance of personal finance situations.
The other Titans being shocked by Robin's meaningful speaking of important money situations.
Starfire acting like a horse when equity is mentioned.
Transcript
The transcript for "Finally a Lesson" can be found here.
Gallery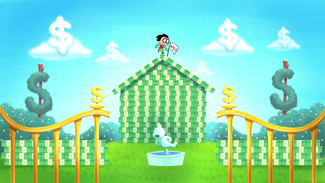 The image gallery for Finally a Lesson may be viewed here.