Fleshy Guy (Victor Stone) is a human alter ego of Cyborg. He made his debut in in the episode "Real Boy Adventures".
Biography
When Cyborg was disappointed about not being able to enjoy hot tubs, Raven said she could turn him back into a human. After a painful spell that restores his humanity, she warns him that his new body is still very sensitive. Ignoring this, he leaps in the hot tub and gets burned, shouting that "hot tubs are hot". Beast Boy volunteers to be his guide to being human. The next day he wants to be Cyborg again, but Robin takes him on a Real Boy Adventure, singing the song "Real Real Boy." He then throws out all his robot parts. Then as Gizmo, Mammoth and Jinx are stealing the hot tub. Robin appears wearing Cyborg's robot parts. He then tries to activate the jet boots, knocking him, Raven, Beast Boy, and Starfire off the Tower. Fleshy Guy then uses real boy weaknesses, such as paper cuts, toe cracks, and hot water, to defeat the H.I.V.E. He has now completed his real boy adventure. It is unknown how he returned back to his normal state.
Episode Appearances
Appearance
Fleshy Guy is identical in appearance to Cyborg, but without all his cybernetic implants. He is tall, with broad shoulders, thick eyebrows and a bald head. He wears a white T-shirt, blue jeans and light-blue sneakers.
Trivia
Gallery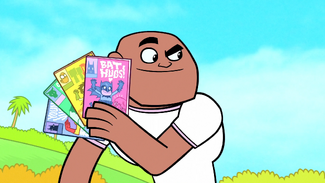 The image gallery for Fleshy Guy may be viewed here.
Community content is available under
CC-BY-SA
unless otherwise noted.