"Garage Sale" is the twenty-first episode of the third season in Teen Titans Go!, and the one-hundred-twenty-fifth overall episode of the series.
Summary
Robin makes the other Titans sell their treasured mementos from past episodes. However, this cause major problems with their history as a crime-fighting team.
Plot
The Teen Titans (minus Robin) are sitting around on the couch reminiscing and talking about memories in an aimless, non-specific way. They decide to go up to the attic to look over the stuff they kept from past episode adventures. Beast Boy finds the remains of the legendary sandwich from the first episode while Cyborg pulls out a box with four pies sealed inside, thinking back on episode two. Raven finds a dodgeball and recalls the 22nd episode, "Artful Dodgers" and Starfire finds the old Jeff mask from episode 57, "I See You". Robin gets up to the attic in a frenzy demanding to know where they were since the crime alert has been ringing for hours and villains have been roaming Jump City. They tell him about their reminiscing and he refuses to live in the past. Cyborg spots a box with Robin's name on it and identifies a pair of "green undies and elf boots". After making a couple of incorrect guesses, Robin reveals those were part of his original Robin costume back when he was Batman's sidekick. He uses this to illustrate that history is not worth remembering as it's filled with pain and regret while Raven insists that without the past there is no future.
In any case, Robin forces them to have a garage sale (despite Raven's repeated warning about the past affecting the future, and Robin's dismissal of her words that "pretend to sound deep"). They manage to sell everything for a little under $12. Though the other Titans are disappointed at their losses, Robin is pleased to be rid of the garbage Unfortunately it seems the selling of their precious memorabilia caused time to freeze. Raven explains that without those items time cannot progress. Cyborg wants to get their items back from the garage sale customers but Robin reminds him that all sales are final. They're left with no choice except to travel down memory lane and get their items back that way. Memory Lane is personified by a cosmic hallway filled with doors on either side. Raven tells them that they can access the items via doors (that have episode titles above them) and take them back to their world which should get time moving again. They need to hurry because the hallway of memories is already fading.
First, Beast Boy goes into a door that takes him to the "Legendary Sandwich" episode. He grabs the sandwich before Silkie eats it and gets back to the hallway only to realize it had bacon on it (apparently he had forgotten it had bacon back then). Next, Cyborg goes into a door leading him to the kitchen scene in "Pie Bros". He stealthily grabs the container of pies while his memory self and memory Beast Boy sing the pie song. Third, Starfire darts through a door and corners her memory self at the steakhouse in "I See You" just as she's putting on the Jeff mask. She manages to grab the mask with some force and get back to the hallway of doors. Following that, Raven pops into "Artful Dodgers " asks her memory self, who's in the middle of the final dodgeball game, for a dodgeball. Memory Raven hands over the ball she's holding and gets pelted for her troubles by the opposing team.
Now all that's left is Robin and his memory door is the only one with guards: Pain and Regret. He tells them he has issues with his past and is reluctant to go into the door but with some encouragement from Starfire (as Jeff), he fights past his Pain and Regret and accepts himself for who he is. He opens the door to a memory of his former self rappelling up a building with Batman. Robin snatches the green shorts right off his memory self and gets back (leaving the poor memory sidekick in tighty whities). Raven teleports them back to the real world just as the Hall of Memories completely disintegrates. Back in Jump City, time has returned to normal and Robin realizes that Raven was right about there being no future without your past. He takes it a little far though by opting to wear his original tight, green shorts from his sidekick years.
Characters
Songs
Trivia
This is the eighth episode to be leaked before its official air date.
This episode reveals that the Titans Tower has an attic.
One of the boxes stored in the Titans' attic has "YJ Season 3" written on it.

There's also a box that reads "GL Season 3" and one that just has "Season 6" written on it.

The Titans break the fourth wall by mentioning the past episodes while holding their mementos.
Music from "I'm the Sauce", "Slumber Party", and "Road Trip" is reused.
Continuity
References
This episode's title is barely similar to the Chowder episode with the same name, and a short from the show Uncle Grandpa.
This episode is barely similar to the original Powerpuff Girls episode "City of Clipsville", when the Girls remember their past events. The girls' similarly showed clips of their past episodes.
There are lots of jokey boxes in the attic containing things like "Assorted Kryptonite", "Bane's Speech Therapy Books", "Green Arrows", "Green Lanterns", "Killer Crocs and Sandals", "Dawn of Justice", "Afternoon of Justice", "Bed Time of Justice", "Selina's Kitty Litter", "Darkseid's Skin Lotion", "Joker's Temporary Tattoos", "Mr. Freezer Bags", "Bat Codpiece", "Nygma Puzzles", "Whacko Toys", "N. Turtle Shells", "Mask of the Phantasm", "Harley's Hair Dye", "Cobble Pottery", and "Bat Jammies".
Errors
When the memory doors are being erased, the "Legendary Sandwich" door is not the first to be erased, even though it was the first episode of the series .
While visiting the episode "Legendary Sandwich," Beast Boy turns into some of his animal forms. However, while transformed, his eyes have pupils. Normally, his animal forms have pure white eyes. This carries over to his other animal forms in later episodes.
When the episode doors are disappearing, "I See You" and "Waffles" are destroyed, but Starfire travels to that episode, and "Waffles" is shown to be the last episode to be destroyed.
Somehow the Titans can remember previous episodes that they have died in; for example, "Body Adventure", where Cyborg dies, but he is obviously alive.
In the flashback from "Legendary Sandwich," Beast Boy is shown without his teeth, but when the present Beast Boy shows up, the Beast Boy from said episode regains his teeth.
In the flashback of Robin climbing a building with Batman, Robin is shown wearing the attire of Silver Age Robin from "The Best Robin". In this episode they are shown to be the same character, just in different time standards, but in "The Best Robin", they are separate people.
Robin's old outfit shows elf boots and green undies, but in the scene where Robin steals back his own outfit, you can only sees Robin's green undies.
Somehow, the slime monster from "Laundry Day" and the mother ship from "The Mask" appear, despite the fact they blew up.
Dr. Light's bomb from "Cat's Fancy" blew up in said episode, but appears in this episode intact.
The heart-shaped balloon shouldn't be in the attic since Cyborg gave it to Jinx in "Opposites" and should therefore be in her possession.
Batman's guitar, one of his weapons, and the Robin II urn should all be in his possession instead of being in the Titans' attic.
Running Gags
The Titans going into the doors of remembering.
The Titans remembering specific episodes of their past.
Robin trying to forget his past.
Transcript
The transcript for "Garage Sale" can be found here.
Gallery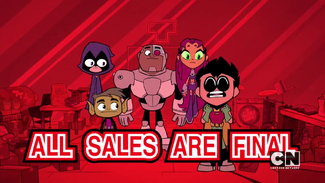 The image gallery for Garage Sale may be viewed here.