"Genie President" is the twenty-first episode of the fifth season of Teen Titans Go!, and the two-hundredth-thirtieth overall episode of the series.
Summary
Robin hatches a plan to get rich off pennies, but Starfire believes they are magical.
Plot
It's another day in the Titans Tower, and you know what that means! Robin has something to announce to the fellow Titans. Starfire, Raven, Beast Boy, and Cyborg are on the couch. Robin enters the living room with a mysterious box. Raven gives Beast Boy and Cyborg a heads-up and claims that there will be nothing good in the box. Robin continues with his little announcement, and he eventually shows them what's in the box - a penny. Raven affirms her statement by saying, "Told you there was nothing good in that box." They start to complain about how it's just a penny and that there is nothing special about them. Robin, however, states the opposite of what they are saying, and claims that pennies are special. He starts going on an in-depth explanation about pennies. The main thing he points out is that you can actually make profit off of pennies. He says that pennies cost 50% more than what it's actually worth. The Titans start questioning him.
Characters
Trivia
This episode premiered in New Zealand before the official US premiere.
It's actually not illegal to deface currency unless you try to use the defaced currency as real ones.
Continuity
Raven is unhooded for the 87th time.
"Abraham and Turkey Sandwich Lincoln" is said yet again by Starfire. The first time was in "History Lesson".
References
The 'Rich Duck' Raven acknowledges, as well as the Titans (except Starfire) attempting to swim in the pennies is a reference to Scrooge McDuck from Disney's DuckTales.

The Titans swimming in coins is also a reference as well.

Raven and the boys getting horrendously hurt after leaping onto the pile of coins might be referencing how Peter from Family Guy also suffered similar consequence from doing so, though of course blood is censored.
Errors
It is NEVER possible to swim in pennies in the first place, because the copper inside the pennies are what makes these coins heavy. Therefore, pennies can't flow over one another easily.

However, this doesn't apply to this series aside from Raven and the boys getting wounded, since this show always eschews common sense.
Running Gags
Starfire believing that Abraham Lincoln is a genie president.
The Titans (except Starfire) swimming in the pennies even after getting gravely injured.
The Titans thinking that the Lincoln memorial is make out of cake.
Transcript
The transcript for "Genie President" can be found here.
Gallery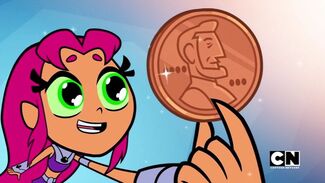 The image gallery for Genie President may be viewed here.
Community content is available under
CC-BY-SA
unless otherwise noted.