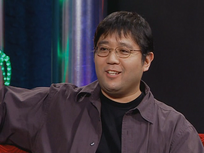 Glen Murakami is an associate producer on Teen Titans Go! who has currently produced 106 episodes. He is also well known for being a producer, character design and main title designer in the 2003 series Teen Titans.
Murakami originally wanted to be a comic book artist. His friend from junior high and high school, Keith Weesner, got a job working on Batman: The Animated Series as a background artist and informed Murakami when they were hiring artists at Warner Bros. Murakami was given a storyboard test, which he failed. But seeing his drawing talent, he was hired anyway. 
Working closely with Bruce Timm, Murakami worked as a character designer and storyboard artist from 1991 to 1993.From 1995 to 1999, Murakami worked as Art Director on Superman: The Animated Series and The New Batman/Superman Adventures. 
Murakami was promoted to producer for Batman Beyond and won an Emmy Award in 2001 for his work on the series. In addition to producing, he also was credited for story on the movie, Batman Beyond: Return of the Joker.
Following the original Teen Titans series, Murakami teamed up with late writer Dwayne McDuffie to develop a series for Cartoon Network's Ben 10 franchise. Murakami served as Executive Producer on Ben 10: Alien Force, which ran for three seasons and 46 episodes. Immediately following Alien Force, Murakami and McDuffie developed the follow-up series, Ben 10: Ultimate Alien. 
In 2011, Warner Bros. Animation announced that Murakami would be executive producer on its upcoming computer-animated television series Beware the Batman.
Episodes Worked On
Other Works
"Beware the Batman" (producer)
"Ben 10: Ultimate Alien" (producer)
"Justice League" (producer, character designer, prop designer)
"Batman Beyond" (producer, character designer, prop designer)
"Fun Size Horror: Volume One" (writer, director)
"Batman: The Animated Series" (storyboard artist, character designer)