"Who's that Orange Girl?"

The name of this page is unofficial. Though the content on this page is accurate, the "official" name of this article has either not been given or has yet to be confirmed. Please keep this under consideration as you proceed.
Grizzly Bear is a minor antagonist in Teen Titans Go!, often seen chasing a Titan through the forest.
History
He first appears in the episode Nature, where he chases after Beast Boy during his trip to reconnect with Mother Nature. After Beast Boy convinces Mother Nature to civilize the wild, the Grizzly Bear gets a job working at the forest metropolis' Taco stand.
In Campfire Stories, after attacking Robin it briefly befriends Robin and the other Titans while listening to their campfire stories. He even comforts Robin affectionately stoking his head after Cyborg calls Robin a "sad little man" after hearing Robin's true story of being stood up on a date. Later he and the other Titan are scared off by Raven's scary story as well as her transformation into the monster from the story.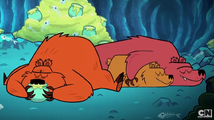 So far, Grizzly Bear has been in just a single episode of Season 3, "Who's Laughing Now?". He, along with two other bears, take Beastie under their wing, acting as spirit animals for him. Although the pit-haired, manly hero is seeking a good education, Grizzly Bear and his pals prefer partying, playing some football, and jacking other people's lunches. Later on, Beast Boy, who has quit the spirit animal school, challenges Grizzly and his buds to a game of football to win back his student loan of honey and salmon. The other Titans help him keep up with touchdowns. A field goal ends Grizzly Bear's chance at winning, as well as his payment...
Characteristics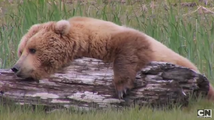 Unlike most grizzlies, this specific Grizzly Bear has a more orange-ish shaded fur instead of the customary brown. He's heavily overweight, probably 'cause he can't stop eating all that honey. Long black claws extend from his hands and feet, and he has a fury tail. Bad posture leads to his neck being parallel to the ground, with a couple ears sticking out from his inseparable head. Underneath his black nose is a row of gnashing teeth, with two of them poking out of his mouth. Don't get your hand stuck in there.
A few scenes in "Who's Laughing Now" depict Grizzly Bear as a real, non-cartoon bear. In this form, he's far more brown and has, obviously, higher quality bear features.
Episode Appearances
Trivia
The Bear first chases Beast Boy (Nature), and then Robin (Two Bumble Bees and a Wasp and Campfire Stories). However he befriends Robin in Campfire Stories and in Nature Beast Boy inadvertently gets the bear a job at the forest Taco Stand.
He currently works at the forest taco stand.
Some of his favorite pastimes include partying and football.
He remembers Beast Boy from nature.
Gallery
Community content is available under
CC-BY-SA
unless otherwise noted.