"Grube's Fairytales" is the eleventh episode of the third season of Teen Titans Go!, and the one-hundred-fifteenth overall episode of the series.
Summary
Robin tries to teach the Titans valuable life lessons by reading them fairytales, but the others co-opt his stories and spin them into their own twisted yarns.
Plot
The episode begins with Beast Boy, Cyborg, Starfire, and Raven playing a board game. Robin then appears dressed in medieval garb and playing a panflute speaking in some kind of Shakespeare language. When Beast Boy asks what he is doing, Robin explains that he is but a humble bard. He plays the pan flutes, while Raven and Starfire immediately begin mocking him, mistaking his pantaloons for a man diaper, leading Beast Boy and Cyborg to do the same thing.
Robin angrily informs them that bards tell stories that instill morals and character, which is his latest plan: To trick the others into learning valuable life lessons by reading fairytales to them, since teaching them life lessons are what he always does and they never seem to listen. Beast Boy groans and asks what is wrong with their character and morals now, to which Robin replies that everything is wrong.
Cyborg asks if they can at least get snacks. Upon hearing this, Robin states that he has a story about two children who loved snacks so much, they almost died. He then begins to tell a story about two children cast out into the forest on a cold night. However, Beast Boy and Cyborg immediately recognize the story as the story of Hansel and Gretel and insist on telling it themselves. Robin protests, as only a bard can tell a story. Cyborg says that 'The bard can pee-pee his man diaper' while pushing Robin aside. The two begin to tell the story:
Once upon a time, Hansel (Beast Boy) and Gretel (Cyborg) are kicked out of the house for eating all the food. A witch (Robin) invites them to eat her house made of candy.  Hansel and Gretel immediately agree to eat her house, not knowing that the witch plans to eat them. However, a second witch (Raven) invites them to eat her appetizer house. The two quickly forget the first witch's candy house and begin to devour the second witch's appetizer house, much to the first witch's anger. However, a third witch (Starfire) offers them her meat and potatoes house, which Hansel and Gretel immediately begin to devour. The three witches begin to argue amongst themselves, while Hansel and Gretel completely consume all three houses and grow huge. They then thank the witches for the meal and roll away, causing the witches to begin weeping over their eaten houses. Hansel and Gretel roll home having enjoyed a three-course meal, and the three witches freeze to death in the winter. Beast Boy and Cyborg conclude the story by stating that the moral is don't make your house out of food, because that's dumb.
Robin protests that isn't a moral, but Raven thinks that it should be, and asks if they can leave now. Robin states that they cannot leave the tower until he tells them a story about a girl who could not leave her tower. He begins to tell them a story about a maiden trapped in a tower with long locks of luxurious...but before he can finish, Raven recognizes it as the story of Rapunzel and decides to tell it herself quickly so she can leave.
Once upon a time, a princess named Rapunzel (Raven) is trapped in a tower with no stairs. Rapunzel is gifted with long, healthy, and very curly...fingernails! A prince (Beast Boy) attempts to rescue her but is disgusted by her nails and leaves. Frustrated, Rapunzel resolves to escape herself. She then cuts her nails and sharpens them to claws, using them to scale down the wall. Another prince (Robin) comes and requests her hand in marriage and offers her a nail filer as a gift. She, however, shreds his clothes and declines, stating that "no one is going to cage this bird again". She then goes on to live a life of adventure, fame, and fortune. After the story, Raven states that the moral is "forget boys, get paid!" She then begins throwing money everywhere, causing the Titans to become excited.
Robin stops this and accuses the Titans of ruining his stories, although Starfire states that she enjoyed the story. Beast Boy asks if they can eat now, which Robin claims that eating is all they always do and reminds him of another story about eating. He threatens to kill them if they interrupt his story again, and begins to tell them of a hooded girl who met a wolf in the woods. Starfire, however, recognizes it as the story of Red Riding Hood and once again takes over the tale.
Once upon a time, Red Riding Hood (Starfire) is bringing treats to her grandmother, singing soprano operatically on the way, but gets hungry. She decides to take a bite of her grandmother's snacks but eats the whole basket. She then meets the Wolf (Robin), upon hearing her lament that she ate all her grandmother's snacks and didn't leave any for her, tries to trick her into allowing herself to be eaten, but instead, still being insatiably hungry, Red Riding Hood eats him! She then spits out the Wolf's jacket. Red Riding Hood immediately wishes she had saved some wolf for her grandmother but decides to give her the Wolf's jacket. However, she overhears the Wolf's three cubs (Cyborg, Raven, and Beast Boy) looking for the father, who is supposed to bring medicine to their ill mother. Red Riding Hood immediately regrets eating the Wolf, and dresses as the Wolf, posing as him to the three cubs. They however notice various differences between the Wolf and Red Riding Hood, such as her long eyelashes, her small nose, and her tiny teeth. She still manages to fool them into thinking she is the Wolf and suggests to the hungry cubs that they eat the grandmother, which they do. Starfire ends the story by stating that the moral is "if you consume the wolf, you must adopt his identity and raise his family as your own."
The other Titans agree that it is a great story and that the moral makes sense. But Robin laments that he failed as a bard, as his stories didn't teach them anything. The Titans disagree, saying that Hansel and Gretel taught them to eat proper meals, Rapunzel taught them the importance of independence, and Little Red Riding Hood taught them to take responsibility for their actions. However, the Titans state that the most important thing they learned is that Robin wears man diapers, at which the four of them laugh, while Robin sheds a single tear as the episode ends.
Characters
Trivia
The title refers to the writer of this episode, Ben Gruber, and the theme of using fairytales to teach the Titans morals.
This is the second time a real person has been referenced in the title of an episode, the first was Rob McIntyre in "And the Award for Sound Design Goes to Rob".
This episode aired with a rerun of "40%, 40%, 20%".
Starfire and Cyborg appear in Raven's story as fellow adventurers, but do not have a speaking role.
This is the second time the board game has appeared in the series. The first time was in "Multiple Trick Pony."
Robin happens to wear pantaloons, which resembles a bubble skirt or a man diaper.
Music from Multiple Trick Pony is used again (first time being Starfire using a melodica.) This makes it the second time a Titan has played such an instrument
Continuity
Robin's panflutes return from "Tamaranian Vacation".
This is the second time each Titan (except for Robin) tells a story. The first time was in "Campfire Stories".
This is the second time that Starfire has attempted to mimic a wolf by saying "wolf" repeatedly. She also did this in "Campfire Stories".
Raven is seen unhooded for the twenty-seventh time.
This is the fourth time to feature each Titan having their own individual segment that's unrelated to the others. ("Dreams", "Video Game References", "Campfire Stories")
References
The first story is based on Hansel and Gretel.
The interpretation of Raven's fairytale is based on Rapunzel, a princess who is rescued from a tower thanks to her long, flowing hair.
Starfire's tale is a reference to Little Red Riding Hood.
Raven's fingernail aspect in the Rapunzel story is a reference to Nightmare on Elm Street
At the start, the Titans appear to be playing the board game Candyland.

The Wolves and Starfire disguised as Papa Wolf are a reference to Groucho Marx.

The episode title was a parody of Grimm's Fairy Tales, a collection of fairytale stories such as Hansel and Gretel, Rapunzel & Little Red Hood by the Grimm Brothers.
During the Hansel and Gretel scene Chef Pee Pee's theme song from the YouTube channel SuperMarioLogan can be heard in the background.
Errors
During the Titans' fairy tale stories, when Raven is seen without her cloak, the red gem on her forehead is missing. It's unknown if this was intentional or not.
Beast Boy eats cheese, which is a dairy.
When Beast Boy is parodying Hansel, he has paw prints under his shoes. But when he finishes eating all of the witches' houses made of food, his shoes' soles have black lines instead of prints.
Robin claims that bards only tell stories that instill morals and character, but they also tell poems, sing songs, and even make verses.
Even when dressed as a bard, Robin keeps his mask on.
Running Gags
The Titans constantly saying they're hungry and Robin refusing to let them eat.
The Titans bringing up that Robin wears "man diapers" and laughing at him.
Robin playing the pan-flutes.
The other Titans interrupting Robin's fairy tales and telling their own version.
Robin complaining that all the Titans do is eat.
Transcript
The transcript for "Grube's Fairytales" can be found here.
Gallery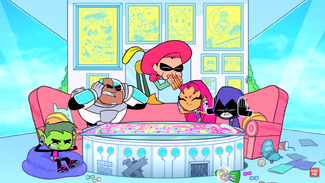 The image gallery for Grube's Fairytales may be viewed here.