The Guardians of the Status Quo, or simply just the Status Quo, are a couple of henchmen for The Man, modeled after a water cooler and a filing cabinet. They appear so far in only one episode, Beast Man.
History
After the Titans show up to rescue Beast Boy from his boring office job, The Man, Beast Boy's computerized boss, summons the Guardians of the Status Quo, two normally-looking office furniture items that transform into violent, monstrous mercenaries. The first guardian is a water cooler that can now shoot those really sharp paper cups at the Titans, and the second one is based off of a file cabinet/spider that can blast its drawers pretty dang fast.
After a quick burst of fire, the Teen Titans are able to outrun the Status Quo and hide in a cubicle.
Characteristics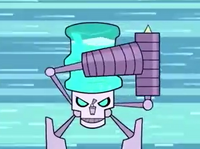 As mentioned before, the initial guardian's frame is mainly made of a water cooler... the base splits up into a pair of legs for mobility, and the cup holders act as arms, with the left designated as the shooting arm, thanks to some special upgrades. The middle section of the guardian kinda looks like a skull, with the water grille acting as teeth, the nozzle as the nose, and two eyes. The actual tank of water on top really serves fighting purpose, but it must come in handy during break time.
The drawer cabinet guardian is made up of four drawers that split into two even sides, revealing a black, cyber enhanced eye emplacement that is streaked with pink electronic gadgets. After that, it can extend its 8 legs, with the top two holding the divided cabinets. This gives it the look of a robotic spider armed with two filers utilized as weaponry.
Appearances
Community content is available under
CC-BY-SA
unless otherwise noted.