The
H.I.V.E. Five
are a team of super-villains and among many of the main antagonists in
Teen Titans Go!
.
They are also one of the Teen Titans' archenemies, who try to destroy them at any costs while robbing banks and committing other crimes in Jump City.
Bio
The H.I.V.E. Five is a group of super villains united under one goal: to destroy the Teen Titans. They also rob banks and terrorize Jump City. Their main headquarters is the H.I.V.E. Tower, located within eye-range of Titans Tower.
In "Super Robin", the H.I.V.E. Five try to rob a bank with their powers. The Titans arrive, and they begin their first battle. Robin attacks Mammoth, but struggles to defeat him. The other Titans defeat the rest of the team very easily, and wait for Robin to defeat Mammoth. Exhausted and injured, Robin finally managed to defeat Mammoth, and the villains are arrested.
The H.I.V.E. Five return to rob the same bank again in "Artful Dodgers", and even hold the civilians hostage with a bomb to prevent the Titans from beating them. However, the Titans still manage to defeat them. Within 24 hours, the H.I.V.E. escape prison, in order to join the dodge ball league. Their unbeatable dodge ball team defeats the Teen Titans, proving to be difficult foes for them. They appear later, robbing another bank, but this time, with money. The titans challenge Jinx, Gizmo, and Mammoth to a another dodgeball battle, instead of arresting them. The H.I.V.E accept, and defeat the Titans once again. They appear for the last time during a convenient second tournament, and are ready to face the Titans, but the heroes cheat, which the H.I.V.E notice. They still win, but Robin calls the cops on them, and the Titans win by default.
In "Power Moves", the H.I.V.E. attack Jump City, destroying everything in sight. The Titans arrive to defeat them, but before they can start the battle, Cyborg and Beast Boy decide to use the H.I.V.E. as test dummies to demonstrate the concept of "power moves" to the Titans.

In "No Power", the H.I.V.E. smashes the bank wall. They simply walk in and walk out with the money. When they get outside, the Titans ambush them. The Titans all made a bet that involved not using their powers, so while Robin engages in combat with Mammoth, the other Titans use random objects off the street to violently beat up the villains.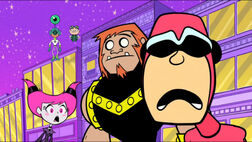 In "Sidekick", the H.I.V.E. travels all the way to Gotham City for unknown reasons. They destroy everything in their sight.Their attack comes to a halt when the Batmobile arrives, and the H.I.V.E. freezes in terror when they see the shadowy, bat-like figure exit the car. The figure turns out to be Starfire in a Batgirl costume, and the H.I.V.E. is angered to find their superhero nemeses traveled all the way across the country too. They all begin to battle, while the Titans use Batman's gadgets to fight them. Robin tries to take back all of Batman's gadgets, and causes his teammates to lose the battle. Gizmo manages to take Batman's "Ultimate Bat-a-rang", and throws it at the now tied-up Titans. The Bat-a-rang flies up into the sky, and explodes into fireworks. In the end, Robin manages to defeat them all with Batman's other gadgets.
In Legs, the H.I.V.E. makes a brief appearance, battling the Titans. Raven uses her legs to defeat Jinx by kicking her in the face at rapid speed. Each of the other villains are defeated quickly and easily by the Titans. Gizmo however escapes the battle, but is later defeated by Raven very quickly.
In "Breakfast Cheese", the H.I.V.E. are bored and they start loitering in a no-loitering zone. The Titans arrive and use extremely violent measures to K.O. all of the villains before sending them to prison. Later on, the H.I.V.E. escapes again, and continue loitering. The Titans, who have undergone a drastic change, come to defeat the villains with peace and love. The angry villains want revenge for the violent beating they suffered earlier, and ignore the Titans' attempts at peace. Within mere minutes, the Titans are nearly defeated, and the H.I.V.E. begins to torture them back. Robin whips out his staff to fight back, but gives Jinx some flowers instead. Jinx becomes flattered, and Robin even gives Gizmo a flower. The other Titans continue to do nice things to the H.I.V.E., and the villains eventually give up and befriend the Titans. Their friendship would not last, and the H.I.V.E. returned to villainy.
In "Opposites", the H.I.V.E. attack a different bank than usual. While they exit, they start destroying everything in their way. The Titans arrive, and complain that the H.I.V.E. is evil again. They all engage in their most dramatic battle they've had yet. All of the H.I.V.E. are defeated, except Jinx, whom Cyborg lets get away because of his crush on her. While the outraged Titans chew him out, the other members of the H.I.V.E. sneak away and avoid capture. Later that day, when Jinx is at a cafe, Cyborg shows up to spy on her. When she finds him, she attacks him, but he doesn't fight back, and begins to flatter her. In a matter of minutes, Jinx and Cyborg are in love with each other. Cyborg gives Jinx a balloon that she takes back to H.I.V.E. Tower. While daydreaming about Cyborg, Gizmo asks her where she got the balloon. She lies and tells him that she stole it from a baby. A few days later, Cyborg and Jinx are at the park on a date, when Robin and Gizmo finally bust them. Gizmo forbids Jinx from seeing Cyborg again, and Robin forbids Cyborg from seeing Jinx again. Later at home, Jinx cries and cries, until Gizmo finally decides that they can all give up their villainous ways so she and Cyborg can be together.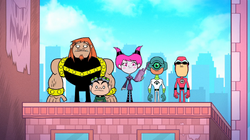 The H.I.V.E. Five become superheroes, and respond to a distress call in Jump City. When they arrive, they find the Titans robbing the bank they robbed earlier. Ironically, the Titans also switched sides so Jinx and Cyborg could be together. However, since they are now villains, and the H.I.V.E. are now heroes, they all begin to battle again. Jinx and Cyborg argue until they break up, and both teams switch back to their original sides. However, Cyborg and Jinx immediately reconcile their relationship and kiss.
In "In and Out", the H.I.V.E. plan to upgrade part of their base into a battle station in space. Robin discovers this, and disguises himself as a villain. The H.I.V.E. allow him to join, and later let all of the other Titans join, completely oblivious to their disguises. However, the Titans don't listen to Gizmo when they are allowed to join, and as a result, beat up Mammoth. Later after all of the disguised Titans join the H.I.V.E., Jinx becomes suspicious of the fact that they are similar looking. The Titans become rude and annoying, and Jinx orders Gizmo to get rid of them. Gizmo decides to blow up H.I.V.E. Tower instead of making them leave. The H.I.V.E. decide to go to the Reactor Core, but Gizmo also notices that the time is set already. The Titans discover this, and they reveal their identities, and break out into an epic battle with the villains. The Tower blows up, leaving the H.I.V.E. without a home. Strangely, instead of arresting the H.I.V.E., the Titans allow the H.I.V.E. to move into Titans Tower. The H.I.V.E. become annoying roommates similar to how the Titans were, which causes Robin to blow up Titans Tower.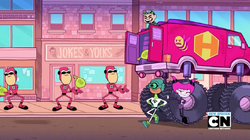 In Money Grandma, the H.I.V.E do another bank robbery, and all the Teen Titans (except Robin) fight with the group. Later in the tower, he replays the video of the battle and has his face edited onto the other titans.
In "Road Trip", the H.I.V.E go on their own "road trip" as well as the Titans. Cyborg decides to toy with them at first by splashing water on them while they were innocently gassing up their vehicle. They later appear in the episode with no gas in the middle of the road, and Cyborg and Robin decide to prank Gizmo by offering him a ride, only for them to continue moving the car once he tried to open the door to get in. They appear again, coming at Titans for revenge for the last two events. They engage in a battle with the Titans. At the end of the battle, the Monster Van crashes and explodes along with the H.I.V.E. Five.
In "Mouth Hole", the H.I.V.E members have gone away from the H.I.V.E Tower, so the Titans take advantage of this fact and infiltrate the base to see what their next evil plans are. The Titans leave Robin to whistle as a signal that the H.I.V.E have appeared, but he cannot whistle unfortunately, and as a result, get them sent flying out of the Tower. The H.I.V.E appears later in the episode keeping the Titans hostage as Gizmo is about to test his "Death Laser" on them, but Robin, after getting trained by the "Whistle Master", arrives. Gizmo commands the others to attack, but fail. When only Gizmo is standing, he shoots at Robin, but Robin manages to counter with his whistling power, and sends him flying out of the tower.
In "Real Boy Adventures", members Gizmo, Jinx and Mammoth were shown stealing the Titans hot-tub. When the Titans arrive to stop them, Gizmo asked what happened to Cyborg, as he is shown as a real boy. When Robin, who stole Cyborgs robot suit, accidentally knocked the other Titans out with the rocket boots, Cyborg was left alone. As the H.I.V.E. members surrounded him (with Jinx briefly flirting with him) Cyborg decided to take them down with his real boy abilities. He threw cards at Jinx (who apologizes and tells her to put ice on her face), stepped on Mammoth's foot, and launched Gizmo in the hot-tub, who screams in pain, thus defeating the three.
In "Let's Get Serious", the gang are robbing a bank in a hidden area, and place their money inside of the H.I.V.E. Five Monster Van but are interrupted by the titans, who try to battle them. But before they can, the Young Justice take them out separately. They are then apprehended and later get taken by the Young Justice. Jinx also makes a tiny cameo with Starfire and Raven having a third "Girl's Night Out". They appear again, with each of them using materials from the president of the City in order to send a murder satelite in a artic area in order to explode the Earth (despite them not having an escape), but the Titans, who have went through a drastic change, take them out without any problem. After the H.I.V.E. are defeated, the rocket goes up, but the Titans are able to stop it in time.
[[File:TheHIVE.jpg|thumb|250px|The H.I.V.E. getting ready to rob a bank together, which was shown in "Multiple Trick Pony". In "Multiple Trick Pony", the H.I.V.E. rob a bank, and do it as a team. The titans appear to stop them, but are interrupted by Kid Flash, who takes down Mammoth within a second. Kid Flash gets attacked by Jinx, but she fails, getting tipped over. Gizmo swings his robot's arms randomly to try to stop Kid Flash, but he breaks the robot arms, causing him to fall face flat. See-More and Billy Numerous try to stop him, but end up in a collision by double teaming. The H.I.V.E. are then defeated, and presumably arrested.
In "Yearbook Madness", the H.I.V.E make cameos in Robin's yearbook, with various pictures of Jinx, Gizmo, Mammoth, and See-More. Jinx makes a cameo in one the various clubs in a scene with the girls. They appear later when Robin beats up Gizmo and Mammoth for signatures in a Yearbook. When Billy Numerous appears, Robin demands for signatures, where Billy duplicates and give signatures. [[File:GizmoInLocker.png|thumb|left|250px|A picture of Gizmo getting slammed into a locker, which was shown in "Yearbook Madness".
In "Operation Tin Man", the H.I.V.E. kidnap Cyborg, and the Titans decide to call Gizmo. Gizmo will only give back Cyborg if they give him a huge amount of money for a ransom. Cyborg is seen in the background sitting by Jinx and Mammoth, and Mammoth has to cover Cyborg's mouth when he announces he hangs out with Jinx. Gizmo and Cyborg argue later, and make Jinx mad. Jinx wants the two to stop arguing, and walks away, and they continue. When the Titans arrive, Gizmo uses a spring trap and bounces them into the water. Afterwards, the H.I.V.E. Five discuss their new plan on their screen, when Cyborg hacks the screen and shows files of Gizmo as a baby. Mammoth, See-More, and Billy Numerous all laugh at this, and Cyborg agitates Gizmo, where he almost shoots Mammoth and See-More. Gizmo decides to get revenge by using a device to make Cyborg get maneuvered by a remote Gizmo uses. When Cyborg is by Jinx, Gizmo makes Cyborg act rude, and makes him and Jinx break up. After enough shenanigans, Jinx sends both Gizmo and Cyborg to Gizmo's room. In there, Gizmo shows Cyborg a flying gadget that was going to be used to kill the Titans. Cyborg fixes it for him, and then they make the gadget fly to the Titans Tower, and spy on the Titans, and mess with them, where they end up blowing some of the tower, and laughing together. After they get along, they see the rest of the H.I.V.E. and get along happily, and call each other best friends (forever), and makes Mammoth tear up in awe.
Suddenly, the Titans arrive, and angrily shoot missiles at the H.I.V.E. with the T-Plane, and they all run in fear. The Titans take back Cyborg, and blast the H.I.V.E. Tower, causing Gizmo, Jinx, Mammoth, See-More, and Billy Numerous to all fall in the water.
In "The H.I.V.E. Five", the H.I.V.E. are in a meeting in the H.I.V.E. Tower, and discuss how they've had a rough time because of the Teen Titans thwarting their schemes and ruining their lives, but Gizmo has a plan. He gets interrupted by Robin in a call, and asks if Fred is there. Oblivious to who's calling him, Gizmo tells Robin he has the wrong number, and ends the call. He announces they will no longer be at the mercy of the Titans thanks to his latest plan. But before he can tell the H.I.V.E., he gets another call, Starfire asks if Fred is in, and oblivious still, Gizmo says they have the wrong number, and ends the call. He continues and says the era of the Teen Titans will come to an end thanks to his latest plan. He once again gets interrupted by the Titans, this time being Cyborg. Cyborg asks in another voice if he could talk to Fred. And Gizmo says that there isn't a Fred at the H.I.VE. Tower. Within a matter of seconds he gets interrupted again by the Titans, being Beast Boy, and they all laugh when he pranks Gizmo. Gizmo gets mad and shoots his phone, and says he hates the Titans. Mammoth wants to here Gizmo's latest plan to crush them, but Gizmo changes his mind and doesn't want to deal with them today, and says he wants the team to take a day off. Jinx asks if they can shoot murder missiles at the Titans, and Gizmo declines. Billy Numerous asks if they could train then release a pack of dogs, and Gizmo again declines. Mammoth asks if they could fill the city with jerk seeking murder fog, and Gizmo declines once more. Gizmo tells the team they need a day of rest and relaxation. See-More gets the idea, and says they would rest and relax make the Titans think they would go soft, and then shoot the missiles at the Titans, and the others agree. Gizmo wants the others to not engage, but soon again gets pranked by the Titans. He gets steamed, and tells the H.I.V.E. to rest, relax, and have a day off, and flys out the tower's ceiling angry.
See-More draws a man at his caricature spot, and Cyborg spots it, Cyborg launches the man out the seat, and wants See-More to draw him. However, Cyborg repeatadly interrupts See-More, and eventually pushes him where he gets stressed. When he shows Cyborg the caricature, Cyborg doesn't like it, and tells the people waiting in line that See-More stinks, making them walk away. See-More is then standing in sadness and drops a tear, while spotting a black cat.
The black cat walks in the street, while causing bad luck to those who pass. Jinx notices this, and decides to have fun with black cat. Starfire notices Jinx, and asks her if she is doing bad things. Jinx tries not to engage, but Starfire knocks her over, and notices the black cat. Jinx tells Starfire the black cat isn't hers, and Starfire asks if it's Jinx's. Jinx says it doesn't belong to anyone, and Starfire and her let the kitty decide who she wants to be with. The kitty picks Starfire, and the two walk away, injuring Jinx in the process.
Meanwhile, Mammoth is dancing on the street, and Beast Boy notices. The two have a dance off, and show off to each other. Beast Boy makes a finishing move, and manages to steal the crowd though, while Mammoth stares, angry.
Billy Numerous has a baseball game with all of his clones by himself. He manages to imitate an entire baseball game, with a crowd, and food give outs. One of Billy Numerous' clones, make a strikeout, which hits Raven. She is angered by this this, duplicates herself, and beats up all of the Billy Numerous.
Meanwhile in the H.I.V.E. Tower, Gizmo dresses up into a tall, funky man, and walks around Jump City, helping people and brightening their day. Robin catches Gizmo and beats him up until Gizmo explains that he was only trying to have a day off and be tall. Robin then walks away,
Back at the tower, Gizmo asks if the gang are rested and relax, and they all rumble. Gizmo says "Good", and tells them he has a new plan. He then gets prank called again back the Titans, and gets angry as the episode ends.
In "I'm the Sauce", the H.I.V.E. answered Robin's call to play Head Up, Seven Up in order to cheer up the clouds to end a rainy day. They agreed to play after they were promised to chocolate milk. Gizmo, Jinx, and See-More's thumbs were chosen during the game.
In "Scary Figure Dance", the H.I.V.E. planned on destroying a candy factory on Halloween, but get interrupted by the Teen Titans, the H.I.V.E. destroy it with Gizmo's Death Lazer. The disgruntled Teen Titans follow Robin's plan unknowingly to get deliberately shot by the Death Lazer, and the H.I.V.E. celebrate by heading to the tower. While the H.I.V.E. enjoy their Halloween, they hear ghastly noises from the Titans. Paranormal actions start to happen to them, such as the TV changing channels on it's own. Lightning cracks, and the H.I.V.E. scream and run. They try to think of what to do to get through the situation, and they decide to do a seance. The Teen Titans (as ghosts) are summoned by the seance, and the H.I.V.E. want the Teen Titans to stop, but Titans refuse. When they say the Titans aren't scary, they scare them while the H.I.V.E. run away in fear, splitting up. They run through a montage of getting scared, from getting slime all over their bodies, to getting possessed, to even having awkward elevator rides. After reconnecting with each other, See-More asks what they would do, Gizmo had an idea but they wouldn't like it. Back in the hospital, the Titans are okay, and the H.I.V.E. tells them the doctors fixed them up. After they all agree how fun it was, they all dance together in a song.
Rivalry
The H.I.V.E. show similarities to their archenemies, the Teen Titans. Both have five members, both have a tower with their first letter of the group, and both have specific group vehicles.
Character Description
Episodes focusing on the H.I.V.E Five
Members
Current
Former
 Episode Appearances
Season 4
Comics
Trivia
Gallery
The image gallery for H.I.V.E. Five may be viewed here.
Community content is available under
CC-BY-SA
unless otherwise noted.