The Halloween Spirit is a fearsome evildoer and major antagonist of the "Halloween" episode special. He was summoned by Raven (who had concocted a potion from the instructions in her spellbook), and, once released from his pumpkin bonds, terrorized the neighborhood until the Titans stopped him.
Bio
Determined to get the other Titans fired up for Halloween again, Raven used a mummy's hand, lizard's tail, a dragon scale, and three (but she was hungry) two candy corns to summon the Halloween Spirit. The jolly but evil spirit granted her request by turning the four team members into little kids. They were now all afraid of the spooky decorations, and tiny Robin kicked over Halloween Spirit in fright. The impact released his ghost upon the city, where he was fed on the fear of those who pee themselves seeing him (Beast Boy).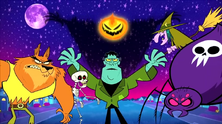 A while later in Jump City, the Titans encountered the demon again, who used his magic to turn decorations into real LIFE monsters. But Raven rallied the Titans to use pumpkins against the ghost. With their combined jack-o-lantern force and intense light, they ensnared Halloween Spirit from whence he was summoned.
He later returns to Jump City on Halloween night a few years later to help the Titans, Frankenstein, Count Dracula, and the Wolfman keep Santa Claus from taking over Halloween.
Later, he got kidnapped by Beetlejuice because Beetlejuice wanted to takeover Halloween.
Physical Appearance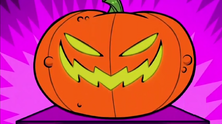 Before the demonic spirit was released out into the Halloween night, he possessed a simple pumpkin. A few warts and blemishes made him a little imperfect, which is good details for a villain. He has a jagged mouth and glaring eyes, but no nose like ordinary jack-o-lanterns have. A candle illuminates his holes, and atop his sliced head is a short, green stem.
Halloween Spirit, once he is released, becomes a monstrous ghost that takes up the entire night sky. He now has a body and arms, which are composed completely of clouded dark magic. The pumpkin aspect of him can still be recognized with his fiery orange head. Halloween Spirit's face remains as it did in jack-o-lantern form.
Powers and Abilities
Halloween Entity Physiology: He has control over Halloween and Halloween creatures.
Flight: He is able to fly, at least when he's not in corporeal form.
Spell casting: He has lots of magic spells related to Halloween.
Sword Summoning: He is able to summon a sword.
Episode Appearances
Trivia
He is the first spiritual representation of a holiday to ever appear in the show.
In terms of his character design, his spiritual form is similar to Genesis, who is a Transcendent Nephalem (half-transcendent demon, and half-transcendent angel) that possessed Jesse Custer from the Vertigo Comics, which also belongs to DC Comics.
Gallery